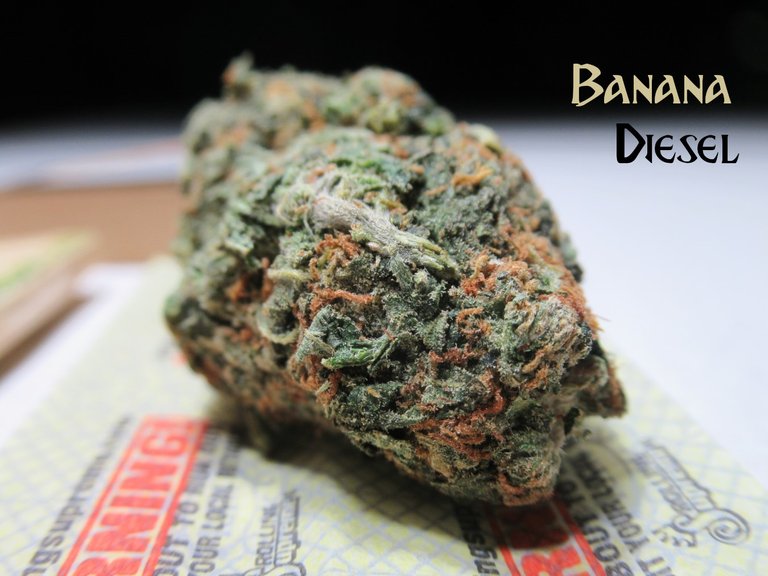 Terpenes give cannabis strains their unique scents and flavors - the terpene combination with the THC and CBD give the strains their unique effects. I rolled up an afternoon smoke with Banana Diesel buds - refreshing sweet and sour tropical fruit and banana diesel flavor. A decently motivated and cheerful day buzz with a light skunky diesel haze and solid cushion.
Banana Diesel
The Banana Diesel is a 70/30 indica dominant cannabis strain that decended from the breeding of the Banana Kush and Super Sour Diesel strains (Source). These buds have 23% THC with a smooth 1% CBD.
These dense outdoor grown Banana Diesel buds have resinous dark and light greens, bright dark and light orange pistils, and a dusting of white trichomes, with a sweet and sour, bright, pungent skunky diesel and light banana scent.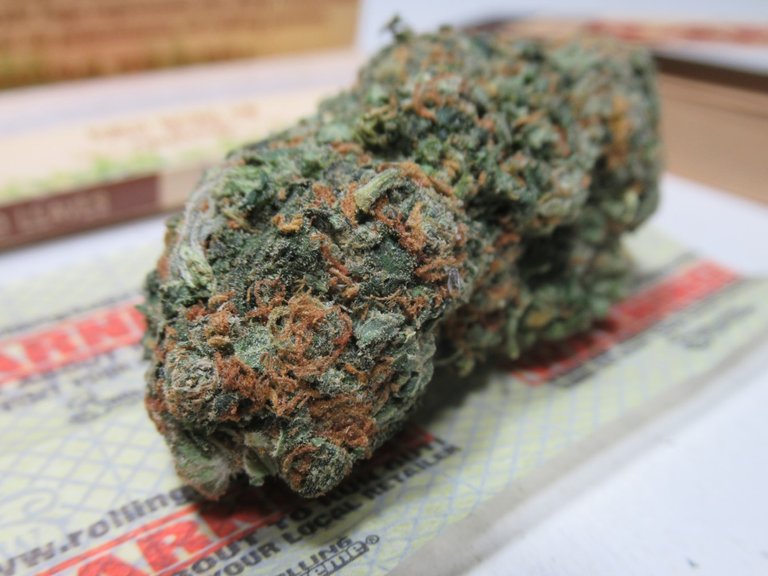 Top 6 Cannabis Terpenes
THC and CBD are well known cannabis compounds, the terpenes are the compounds that give them their distinctive scents and flavors - the cannabis plant produces more than 100 different terpenes. Terpenes also have potential therapeutic effects that enhance the effects, along with the THC and CBD. Many experienced smokers will select new cannabis strains based on their favorite terpenes - these are the Top 6 Terpenes...
| | | |
| --- | --- | --- |
| Terpene | Scent / Flavor | Effects |
| Linalool | Sweet, floral, fruity, lavender, mint, cinnamon | anti-anxiety, sedative, pain relief, anti-bacterial |
| Myrcene | Earthy, woody, musky, mango, ripe, hops | anti-inflammatory, sedative, muscle relaxant, pain relief |
| Limonene | Tangy, citrusy, lemon, lime, juniper berry | Improves mood, anti-anxiety, anti-depressant, relieves nausea |
| Pinene | Pine, herbal, leafy, rosemary | boosts energy, improved focus, bronchodialator, improves memory |
| Caryophyllene | Spicy, sharp, pepper, woody | Pain relief, anti-depressant, anti-inflamatory, anti-anxiety |
| Humulene | Woody, earthy, herbal, spicy | anti-inflammatory, appetite suppressant, pain relief, anti-tumor |
Sources: All About Terpenes, Terpene Therapy 101
The Roll Up
I reached for the RAW Organic Hemp papers for the Banana Diesel roll up. I'm at the end of the pack of these light weight, smooth burning, organic hemp fiber papers.
Banana Diesel flavor
Sweet and sour tangy tropical banana fruity, skunky chemical nutty pine diesel spice zest flavor - bright and pungent terpenes. The classic chemical diesel flavor is like an overload of pine, mouth tingling.
Euphoric rush with relaxed eye lids and mind from the first toke. Solid cushion with good motivation and mind focus, slight skunky haze - smooth buzz, the citrus zing aftertaste ever present in the background. I'll save these refreshing Banana Diesel buds for afternoons or evenings.
This Review Not Intended to be Medical Advice. Know your Local Laws.
---
Posted via weedcash.network