Music Gaming addiction in full force
I started exactly seven days ago and bought already several card packs and reached level 10 - not sure if good enough but it is fun to play - clicking my way through all the missions all day. What I really like are all the updates, new cards and the engagement of the team according to ideas, questions and the future of the Game.
Given I run the music community on Hive and am Gaming addict here (just saying Splinterlands) this is of course a must for me - thanks for creating this @risingstargame.
My stats below
I might not jump upwards as fast as others but focus on developing a bit of solid fanbase and skill set - fingers crossed for all players out there. Looking forward to the first band gigs!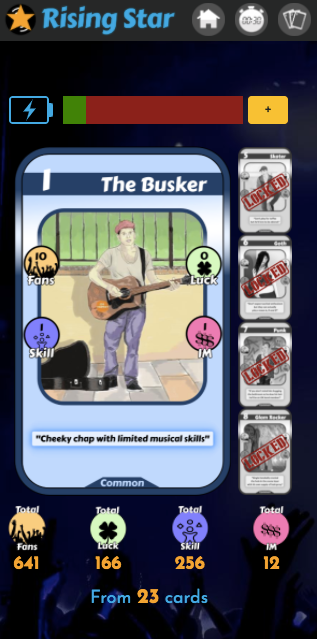 Join the Game here: https://www.risingstargame.com?referrer=uwelang
(Use my referral link if you want to support our music community)
Check their official Discord: https://discord.gg/dbB6Jc7

Check the Music Community on Hive - join here