I have now been playing Rising Star for a fair while and have built a nice collection of cards. I just bought the legendary Private Jet card after saving up my Hive earnings. There will only be 75 of these, so maybe the price will go up. Most of my cards have come from packs, but I having been buying the odd one to fill holes in my collection. With the recent addition of the daily reward pool you can benefit by having more unique cards. It will soon be possible to 'craft' instrument cards by collecting parts.
Meanwhile, I had realised that I actually own real versions of many of the game instruments and just put a gallery together.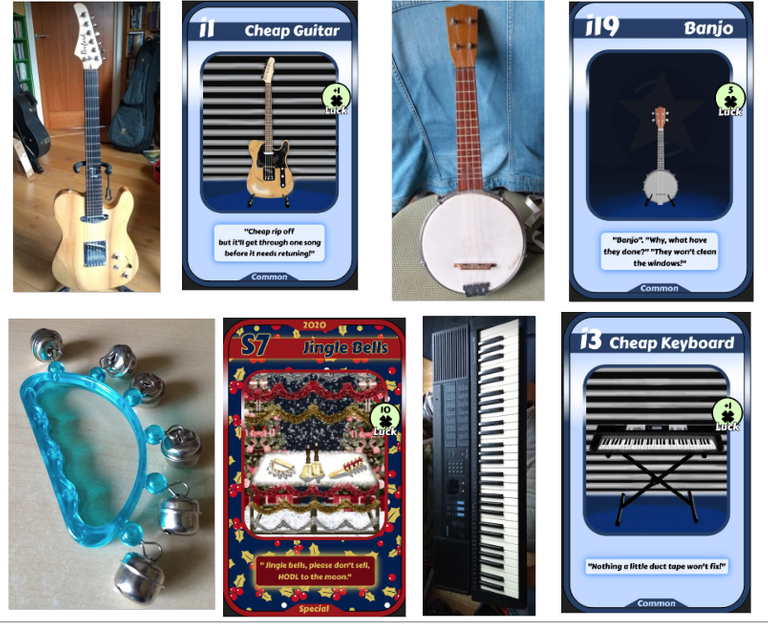 The guitar was not actually that cheap as I had it custom made for me by Benford Guitars. The 'banjo' is actually a banjolele, but close enough. My jingle bells come out at Christmas, but I have not played my keyboard much lately. My hand condition makes it hard to play now.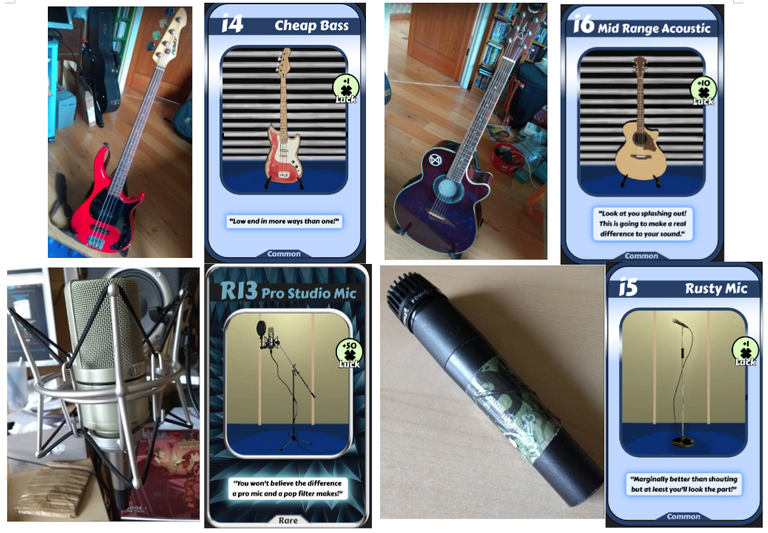 My daughter has used the bass and I have played it on some old recordings. I need to get back into it. The acoustic gets dragged out at times, especially if there is risk of damage and I want to preserve my nice Taylor. The 'pro' mic is not too exotic. It is an MXR 990 condenser. The other one was pretty cheap, but does okay. I have thought of investing in a decent Shure microphone.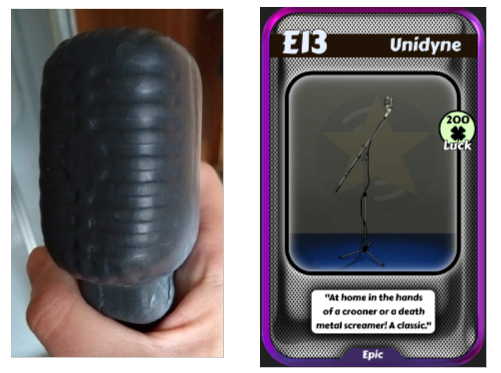 This last one is a bit of a cheat. I was given this microphone 'soap on a rope' for Christmas. The actual Unidyne dates back eighty years, but is still available.
UPDATE: I realised I ought to include the one thing I have that nobody else will is myself!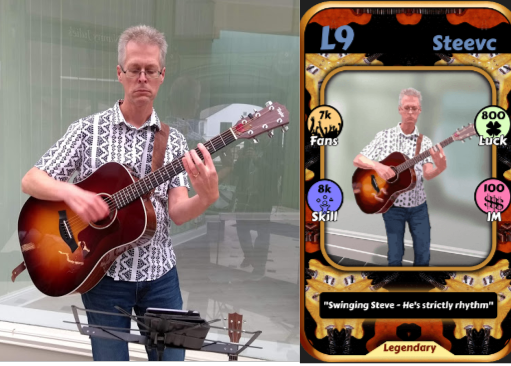 I have quite a few other instruments, many of which do get played. Musicians just tend to collect them. Most of mine are not too expensive. Maybe some day my cards will be worth than the more real things.
I can recommend Rising Star as a fun little game. You just have to kick off missions now and then, but som strategy in involved in choosing which to do for maximum rewards and to preserve your energy whilst not getting too much 'ego'. Developer @atomcollector is working on various new features. The community is great too with lots of musicians involved.
Rock on!