So many games and we have so little time to play them. What if you have a game that only needs to you click a button every FIVE minutes?
Better still you can earn something. For those who work from home due to this virus (like me), Rising Star is great.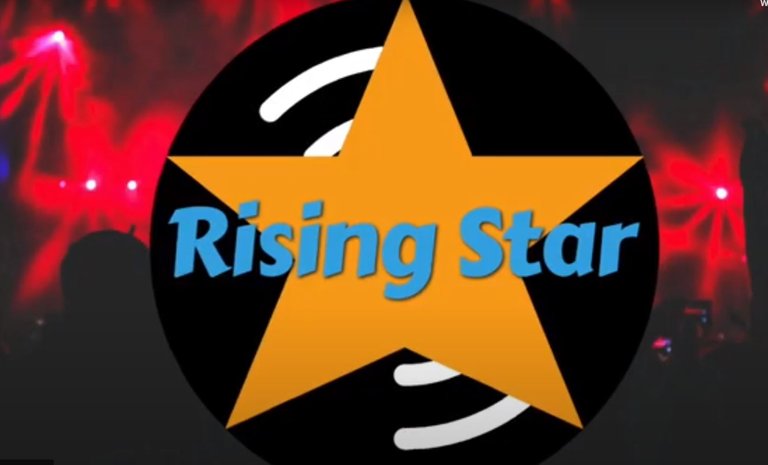 I can do my work, keep the speaker on, and when I hear the drunks saying, 'that dude is pretty good huh huh', then I know it's time to hit that button again.
It's not as simple as that, but one could take it just like this and be ruthless. I love music and so was instantly attracted to the game when @steevc mentioned it to me.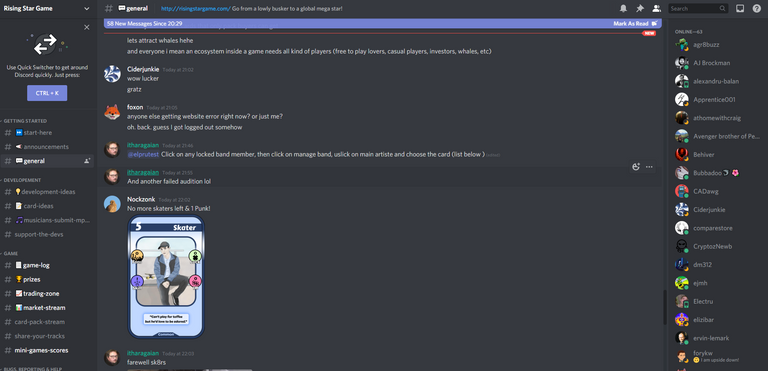 ...'the Rising Star Discord Channel is very active and gives you a LOT of information'...
Being run by a fellow Brit (@atomcollector) helps, and yes I am a biased bastard. I understand his humour and running Discord alongside the game keeps you in touch with what's going on.
There have been countless posts about Rising Star so I will try and tell you things the other posts do not.

The Boosters
They cost 10,000 StarBits, 5 HIVE or you can buy them with PayPal at a cost of 10 packs for $25.
You get THREE cards and it's a real lottery on what you can get. One card will be Rare or better and that is the important one.
If you want to progress in the game, you need Skill, Luck, and Fans. Whatever drops will help you to begin with.

...'opening a pack is always a buzz. John is the card everyone wants'...

...'no John today, but I have just pulled the very last Classic Punk to ever been issued. Yes, I know it's Sid...'...
Luck helps you with random drops such as Pizza (very important) and Coffee (important).
If you want to click that 5 Minute button ALL day and keep getting StarBits, then your Energy bar needs to keep getting filled.
More Luck means more Pizza and Coffee.
Fans are very important to the new player. There are many other quests besides the 5-minute one that helps you progress through the game, and you will need many fans for these.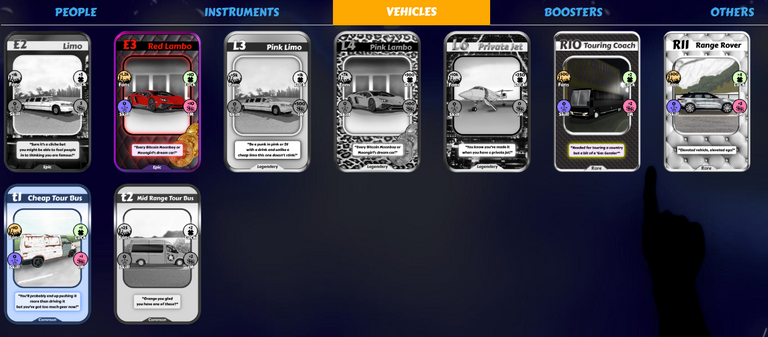 ...'Vehicles give you fans, sometimes too many fans!'...
Vehicles provide fans and having one early will help you out tremendously.
Skill is provided by people. Most rare people give you fans AND skill. Rare people are sought after cards and if you pull one you are doing well, regardless of which one it is.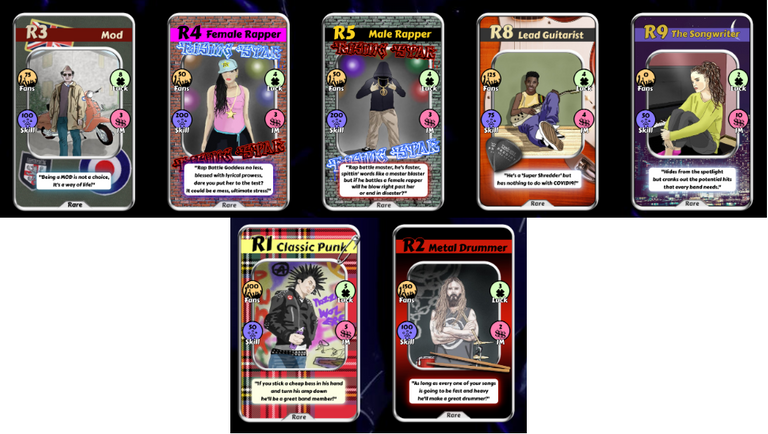 ...'if you pull any of these in your Rare slot you are doing well. They are all useful. The Rappers are the best'...
Rare people can be found on the marketplace, but the cheap ones get snapped up fast. Any of them will help you.
Epic and Legendary cards are extremely sought after. Nobody sells the damn things because if you pull one, you WILL be using it!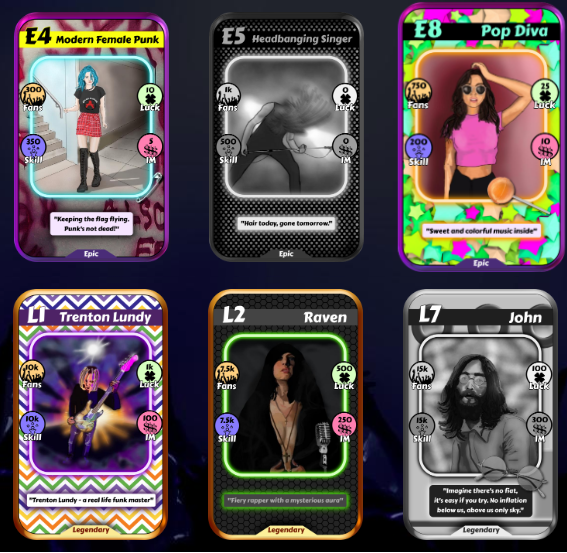 ...'the Epic People are great, the Legendary ones, outrageously good!'...
Legendary People are the pinnacle of pulls. Any of these will propel your StarBits earnings into the stratosphere.
Legendary Vehicles to the new player are a massive liability and will make your Ego so big it will impact your StarBits earnings. There are ways to get around this little problem.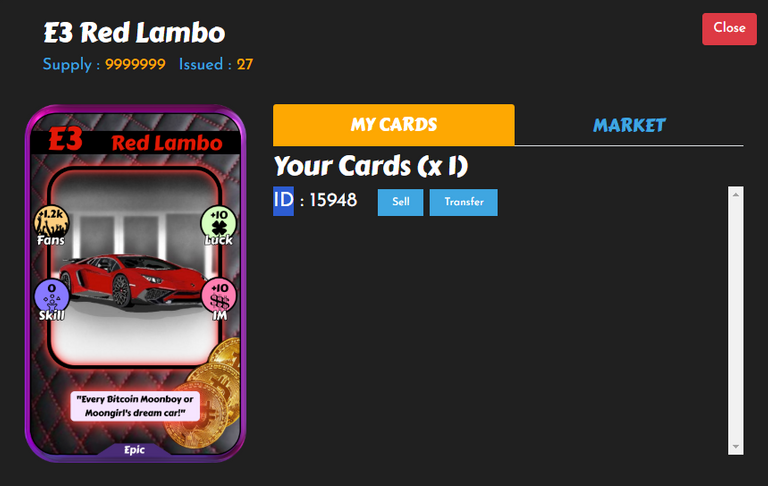 You need to have a lot of skill to handle a Red Lambo, such as the one I have (Yeah I have a lot of skill!).
Legendary Instruments can give you lots of Luck but in my mind are the worst of them. But to a new player, a Legendary Instrument would be fantastic providing much Pizza and Coffee.

The Common Cards
The pack will give you TWO commons, and these are a lucky dip as much as the rare slot card.

Any instrument with 'Cheap' is great unless you already own it. After that, you will be groaning whenever you receive one.
The only Common Vehicles are the ones listed here, and trust me they don't drop too often. You will need at least one vehicle to progress through the various quests later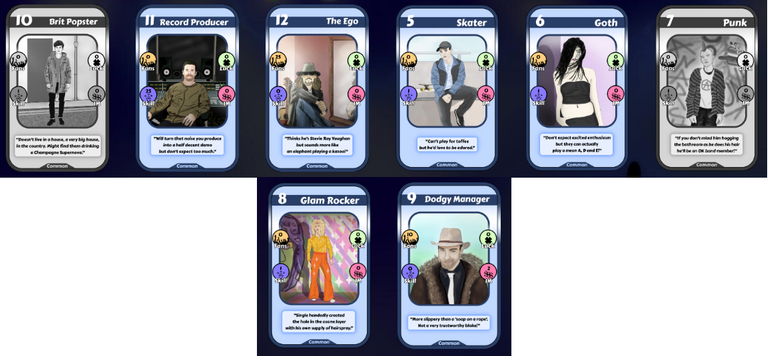 As with the rare cards, People (in my opinion) are the best commons besides the booster cards (I will come to these shortly).
When you get into Tier 3 (which is not easy), and form a band, the different people you have within the band create a different sound.
Common People don't drop so often, and I have not managed to gather one of each yet.
Some cards have very limited print runs (such as Skater and Classic Punk) and are almost out of print (are now BOTH out of print).
Booster cards are probably the best common cards you can pull. The Pizza box and Coffee Cup are essential items to have if you want to continue your quest to stardom all day (like I do).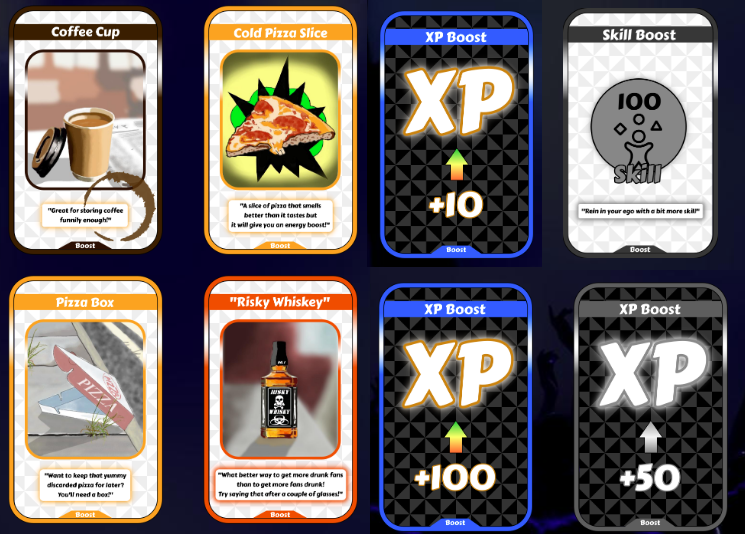 ...'some of the best common drops are booster drops'...
Cold Pizza Slices area also essential as that re-fill every 24-hours, completely filling your Energy bar allowing you to continue playing.
XP Boosts allow you to level more quickly opening up quests and the other Tiers of the game. They are important for the new player.

Can I make money from Rising Star?
I was in two minds whether to post this information or not. I do, as I don't re-invest all my StarBits into booster packs.
As a new player, it will take you some time to gather enough StarBits for even one booster pack. It's a free game, so what do you expect?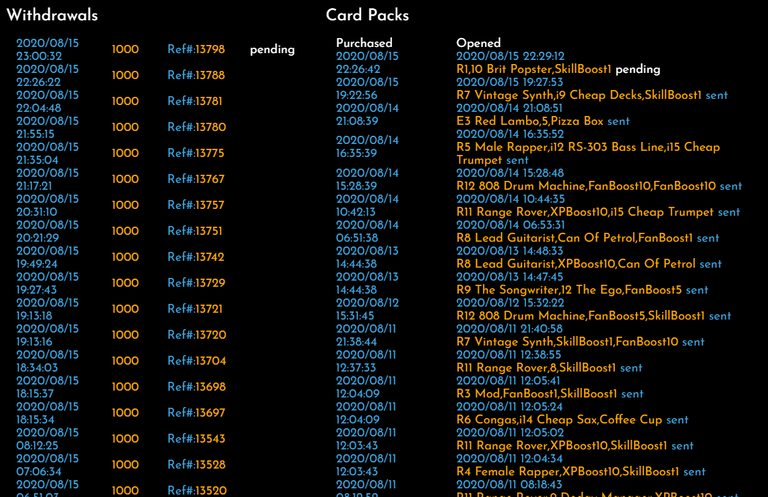 I won't disclose figures but it makes me want to keep playing, not just for the ROI, but because I love the theme of the game and it's unique flavour.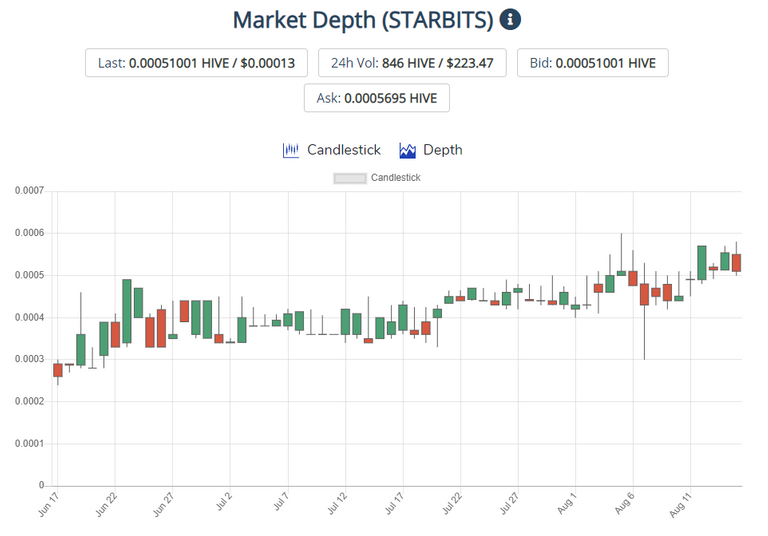 Looking cynically at things, it's the best earning game I have ever seen on HIVE. I will say no more.

The Legendary People
As I mentioned before, these are the premium cards, rarely drop but they make a LOT of difference.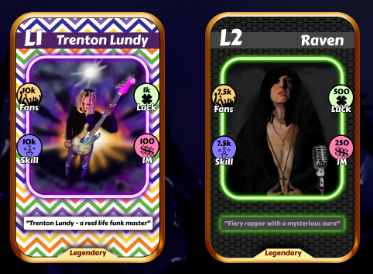 I have ONE Trenton Lundy and TWO Raven's. I bought one of the Raven's for 200 HIVE, the other cards dropped in packs. I was lucky.
As it stands, I am quickly pulling back my investment and it won't be long before I break even again.

The Development of Rising Star
It concerns me that many more people are starting to play the game and that it struggles to keep up with the demand.
A new server has been mentioned, and it can't come quick enough.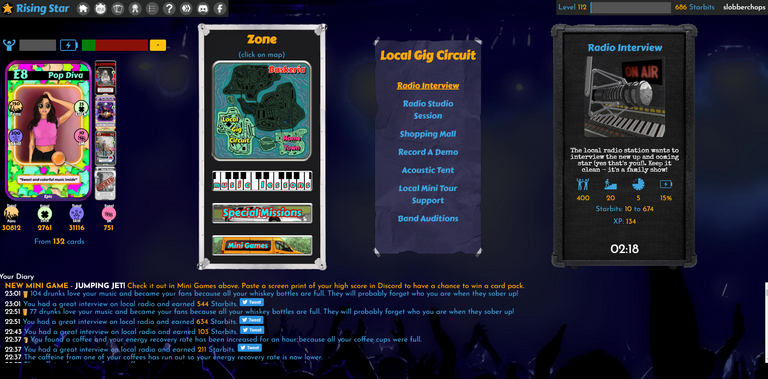 ...'Rising Star is not an attractive looking game, but it sure is additive'...
I am excited to see the game develop into Beta with new cards and an overhaul to the graphic display which frankly is basic.
Developers are generally bad designers, and @atomcollector will likely admit this. I am a programmer and am also dreadful at design work.

Some Further Thoughts
I don't want to plug Rising Star as some kind of game HIVE money system. It has LOADS of potential, is still in Alpha and I have been informed there are many more cards incoming soon.

What makes it unique is the cards are REAL people. Both Trenton Lundy and Raven are musicians, have HIVE accounts, and play Rising Star.

I have looked both of these musicians up and have been giving them a few votes when they post their original songs, which are also incorporated into Rising Star.
Soon we will have more HIVE musicians with their own cards. Talk about an Ego boost!
Rising Star is a HIVE based blockchain game where you can EARN while you PLAY.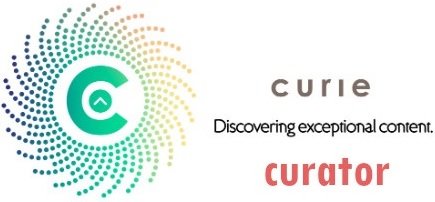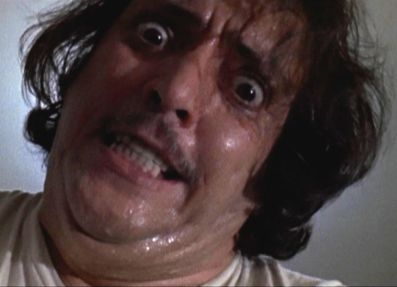 If you found this article so invigorating that you are now a positively googly-eyed, drooling lunatic with dripping saliva or even if you liked it just a bit, then please upvote, comment, rehive, engage me or all of these things.