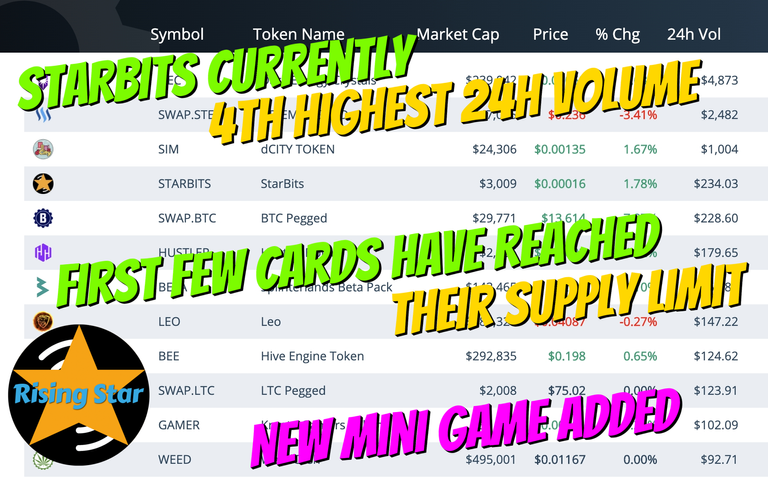 In this update:
New Players
Cards Now Out Of Print
STARBITS Trading Volume
No Need To Withdraw To Buy Packs
New Mini Game Added
Radio Evolved Later - Win Rising Star Prizes!
Entries For Today's Prize Draw
We have had an influx over new players over the last few days and we would like to welcome you all and thank you for giving Rising Star a try!
Cards Now Out Of Print
Many of the new players have been purchasing booster packs and that has meant that the first few cards that had a supply limit are no longer available in packs. These cards are: "5 Skater" and "R1 Classic Punk". If you hold one of these cards congratulations!
STARBITS Trading Volume
Trading of STARBITS in the last 24 hours has seen the token break into the top four on Hive Engine for the first time with a volume of $234.03
No Need To Withdraw To Buy Packs
You no longer have to withdraw your STARBITS to Hive Engine to purchase booster packs. Simply wait until you have 10,000 STARBITS in your account and an orange BUY button will appear on you "Account" page:


New Mini Game Added - "Jumping Jet"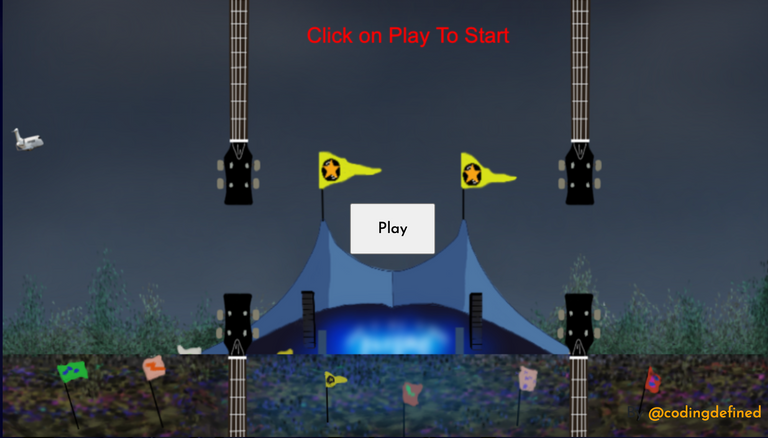 Featuring the Private Jet from the legendary card this mini game is a Flappy Bird clone and the highest score each week will win a Booster Pack and will be announced during our weekly live show "Radio Evolved" on Sundays.
A high score table will be added soon but in the meantime please put a screen print of your high scores in the #mini-games channel in our Discord server.
Radio Evolved Later - Win Rising Star Prizes!
Every Sunday at 20:00 British Summer Time is our live show where you can hear fantastic music from our community of independent musicians (most of whom are on Hive) as well as winning Rising Star prizes throughout the show. All the chat during the show takes place in the Atom Collector Record Discord server and the stream can be watched on the Atom Collector Records YouTube channel so why not follow and hit the notification bell now so you don't miss it!
Entries For Today's Prize Draw
Every post about Rising Star that is added to the #Hive channel in our Discord server gets you one entry into the weekly prize draw to win a booster pack (maximum one per day per user).
Entries so far:
1 @jacpl
2 @itharagaian
3 @vokus
4 @ervin-lemark
5 @saleg25
6 @cryptoyzzy
7 @bitandi
8 @itharagaian
9 @beco132
10 @kobusu
11 @raynopssgold
12 @liuke96player
13 @an0na
14 @saleg25
15 @itharagaian
16 @steevc
17 @gribbles
18 @immigrants-city
19 @apprentice001
20 @codingdefined
21 @slobberchops
22 @mindblast.leo
23 @musicgeek


Rising Star - Play For FREE, Earn Crypto & Tradable NFTs on HIVE!