It's Sunday again which means our weekly dose of fun and music with RADIO EVOLVED!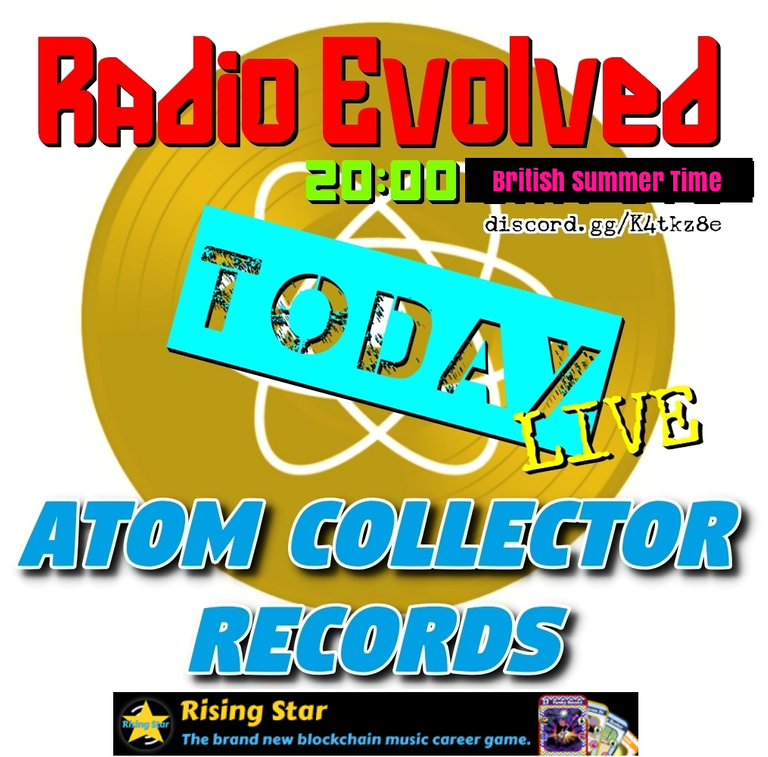 Participate in the chat on the Atom Collector Records Discord to have a chance to win FanBoost & SkillBoost cards randomly drawn between each track we play!
Subscribe to the Atom Collector Records YouTube channel and hit the bell notification icon so you don't miss the show.
We will also be announcing the weekly winners and random prizes for the top players in terms of minutes played, the top scores in the "Jumping Jet" mini game and the prize draws for the entries earned by posting about the game on Hive.
As we have so many entries to the Hive post draw this week I will be giving away TWO BOOSTER PACKS rather than one!
Entries so far are:
1 @khazrakh
2 @shenan
3 @cryptoyzzy
4 @vokus
5 @an0na
6 @an0na
7 @itharagaian
8 @kobusu
9 @steevc
10 @shenan
11 @shenan
12 @itharagaian
13 @an0na
14 @cryptoyzzy
15 @irisworld
16 @kobusu
17 @nastyforce
18 @mindblast.leo
19 @irisworld
20 @nupulse
21 @apprentice001
22 @immigrants-city
23 @shenan
24 @gribbles
25 @itharagaian
26 @irisworld
27 @khazrakh
28 @shenan
29 @ervin-lemark
30 @itharagaian
31 @dealhunter
32 @bitandi
33 @irisworld
34 @ervin-lemark
Hope to see you are the show later and good luck in the prize draws!


Rising Star - Play For FREE, Earn Crypto & Tradable NFTs on HIVE!