my entry to '52 weeks' contest by @wwwiebe
( the initial post & rules , all 52 prompts, this week entry )
Week's prompt was: 'Summer is over'. Here is my entry: municipal cleaners are fighting the dead leaves at the streets. The season is on! I took these streetphotos right in early September last year. And I have a little story to tell, behind them.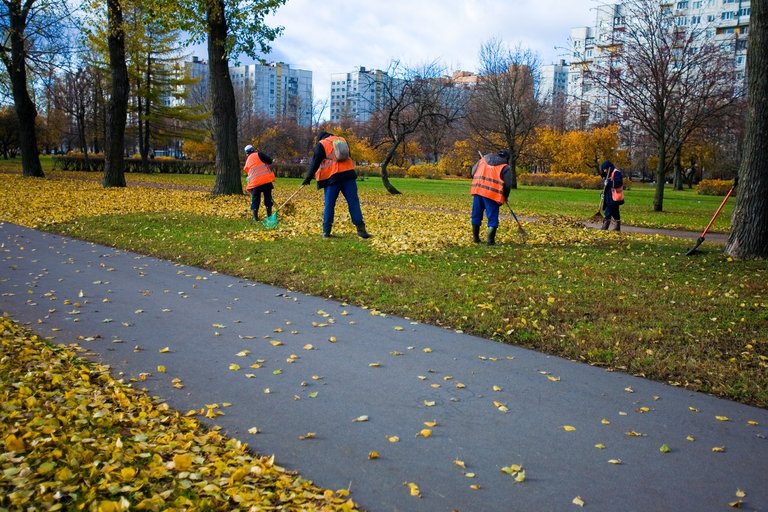 Что может быть бессмысленней, чем ежедневная гребля листвы, падающей с деревьев на лужайки, в большом мегаполисе (где лишней зелени не бывает)? Глупей только удаление опавших листьев при помощи специально обученного человека с пылесосом! Я видел такое не раз, но увы или к счастью, был без камеры. Листва необходима земле! Без палых листьев, она рано или поздно превращается в сухую мертвую пыль, на которой не растет даже чахлая трава, и обычно это случается очень скоро.
What can be more stupid than the daily rowing of foliage falling from trees onto lawns at a large metropolis (where each greenery is precious)? (More stupid is doing that by means of a specially trained person with a vacuum cleaner. I've seen this more than once, but alas, or fortunately, I was without a camera, so cant share a proof pic). Foliage is very essential for the soil! Without dead leaves, sooner or later it turns into dry dead dust, on which even stunted grass does not grow... and usually this happens quite soon.
---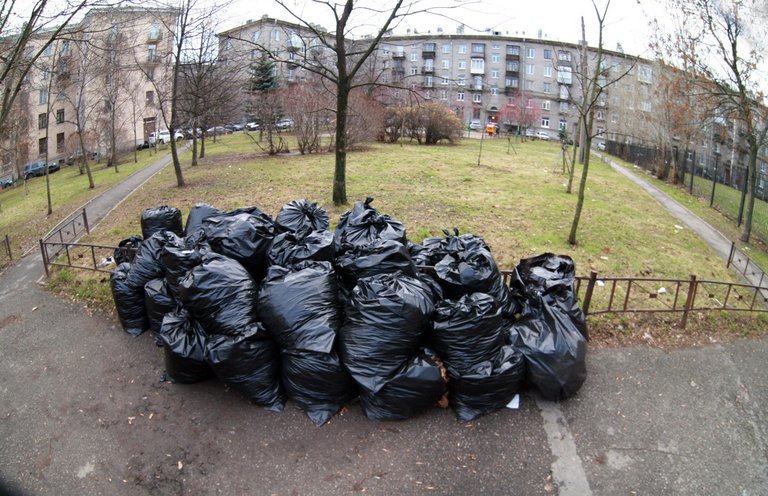 В нашем городе деревья еще водятся, хотя в центре положение хуже, чем на окраинах... поэтому листьев много, в каждом дворе набираются целые батареи чудовищных черных мешков, каждую осень они появляются повсеместно и не вызывают у меня других ассоциаций, кроме одной: трупы!
In our city, trees still exist, although in the center the situation is worse than in the suburbs... therefore there are a lot of leaves, a huge piles are collected in each yard. These monstrous black bags, appearing everywhere in the yards each autumn, do not cause any other associations to me, except of the corpses!
---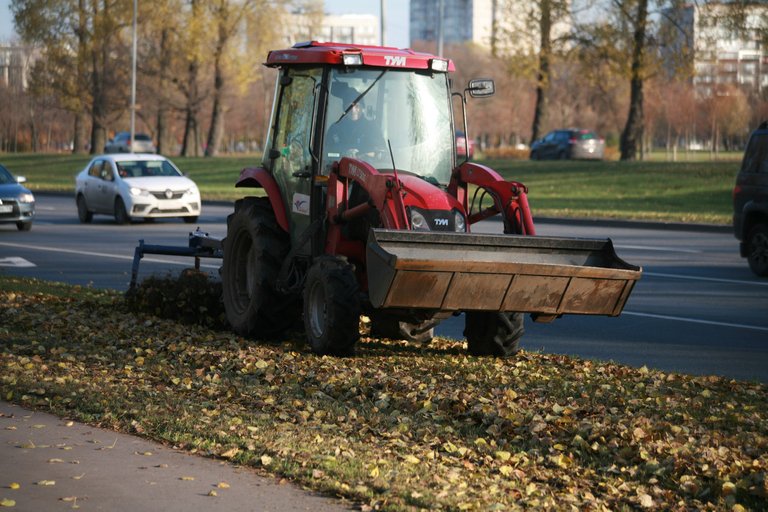 And they cannot be handled without extensive means of mechanization. // И без обширных средств механизации с ними никак не управиться.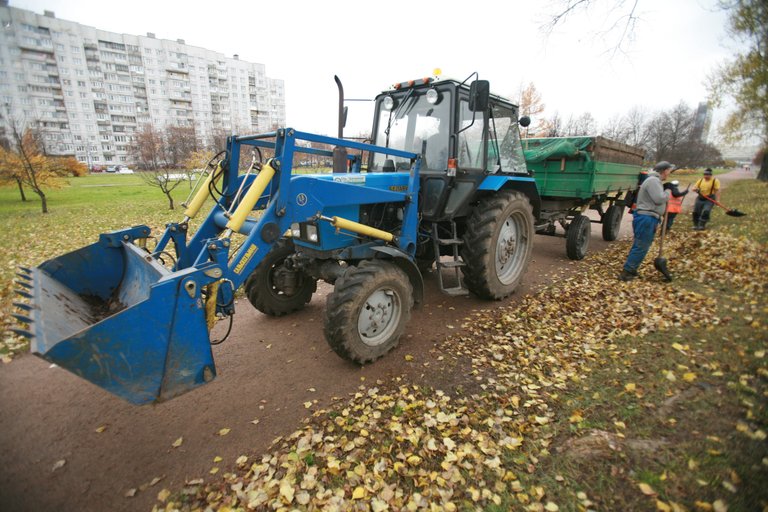 Причем эти работники определенно комплексуют; я подозреваю, что возможно, они и сами понимают, какой фигней занимаются, вместо настоящего производительного труда. Во всяком случае, они решительно и категорически стесняются фотоснимков и не хотят остаться в них, не говоря уж о том чтобы позировать мне! Фактически, я имел даже большой диспут с мелким начальничком этой бригады, атаковавшей меня с воплями что я не имею никакого права фотографировать этих бедных муниципальных служащих, работающих - минуточку - в публичном пространстве города.
Moreover, these cleaning workers are definitely having complexes; I suspect perhaps they understand themselves what kind of bullshit they are doing instead of real productive work. In any case, they are resolutely and categorically ashamed of being photographed, let alone the question of posing for me! In fact, I even had a big dispute with the minor boss of this brigade, who attacked me with screams that I had no right to photograph these poor municipal employees - note, just a minute - working at the public space of the city.
---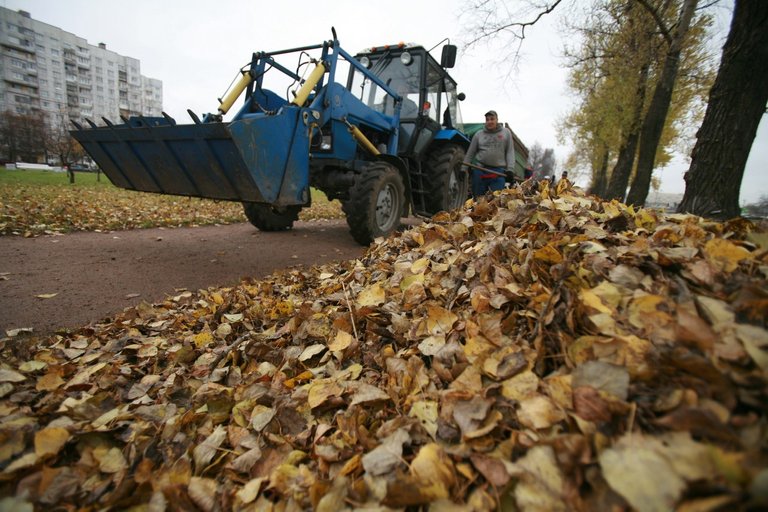 Да-с, правовая осведомлённость многих граждан оставляет желать лучшего! А мне помог телевик, который я брал с собой всю неделю, и все последующие дни нарочно фотографировал этих работников граблей и лопаты - с безопасного для их самолюбия расстояния.
Yes, sir, the legal awareness of many citizens leaves much to be desired! And then, I relied on telephoto lens, which I was borrowing with me all the rest of that week, all the following days I deliberately photographed these rake and shovel workers - from a distance safe for their pride.
---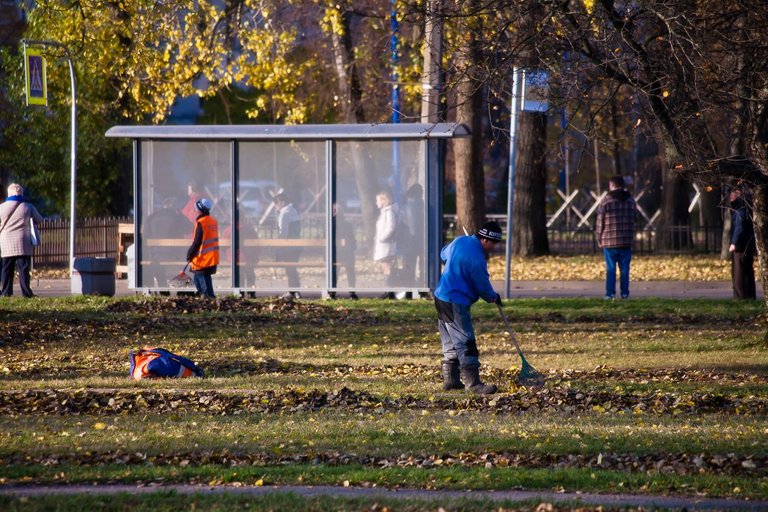 "Дворник. Жопа с метлой..." (с)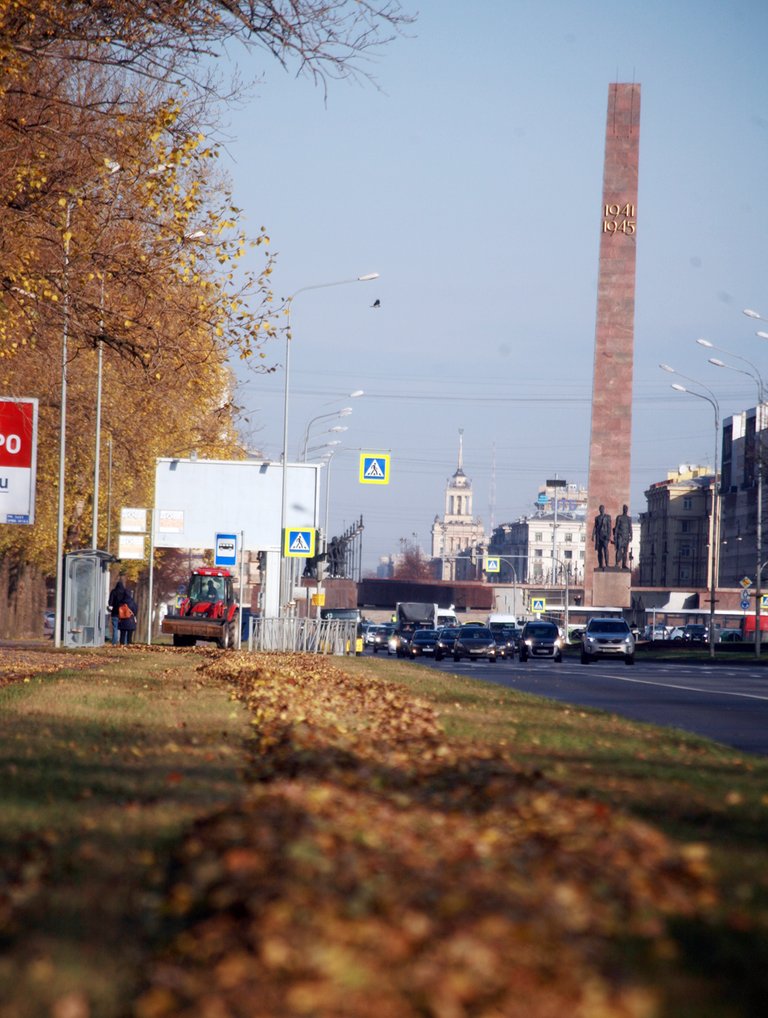 ---
| | | | |
| --- | --- | --- | --- |
| location: | St.Petersburg, Russia | October 2019 | natural lighting |
| camera/lens: | Canon 5D | Canon 16-35 2.8L | ex-jpg |
---
Thanks for stopping by!