my entry to '52 weeks' contest by @wwwiebe
( the initial post & rules , all 52 prompts, this week entry )
Week's prompt was: 'Looking Up!'
Hmm, sounds familiar!
Я из тех парней, что имеют привычку задирать иногда голову, чтобы проинспектировать состояние небесного свода и вообще, как оно там, наверху? Однажды, лет 20 назад, я шел по улице и подняв голову, заметил что параллельно со мной - на высоте одного этажа - по улице шел кот! Я так удивился и восхитился ситуации, что до сих пор помню сам факт. Хотя не помню ни какой именно это был кот, ни места где это случилось... Чаще поднимайте вашу голову, товарищи!
I am one of the guys who have a habit of lifting their heads from time to time to inspect the state of the firmament and, in general, whats up there? Once, twenty years ago, I was walking down the street and lifting my head, I noticed that a cat was walking along the street the same route as me, but at the height of one floor, along the cornice! I was so surprised and delighted with the situation that I still remember the fact itself. Although I don't remember nor what kind of cat it was, neither the place where it happened... Do raise your head more often, comrades!
---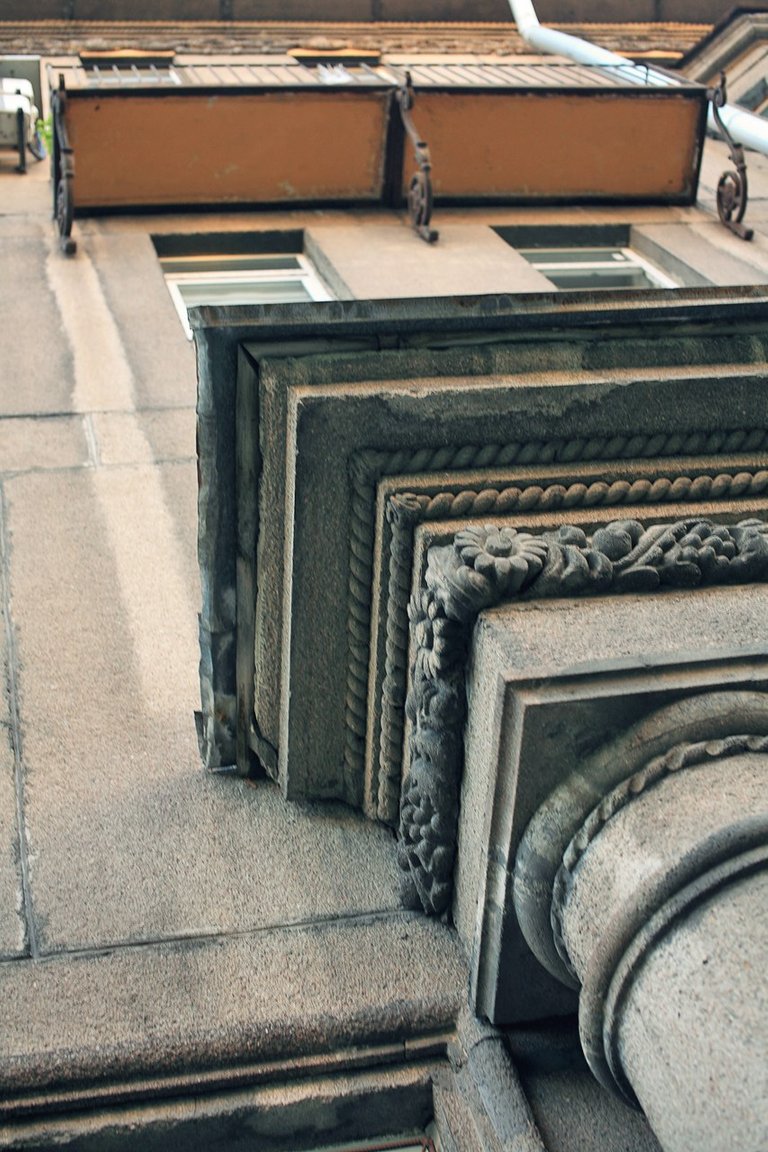 | | | | |
| --- | --- | --- | --- |
| location: | St.Petersburg, Russia | June 2019 | natural lighting |
| camera/lens: | Canon 5D | 50mm 1.4 | raw-conv. |
| f 3.2 | t 1/25 | ISO 125 | --- |
Of course, I do not have photo of that cat meeting I had 20 years ago. It as just a poetical story, I remembered in connection with the given prompt. The photo I choosed for this round, is just my little exercise in photography -- making decisions how to arrange the guiding lines of the building, having no zoom, but a fixed-focus 50-mm (not the best option for architecture and cityscape shooting, to say the truth). But when I get this shot I was very happy about it, as I felt I totally nailed it.
---
And here is a little music bonus for you.
Something happening above, in the sky...