As the days go by I learn more about photography, I acquire new accessories to improve my images, and practice makes everything I do easier, today I made the decision to create the following photographs, all were taken with the Canon T6 and the 50mm lens, with an F/9 aperture, the editing was done by a preset I already had saved, only with a little modification to create that blue color over the black color.
Mientras los días pasan aprendo más sobre fotografía, adquiero nuevos accesorios para mejorar mis imágenes, y la practica hace más fácil todo lo que realizo, hoy tomé la decisión de crear las siguientes fotografías, todas fueron tomadas con la Canon T6 y el lente 50mm, con una apertura de F/9, la edición corrio por parte de un preset que ya tenía guardado, solo con un poco de modificaciones para crear ese color azulado sobre el color negro.
---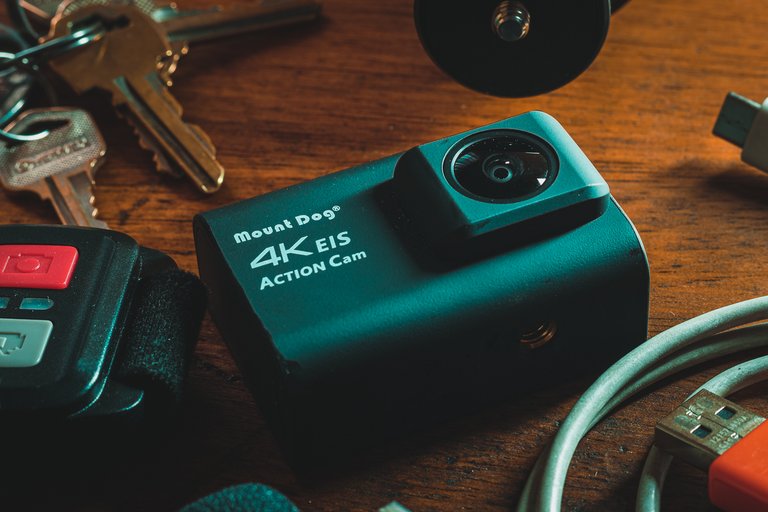 A few days ago I mentioned that I was hoping to start creating some tutorials about photography for the Hispanic community, and obviously for that I need to make use of the small video camera that I have kept in a box for a few weeks, with that in mind, today I started taking these pictures, I didn't clean the camera much because my idea was that it would look a little dirty as if it had just been used, as if it had come from the street and I just left it there with a few more things.
Hace unos días mencioné que esperaba comenzar a crear algunos tutoriales sobre fotografía para la comunidad hispana, y obviamente para eso necesito dar uso a la pequeña cámara de video que tengo guardada en un cajón desde hace algunas semanas, con eso en mente, hoy me puse a hacer estas fotografías, no limpié mucho la cámara porque mi idea era que se viera un poco sucia como recién utilizada, como si hubiera llegada de la calle y simplemente la dejé ahí con algunas cosas más.
---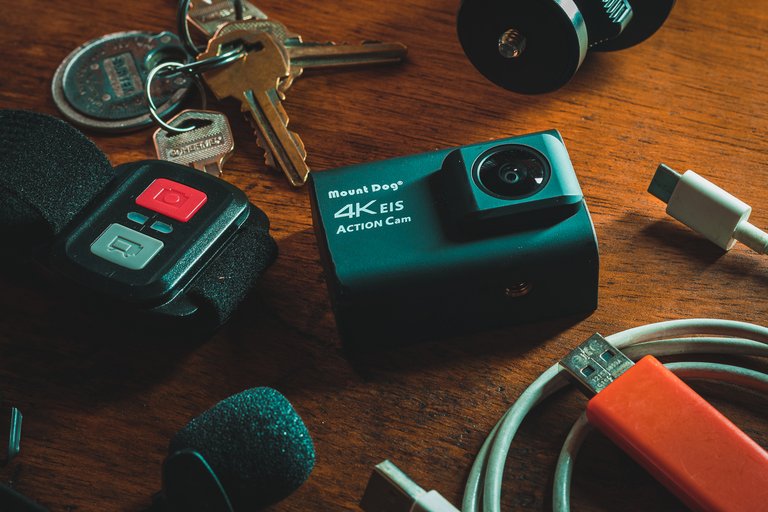 And I will not lie, the three images you will see today, are the only ones I took from this session, I didn't want to take more pictures because with these I was satisfied, of course there is still work to be done, for example if I wanted to upload it to a microstock agency, I would have to delete logos and clean the scene more, talking about the composition I think it was pretty good.
Y no voy a mentir, los tres imágenes que verán hoy, son las únicas que tomé de ésta sesión, no quise hacer más fotos porque con estas quedé satisfecho, claro que aún queda trabajo por hacer, por ejemplo si quisiera subirla a una agencia microstock, tendría que borrar logotipos y limpiar más la escena, hablando de la composición creo que quedó bastante bien.
---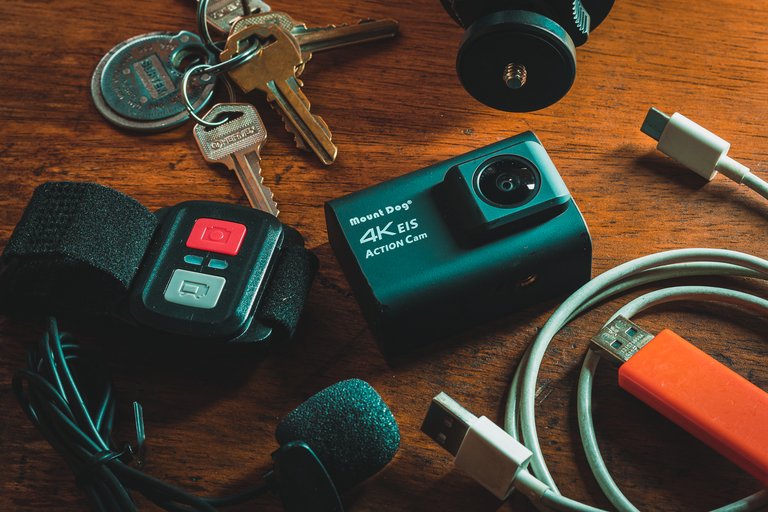 Since my main subject was the camera, I tried to use all the other elements and their lines to direct the gaze on the camera, the keys point to the camera and the tripod, the USB flash drive points to the camera, the USB cable points to the tripod and the remote control of the camera, the external microphone points to the camera, and so I tried to create a circle that directs the gaze back to the camera.
Como mi sujeto principal era la cámara, traté de utilizar todos los demás elementos y sus líneas para dirigir la mirada sobre la cámara, las llaves apuntan a la cámara y el tripié, la memoria usb apunta a la cámara, el cable usb apunta al tripié y el control remoto de la cámara, el micrófono externo apunta a la cámara, y así traté de crear un círculo que dirija la mirada de nuevo sobre la cámara.
---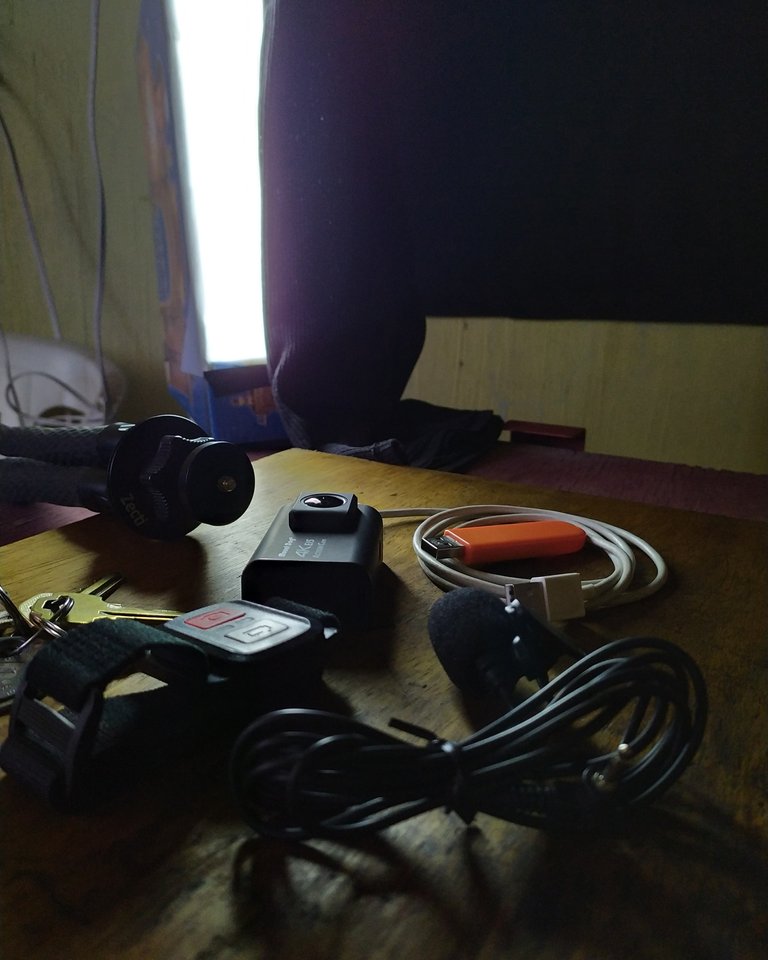 Today I decided that I wouldn't use the flash or the softbox, instead I used a homemade softbox that I made several months ago, since using the continuous light allowed me to see exactly where the light will be in my scene, but since I didn't want too much light, I used the first thing I found to cover the light just a little bit.
Hoy decidí que no usaría el flash ni el softbox, en lugar de ello utilicé un softbox casero que hice hace varios meses atrás, ya que al usar la luz continua me permitía ir viendo exactamente en donde estará la luz en mi escena, pero como no quería demasiada luz, utilicé lo primero que encontré para tapar un poco la luz.
---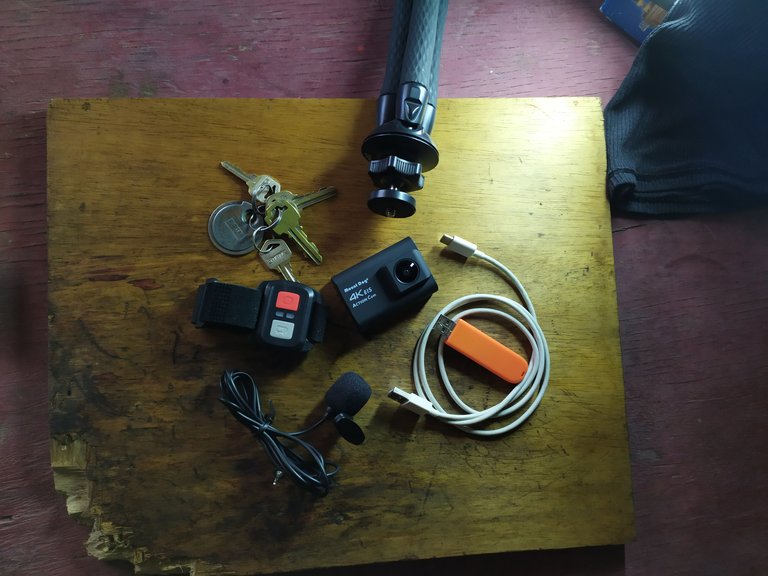 This is how simple it looks behind the scenes, this would be a general shot of how I was working, which is not the important thing, the important thing is the result.
Así de simple se ve detrás de cámaras, esto sería un plano general de cómo estaba trabajando, que no es lo importante, lo importante es el resultado.
---
All photographs are my property, taken by me, @monster-one
---
Thanks for watching my post, see you in the next one.
---
---