I don't think I should mention what framing means, the simple word already tells us what it refers to, so I will jump straight to show the following images, excuse me if I don't feel like talking too much today, I have an unbearable headache, but today is the right day to show these pictures.
No creo que deba mencionar lo que significa enmarcar, la simple palabra ya nos dice a lo que se refiere, por eso saltaré directo a mostrar las siguientes imagenes, disculpen si hoy no tengo muchas ganas de platicar demasiado, tengo un dolor de cabeza insoportable, pero hoy es el día apropiado para mostrar estas fotografías.
---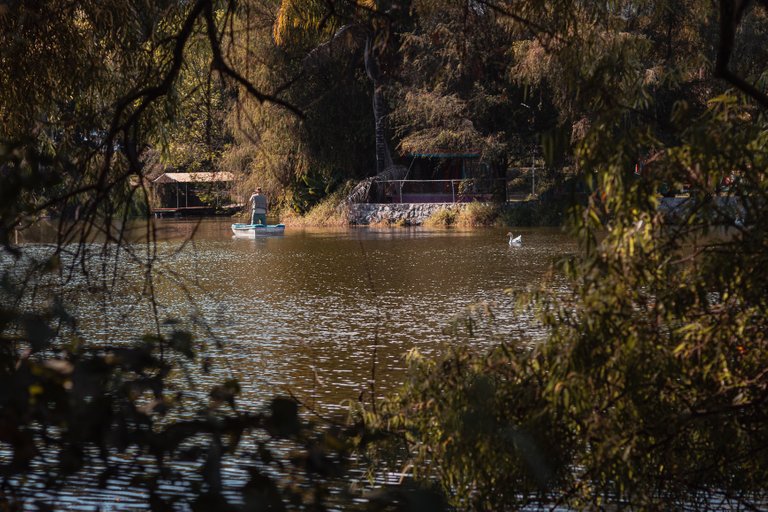 The truth is that I took these pictures on the 10th of this month, but I didn't want to show them to you before because I just didn't feel it, plus I was doing some different versions with the editing, as I took the pictures at midday, the light was too harsh, so to manage the color and make it look good, it was a real problem.
La verdad es que éstas fotografías las tomé el día 10 de este mes, pero no las había querido presentar antes ustedes porque simplemente no lo sentía, además de que estuve haciendo algunas versiones diferentes con la edición, como tomé las fotografías al medio día, la luz era muy fuerte, así que para manejar el color y que se viera bien, fue todo un problema.
---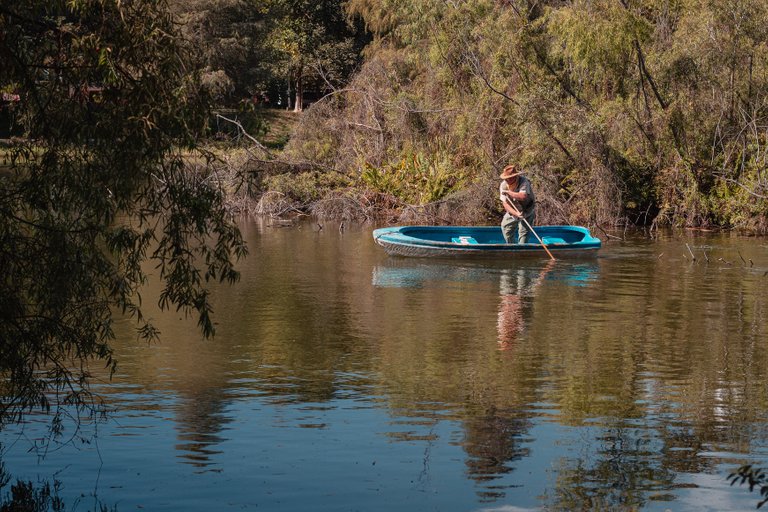 But going back to the beginning of this day, while I was sitting there at the edge of the lake, this person was fishing, in this park they let you fish if you pay a small fee for maintenance, it is not that big fish come out, which there are, but it is recreational fishing, unfortunately because of the time it was, I really doubt that this friend could have fished something, in all the time I watched him I didn't see him take anything out of the water.
Pero regresando al inicio de este día, mientras estaba ahí sentado a la orilla del lago, ésta persona andaba pescando, en este parque te dejan pescar si pagas una pequeña cuota para mantenimiento, no es que salgan grandes peces, que sí los hay, pero es pesca recreativa, lamentablemente por la hora que era, en verdad dudo que este amigo haya podido pescar algo, en todo el rato que lo observé no lo vi sacar nada del agua.
---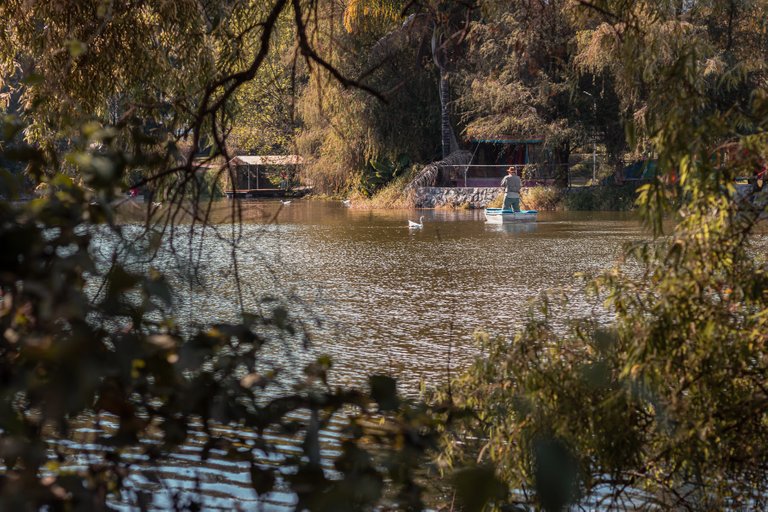 And the main reason why I took time to observe, is that the person didn't put himself in the place I had seen to take the photographs, but when you already have something in your mind you must make it, and I know very well that in another area, the photograph wouldn't have come out as I wanted it to.
Y la principal razón por la que me tomó tiempo observando, es que la persona no se ponía en el lugar en que había visto para realizar las fotografías, pero cuando ya tienes algo en la mente debes realizarlo, y sé muy bien que en otra zona, la fotografía no habría salido como yo lo quería.
---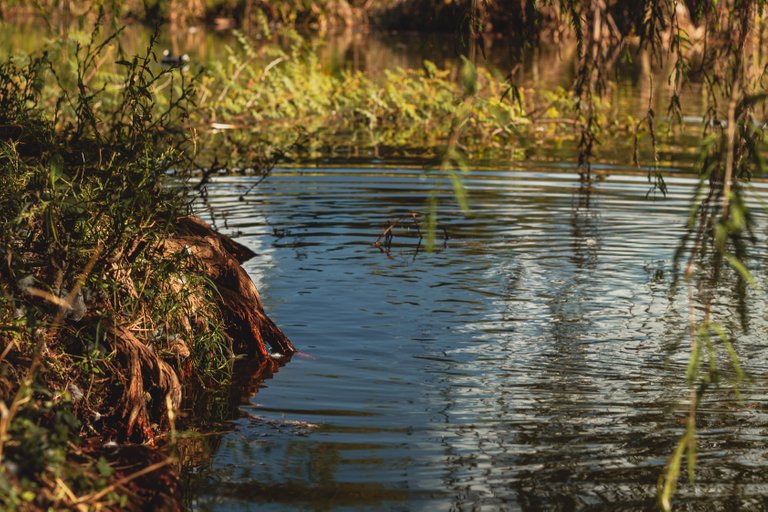 This side of the lake caught my attention a lot, I still don't know how I'm going to create something interesting there, because I'm still not satisfied with the photography, but that didn't stop me from using the few branches that fell on the image to achieve the framing.
Esta orilla del lago me llamó mucho la atención, aún no sé como voy a hacer para crear algo interesante ahí, porque aún no estoy satisfecho con la fotografía, pero eso no evitó que utilizara las pocas ramas que caían en la imagen para poder lograr el enmarcado.
---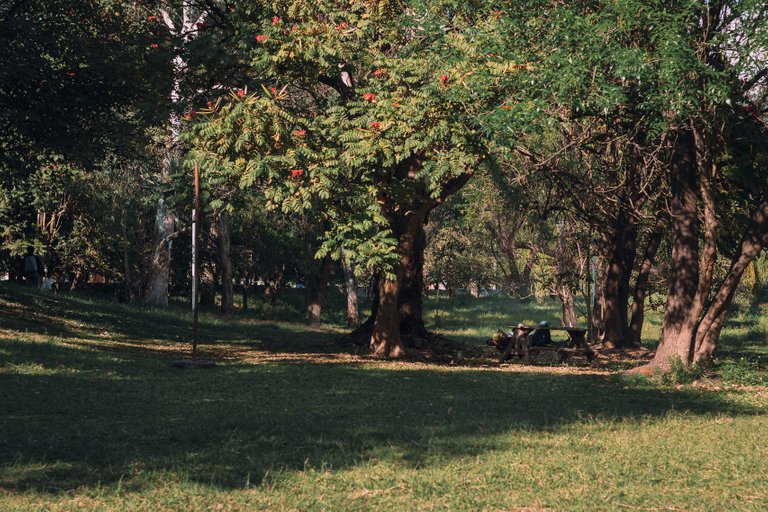 Continuing my way, I could see this person lying on the bench, I didn't want to disturb or get too close to him to avoid waking him up, instead I shot the picture from where I was to be able to make the framing using the trees and the shadow that directs the eye towards the trees.
Continuando mi camino, pude ver a esta persona recostada en la banca, no quise molestar ni acercarme demasiado para no despertarlo, en su lugar disparé la fotografía desde donde me encontraba para poder realizar el enmarcado utilizando los árboles y la sombra que dirige la mirada hacia ellos.
---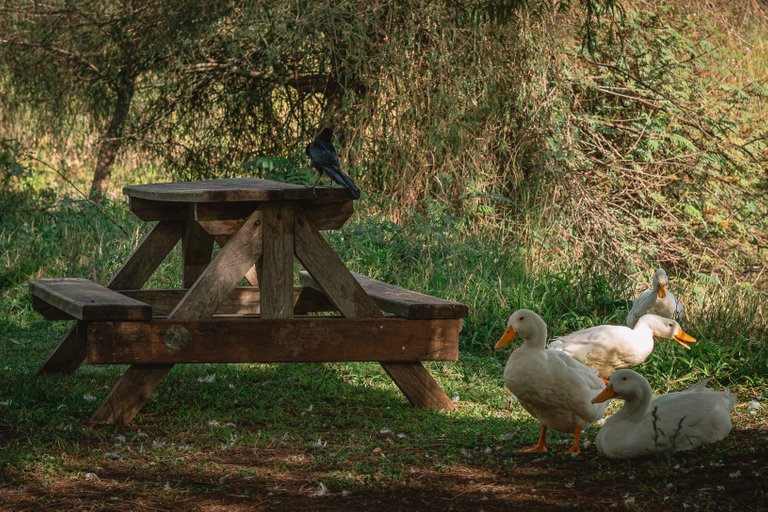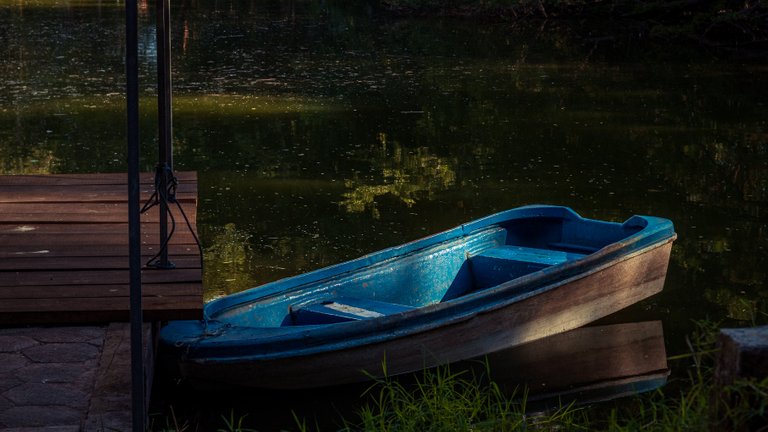 The following two images have nothing to do with framing, but since I took them that same day in the same place, I don't want to leave them forgotten for another post, the truth is that I liked them both and that's why I took the pictures, although it's likely that if I had taken another lens that day, the pictures would have come out much better.
Las siguientes dos imágenes no tienen nada que ver con enmarcado, pero como las tomé ese mismo día en el mismo lugar, no quiero dejarlas olvidadas para otro post, la verdad es que las dos me gustaron y por eso tomé las fotografías, aunque es probable que si hubiera llevado otro lente ese día, hubieran salido mucho mejor las fotografías.
---
All photographs are my property, taken by me, @monster-one
---
Thanks for watching my post, see you in the next one.
---
---