We can really say that each person when seeing a situation understands, looks and believes in a different way about life, this post is not about politics although it could well be since in these moments in my country Mexico, there is a transformation that is taking the social situation and life as we know it, to an extreme increasingly difficult to overcome, welcome to this post, a new test to know if I can document the city through images, so let's begin.
Realmente podemos decir que cada persona al ver una situación entiende, mira y cree de diferente manera sobre la vida, este post no se trata de política aunque bien pudiera serlo ya que en estos momentos en mi país México, se vive una transformación que esta llevando la situación social y la vida como la conocemos, a un extremo cada vez más difícil de superar, bienvenidos a éste post, una nueva prueba para saber si puedo documentar la ciudad por medio de imágenes, así que comencemos.
---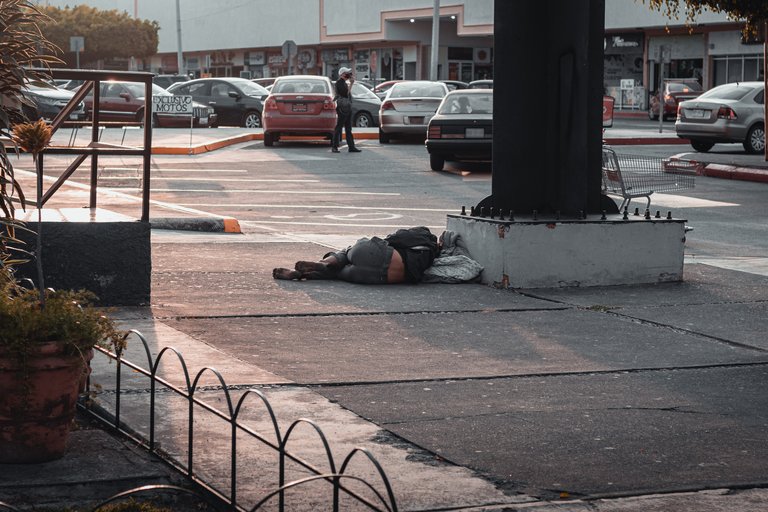 As always, we started with the image that impacted me the most, yes, I know that in all cities we can see this scene, people without a home and without a reason to live, surrendering in the streets, letting destiny do what it wants with them, the problem for me arises when a government, claims to be more honest, more social, and more concerned about its citizens, but however it leaves the most unprotected without any help, because they are no longer able to contribute to society, their productive stage is over, so they are left in oblivion, this person is in a mall parking lot, right next to a restaurant where high society people gather, but he is invisible.
Como siempre, comenzamos con la imagen que más me impactó, sí, sé que en todas las ciudades podemos ver ésta escena, personas sin hogar y sin un motivo para vivir, rindiéndose en las calles, dejando que el destino haga lo que quiera con ellos, el problema para mí surge cuando un gobierno, alega ser más honesto, más social, y más preocupado por sus ciudadanos, pero sin embargo deja a los más desprotegidos sin ninguna ayuda, porque ya no son aptos para contribuir con la sociedad, su etapa productiva ya pasó, así que se dejan en el olvido, esta persona se encuentra en estacionamiento de un centro comercial, justo al lado de un restaurante donde gente de alta sociedad se reúne, pero él es invisible.
---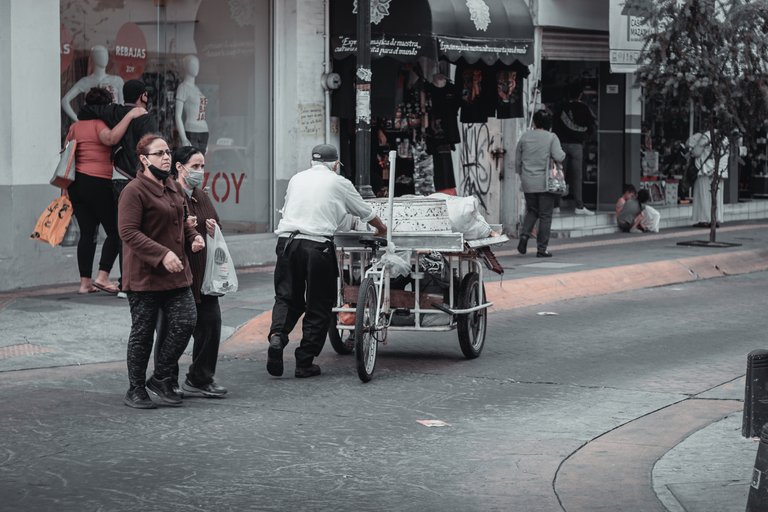 As a curious fact, all the photos of today I took them from above the bus, except for this one that I took it while I was walking through the streets of the downtown, the truth is that I went to look for some accessories that I need to make some stock photos, but all the photos of today have the same concept of showing the reality of the city, Adult people working because they don't have a living, adult people shopping, because they don't have access to technology, no one teaches them how to shop from home, and children who go with their parents to shop, but can't get into the stores, so they stay outside waiting.
Como dato curioso, todas las fotos de hoy las tomé desde arriba del trasporte público, a excepción de ésta que la tomé mientras caminaba por las calles del centro de la ciudad, la verdad es que había ido a buscar unos cuantos accesorios que necesito para hacer unas fotografías stock, pero todas las fotos de hoy tienen el mismo concepto de demostrar la realidad de la ciudad, gente adulta trabajando porque no tienen un sustento para vivir, personas adultas haciendo compras, porque no tienen acceso a tecnología, nadie les enseña como comprar desde su hogar, y niños que acompañan a sus padres a hacer las compras, pero no pueden entrar a los negocios, así que se quedan afuera esperando.
---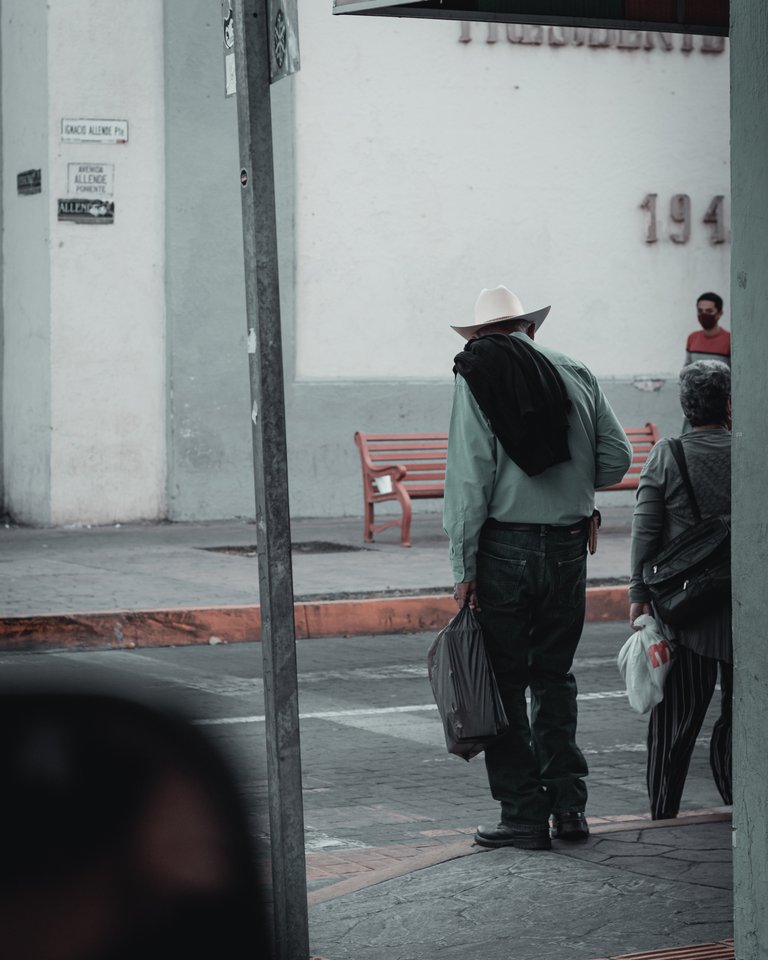 Here we can see another couple of old people, doing some shopping in the city, of course I also take risks every time I go out, but I still don't find myself in a risk as much as they do, besides, if I didn't go out, who would document the city?
Aquí podemos ver otro par de ancianos, realizando algunas compras en la ciudad, claro que yo también me arriesgo cada que salgo, pero aún así no me encuentro en tanto riesgo como ellos, además, si no saliera, ¿Quién documentaria la ciudad?
---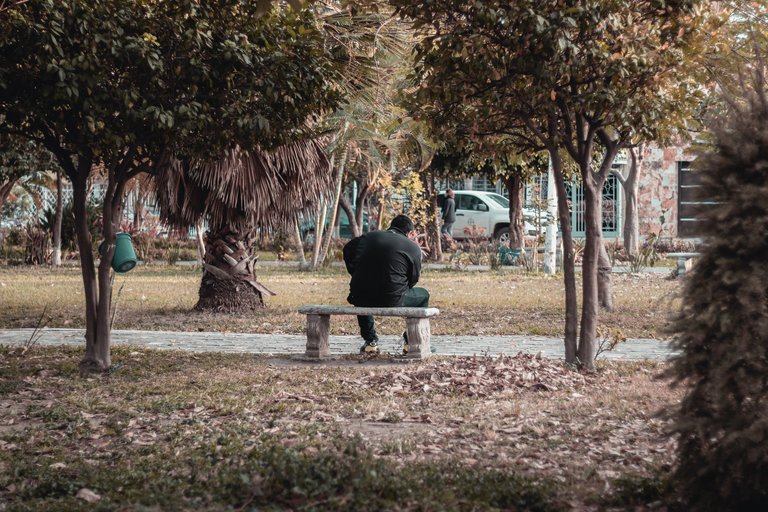 This picture is quite different, it is a young person who is there, resting, alone, in the middle of a park that it is alone, obviously he has the means to make his purchases by internet, still he needs to leave the walls of his home in order to avoid losing his mind.
Esta foto es bastante diferente, es una persona joven que se encuentra ahí, descansando, solo, en medio de un parque que se encuentra solo, obviamente tiene los medios para hacer sus compras por internet, aún así necesita salir de las paredes de su hogar para no perder la cordura.
---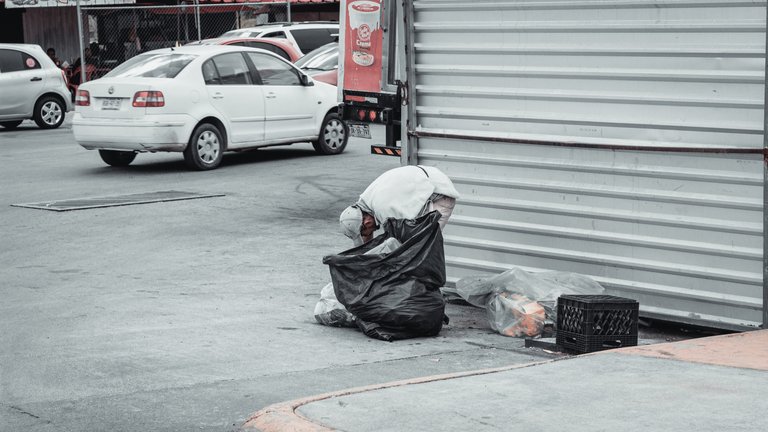 And the last photograph of today, I will not lie, this photo was taken on December 30, 2020, but I think it goes with today's session, they have the same theme, and were all taken from a moving vehicle, with this photo I conclude this adventure in which I go out to explore the city, its people and in general, to do street photography, I think I don't need to add what the subject does, but in case of doubt, he searches for food among the bags left by the stands you see in front, they are street food stands.
Y la ultima fotografía de hoy, no voy a mentir, ésta foto la tomé el 30 de diciembre de 2020, pero creo que va con la sesión de hoy, tienen la misma temática, y fueron tomadas todas desde un vehículo en movimiento, con esta foto concluyo esta aventura en la que salgo a explorar la urbe, sus personas y en general, a hacer fotografía callejera, creo que no necesito añadir lo que el sujeto hace, pero por si las dudas, busca comida entre las bolsas que dejaron los puestos que se ven enfrente, son puestos de comida callejera.
---
All photographs are my property, taken by me, @monster-one
---
Thanks for watching my post, see you in the next one.
---
---