A Gymnetis posing for the camera|| Un Gymnetis posando para la cámara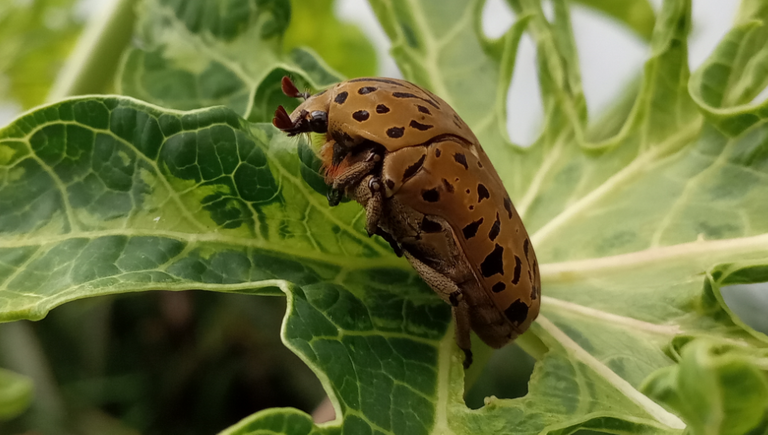 Foto tomada por mi || Photo taken by me
English
On many occasions, we have seen things that we had never seen before, and that leave us with the intrigue of knowing What is it?, exactly that happened to me a couple of days ago while I was in the garden of my house, and it is that just in the small papaya tree that we have, there was a strange insect that I had never seen, so I decided to take a few pictures to share them with you today.
I thought the little guy would run away from the scene once I brought my phone closer, but fortunately it didn't happen and I was able to take a few pictures. Later I looked it up on the internet and I read that it was a kind of beetle called Gymnetis Pantherina, I found this little brown insect with black spots and yellow edges quite striking, it even reminded me of the Cheetahs.
I will leave you the captures that I could make with my phone: Xiaomi Redmi 6A, with which I tried to do my best to make approaches in which you could appreciate the beauty of this great insect.
Español
En muchas ocasiones, hemos visto cosas que nunca antes habíamos observado, y que nos dejaran con la intriga de saber ¿Qué es?, exactamente eso me sucedió hace un par de días mientras estaba en el jardín de mi casa, y es que justamente en el pequeño árbol de papaya que tenemos, había un extraño insecto que jamás había visto, por lo que decidí tomar unas cuantas fotos para hoy compartirlas con ustedes.
Creí que el pequeño huiría de la escena una vez acercase mi teléfono, pero afortunadamente no sucedió y pude sacar unas cuantas capturas. posteriormente lo busqué por internet y leí que se trataba de una especie de escarabajo llamado Gymnetis Pantherina, me pareció bastante llamativo este pequeño insecto de color marrón y manchas de color negro y bordes amarillos, incluso me hizo recordar a los Cheetahs.
Les dejaré las capturas que pude realizar con mi teléfono: Xiaomi Redmi 6A, con el que intenté hacer lo mejor posible para hacer enfoques en los que se pudiese apreciar la belleza de este gran insecto.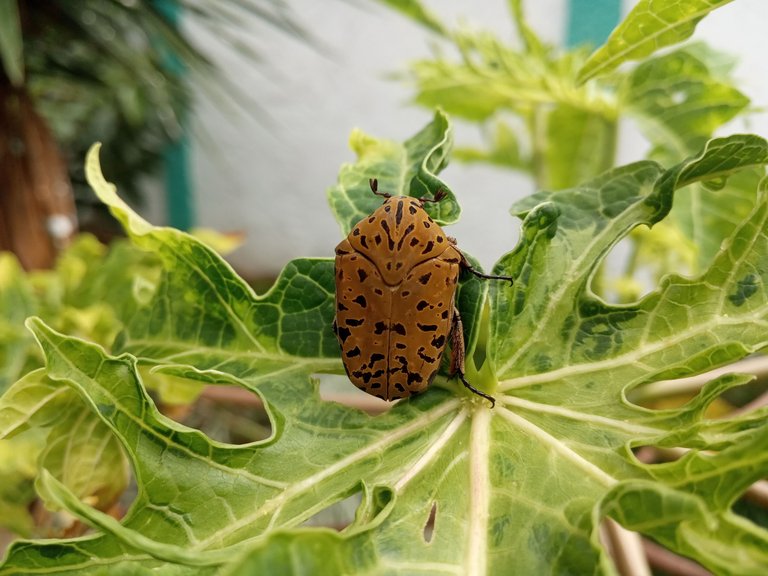 ---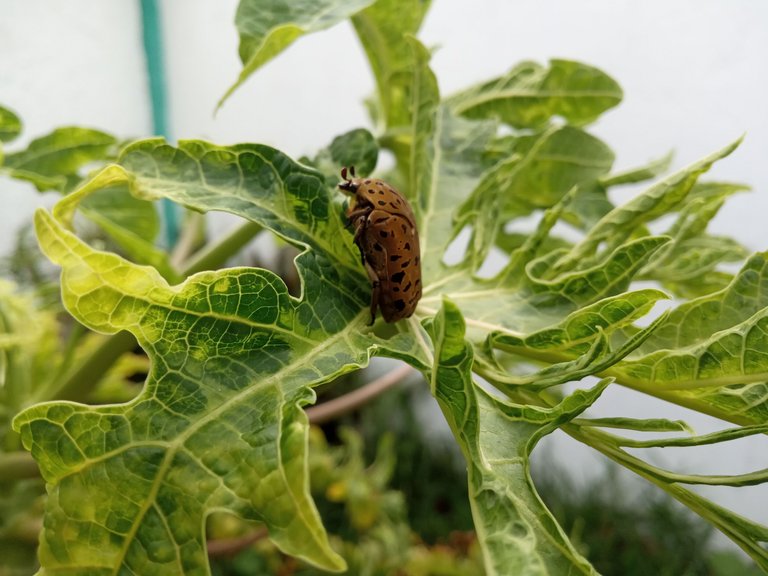 ---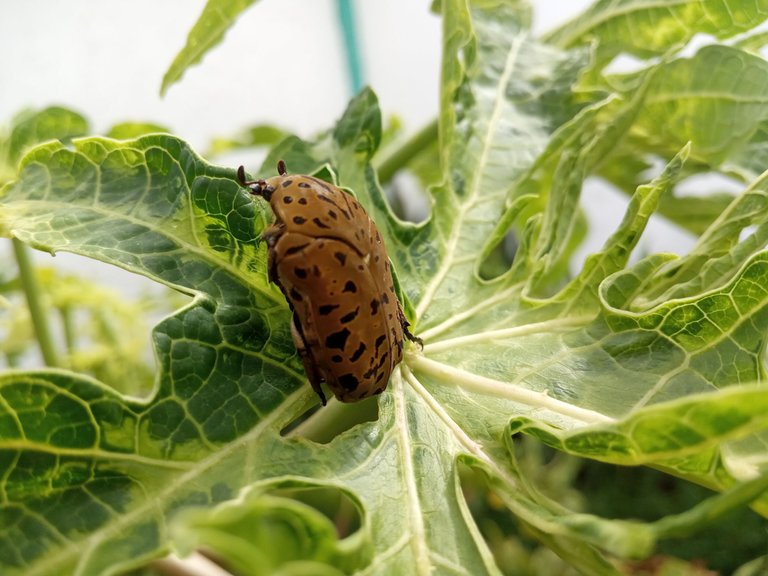 ---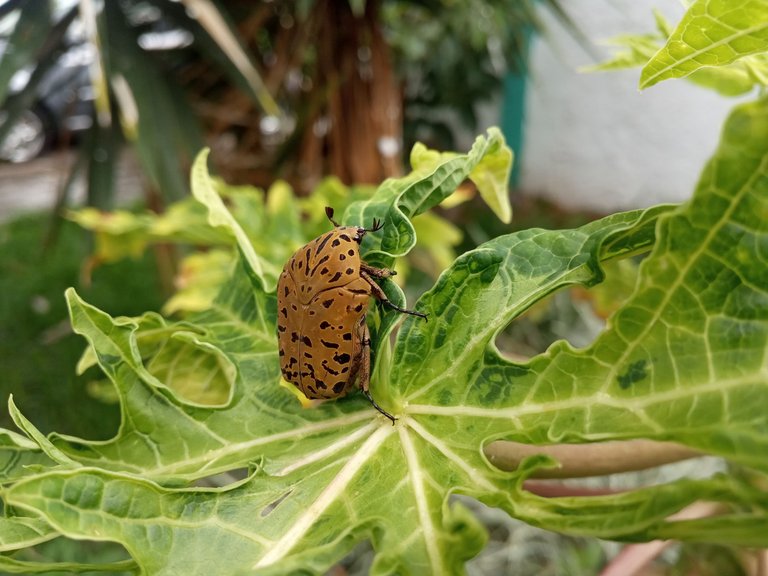 ---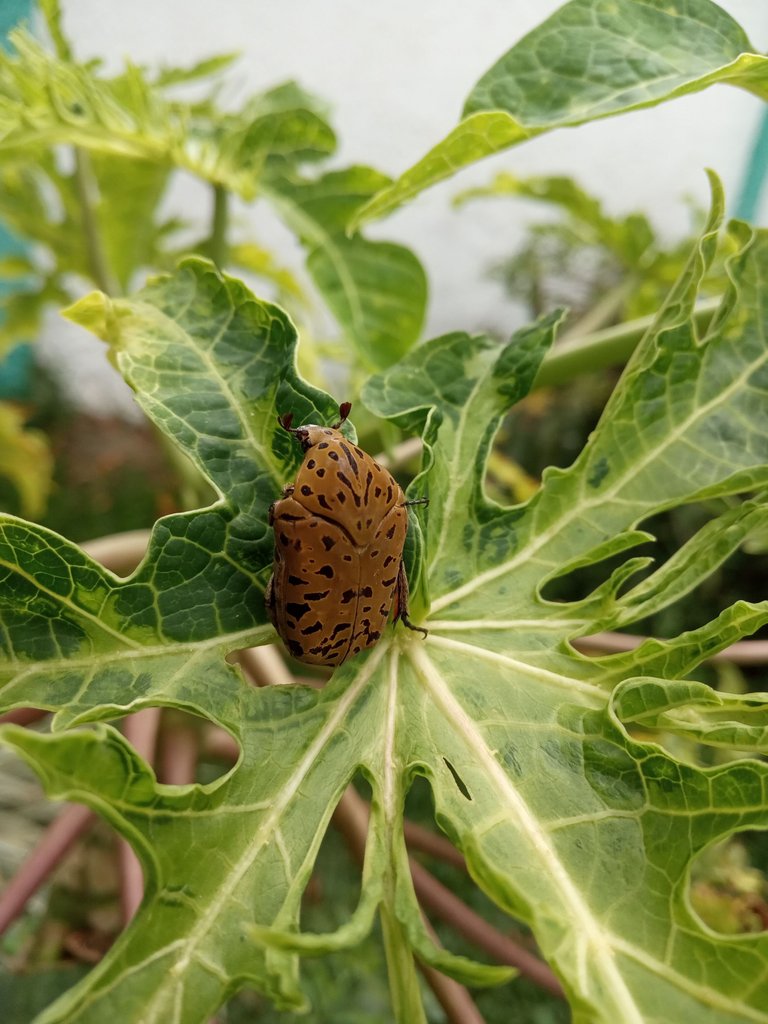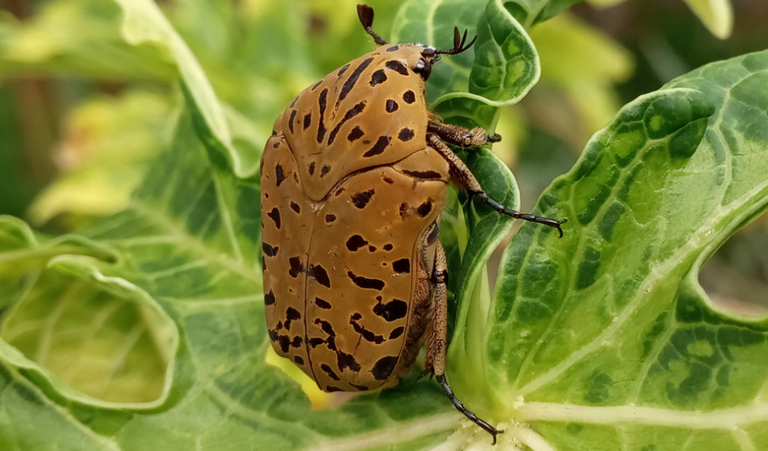 Una de las fotos anteriores con acercamiento || One of the previous photos with close-up
It was a little difficult to take some good shots, as I was very limited by the power of my camera, but with a little ingenuity and patience I was able to do a good job to document it today, an experience that is worthwhile.
This opens my interest for further insect photography, or anything else that lends itself to express elegance or simply something different from what we normally see. Nature is always ready to surprise us, and we will have to be ready with our cameras.
I will be open to suggestions for future occasions to do a better job with my camera, and of course, in the near future, I hope to have my professional camera.
Fue un poco difícil realizar unas buenas tomas, pues me limitaba mucho la potencia de mi cámara, pero con un poco de ingenio y paciencia se pudo hacer un buen trabajo para hoy poder documentarlo, una experiencia que vale la pena.
Esto abre mi interés por posteriores fotografías de insectos, o cualquier otra cosa que se preste para expresar elegancia o simplemente algo diferente a lo que normalmente vemos. La naturaleza siempre está a disposición para sorprendernos, y habrá que estar listos con nuestras cámaras.
Estaré abierto a sugerencias para en siguientes ocasiones realizar un mejor trabajo con mi cámara, y por supuesto, en un futuro cercano, espero poder tener mi cámara profesional.

Source of images || Fuente de imágenes
---
1 - 2 - 3


---