Black beaches · Playas negras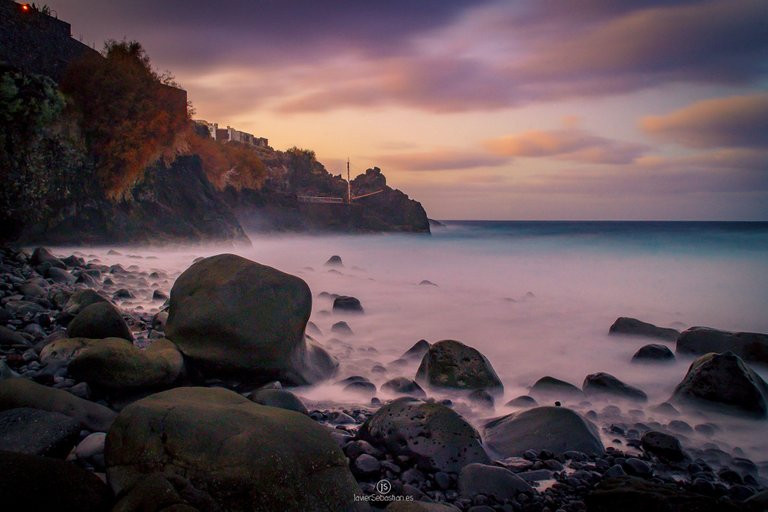 by @marc-allaria
---
LONG EXPOSURE PHOTOGRAPHY
For this week's contest I have decided to share this photo of the black stone beach of my hometown, in La Palma, Canary Islands.

For this type of long exposure photography it is difficult to achieve a good final result without taking several shots with different settings. Besides the technique, it takes a bit of luck to get a good effect of "fog" between the rocks.

I hope you like it.
Regards!


Here the beaches are like that, black sand like coal, or boulders that the ravines have brought from the mountains. Here the sea arrives strongly and the island seems to cross the ocean to the north and the roar of the waves makes it vibrate and creak, as if it were a ship about to run aground. That bellow is heard from very high, where the vegetation changes and those ravines that bring the stones are born, so that the sea plays with them and turns them into the sand that the beaches of the south enjoy.
---
FOTOGRAFÍA DE LARGA EXPOSICIÓN
Para el concurso de esta semana he decidido compartir esta foto de la playa de piedra negra de mi pueblo natal, en La Palma, Islas Canarias.
Para este tipo de fotografía de larga exposición es difícil conseguir un buen resultado final sin hacer varios disparos con diferentes configuraciones. Además de la técnica, hace falta un poco de suerte para conseguir un buen fecto de "niebla" entre las rocas.
Espero que les guste.
Saludos!
Aquí las playas son así, de arena negra como el carbón, o de cantos rodados que los barrancos han traído desde las montañas. Aquí el mar llega con fuerza y la isla parece surcar el océano hacia el norte y el rugido de las olas la hace vibrar y crujir, como si fuera un barco a punto de encallar. Ese bramido se escucha desde muy arriba, donde la vegetación cambia y nacen esos barrancos que traen las piedras, para que el mar juegue con ellas y las convierta en la arena que disfrutan las playas del sur.
| CAMERA | LENS | FOCAL DISTANCE | Tv | Av | ISO |
| --- | --- | --- | --- | --- | --- |
| CANON EOS 100D | TAMRON 18-200mm. | 18mm. | 30s. | f/22 | 100 |


www.javiersebastian.es


Copyright: Javier Sebastian, Canary Islands. All my images are original.
If you want to buy any of my visuals, please drop me a message, I'm on Discord: JavierSebastian#5816

---
COINBASE | Facebook | Twitter | Instagram | Youtube | Presearch | Brave | Invite me a Coffee | Patreon
---
I use this wonderful service to trading crypto coins.
I use these services to earn token while surfing the web. These are my referral links.


I use this service to BUY CRYPTO with my CREDIT CARD. This is my referral link.

I use this service to PURCHASE and WITHDRAW to my BANK ACCOUNT. This is my referral link.

---
---