The mountains can be so seductively peaceful sometimes, it's easy to forget how quickly that can change. Something to keep in mind as we travel though life. If anything this pandemic has shown us how quickly the world can change. Not a breath of wind at Berg Lake for blue hour on the first night after we had hiked up there. From an altitude of 1,646 m (5,400 ft) the North Face of Mt Robson rises a further 2308m (7572m) out of the lake to a total height of 3,954 m (12,972 ft). Robson is the highest peak in the Canadian Rockies. Mount Robson Provincial Park, British Columbia, Canada. Yes that is a little iceberg floating in the lake.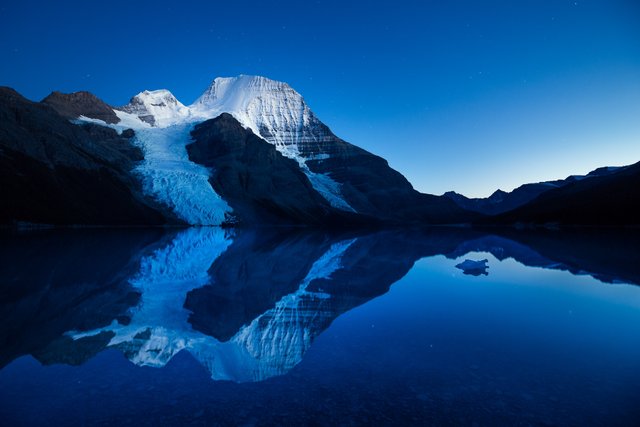 The shot was taken with a Canon EOS 6D Mark II with a Canon EF 16-35mm f/4L IS USM at ISO 800, at 16.0 mm, f/5, and 25s exposure time.
If you would like to learn a little bit more about my background in photography you can read the interview @photofeed did with me here.
Robert Downie
Love Life, Love Photography
All images in this post were taken by and remain the Copyright of Robert Downie - http://www.robertdowniephotography.com