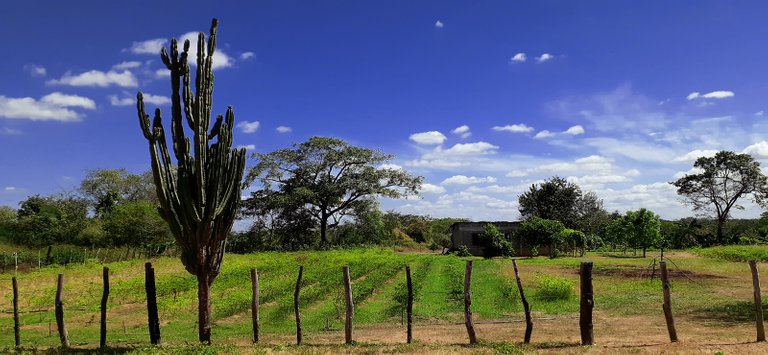 Hola amigos. Hoy la segunda parte de mi viaje al llano venezolano en navidad.
Las siguientes fotografías fueron tomadas en una caminata por fuera de la finca donde nos quedamos. En el post anterior les mostré la primera parte, que fue el destino final de esta caminata, pero en este post coloco fotos del trayecto, en especial de un charco que había en la carretera.
Este charco era pequeño, cubría la mitad del ancho de la pequeña carretera de un carril. Sin embargo con la posición de la cámara logré que se viera como un gran lago.
Hello friends. Today the second part of my trip to the Venezuelan plains at Christmas.
The following pictures were taken on a walk outside the farm where we stayed. In the previous post I showed you the first part, which was the final destination of this walk, but in this post I put pictures of the journey, especially of a puddle on the road.
This puddle was small, it covered half the width of the small one lane road. However, with the position of the camera I managed to make it look like a big lake.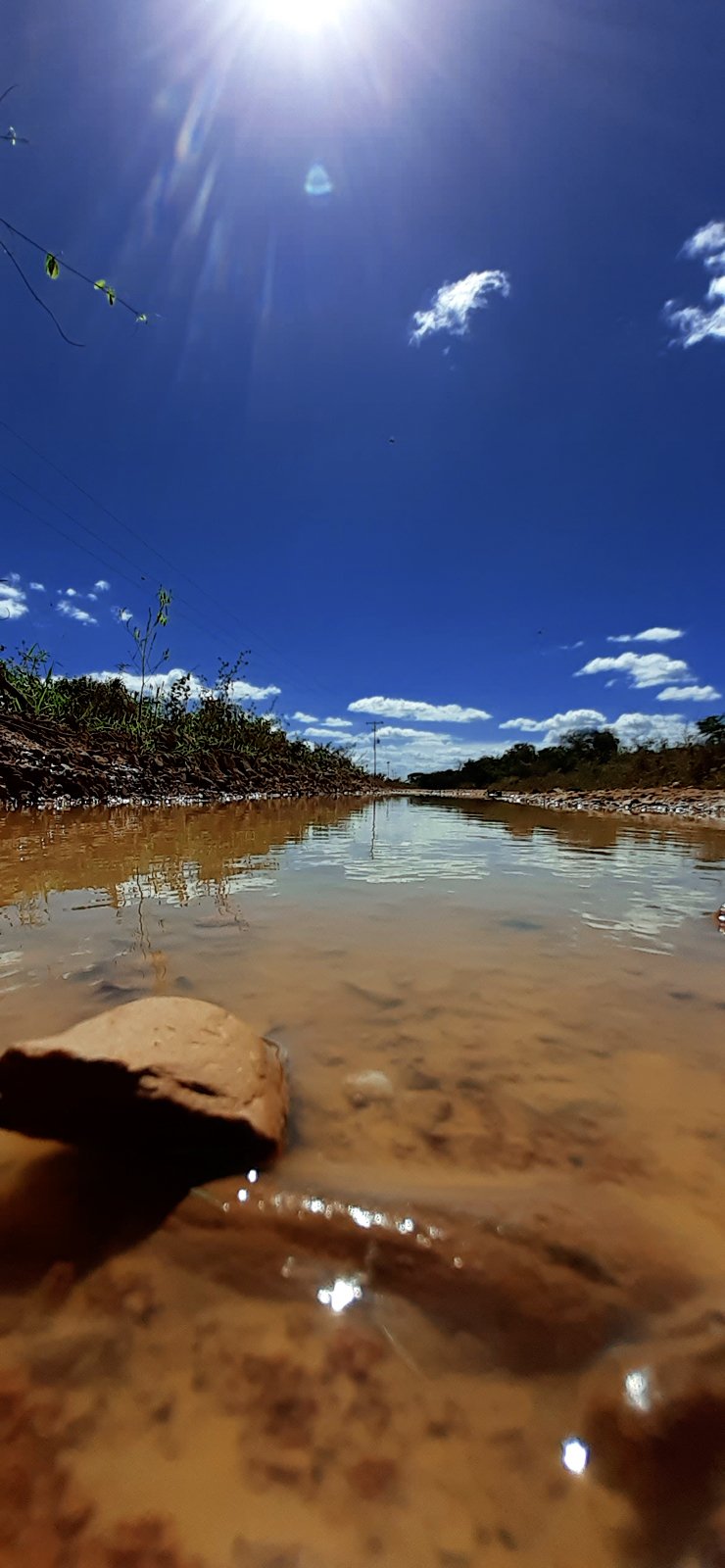 El sol estaba muy fuerte, por lo que las ímagenes salín muy claras. Un cielo un poco pálido y mucho resplandor. En la imagen derecha pueden observar cómo cambia con unos ajustes en Photoshop.
The sun was very strong, so the images were very clear. A little pale sky and a lot of glare. In the right image you can see how it changes with some adjustments in Photoshop.
| | |
| --- | --- |
| before | after |
También me percaté que la foto podría mejorar con algunos elementos. Por eso decidí colocar una luna y estrellas para darle un toque romántico, haciendo una combinación perfecta entre el azul del cielo y el ocre de abajo.
I also realized that the photo could be improved with some elements. So I decided to place a moon and stars to give it a romantic touch, making a perfect combination between the blue of the sky and the ochre below.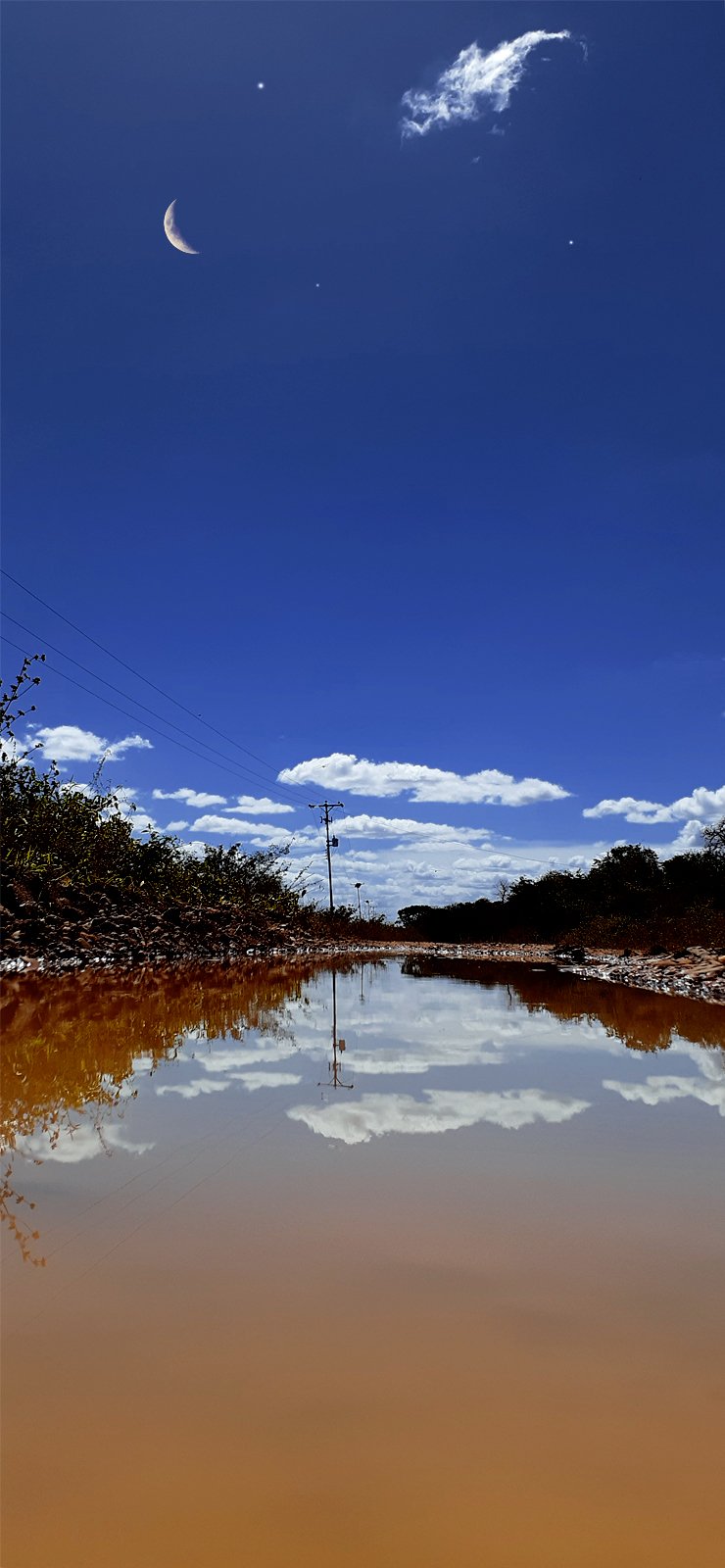 Después me topé con otro charco. Este ya no estaba en la carretera sino a un costado. Era más grande y profundo. También tenía plantas que parecían alimentarse de él.
Then I ran into another puddle. This one was no longer on the road but to the side. It was bigger and deeper. It also had plants that seemed to feed on it.
Retocando las fotos para este post, sentí que le faltaban atractivo. Aunque bonitas, eran unas simples imágenes de un charco con plantas y no tenían ningún elemento que destaque y le de valor a la foto.
En ese momento recordé unas fotos que hice a un estanque en mi visita a la Casa Nazaret en el Jarillo y que se veía similar el agua. Busqué las fotos y eran perfectas. No tuve que realizar algún retoque complicado; simplemente poner la capa en modo "superponer" y listo. Como por arte de magia parece que los peces estaban en este nuevo charco.
Retouching the photos for this post, I felt that they lacked appeal. Although beautiful, they were simple images of a puddle with plants and had no element that would make the photo stand out and give it value.
At that moment I remembered some photos I took of a pond in my visit to House Nazaret in the Jarillo and that the water looked similar. I looked for the photos and they were perfect. I didn't have to do any complicated retouching; just put the layer in "overlay" mode and that was it. As if by magic it seems that the fish were in this new puddle.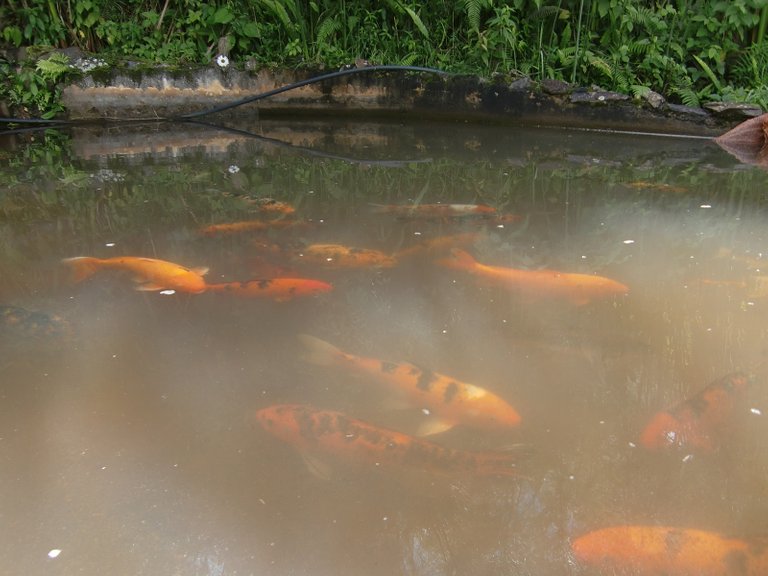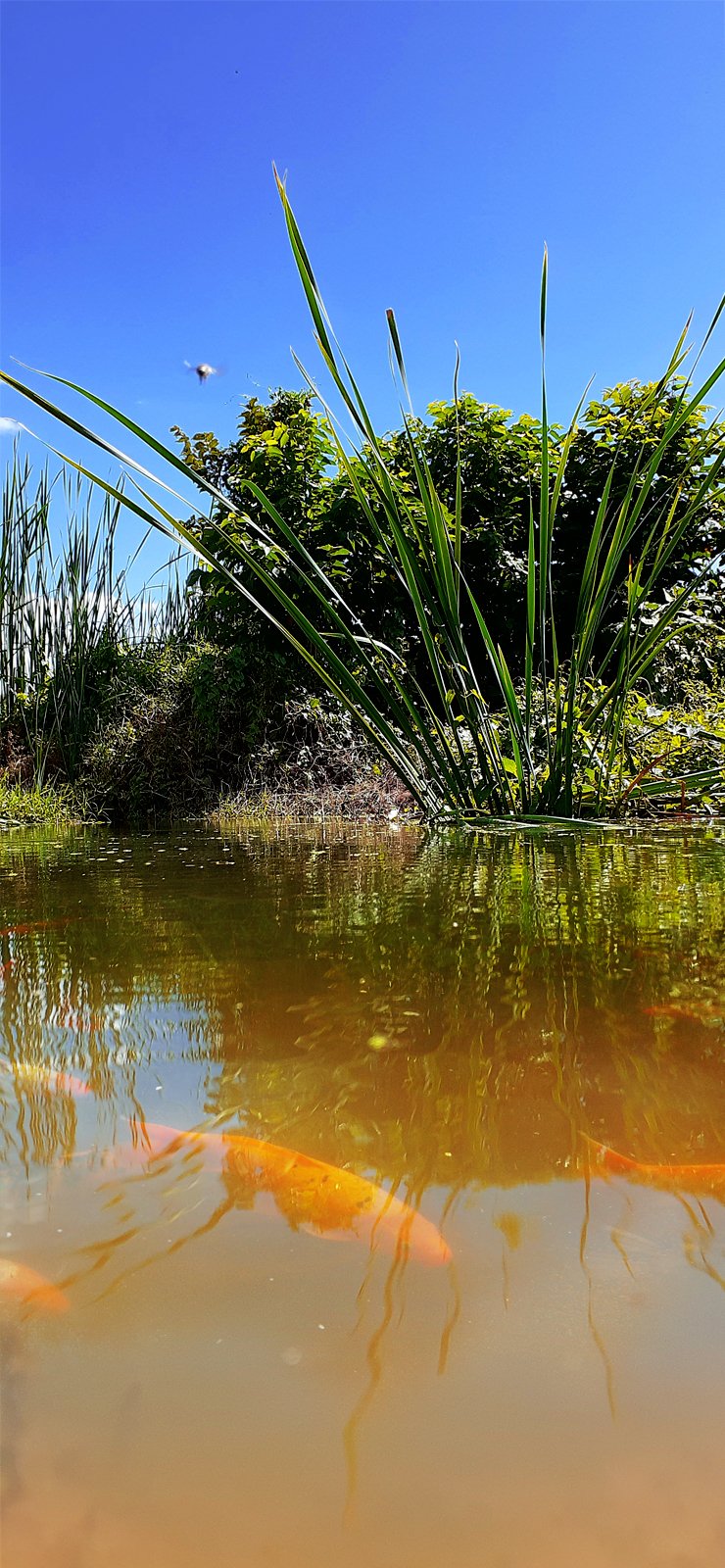 En la foto anterior solo coloqué a los peces. El insecto volador fue capturado en ese instante.
In the previous photo I just placed the fish. The flying insect was captured at that moment.
Les dejo una última foto; esta vez sin los peces. En realidad me parece un charco feo, pero se pueden crear fotos interesante en él. También el contraste con el cielo lo ayudan bastante...
I leave you one last picture; this time without the fish. It actually looks like an ugly puddle to me, but you can create interesting pictures in it. Also the contrast with the sky helps it a lot...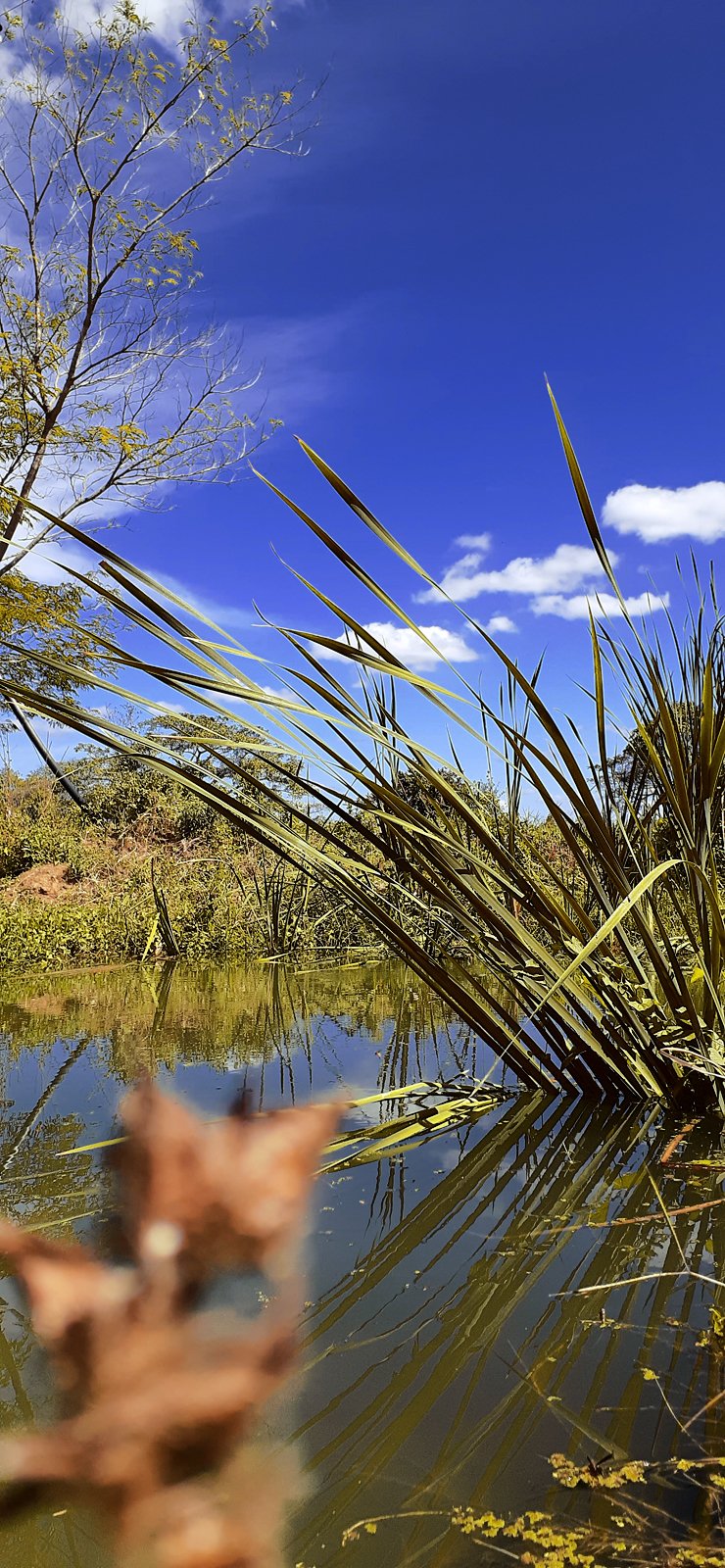 Todas las fotos las tomé con mi Samsung A20
All photos were taken with my Samsung A20
Translated with www.DeepL.com/Translator (free version)