---
La Casa || The house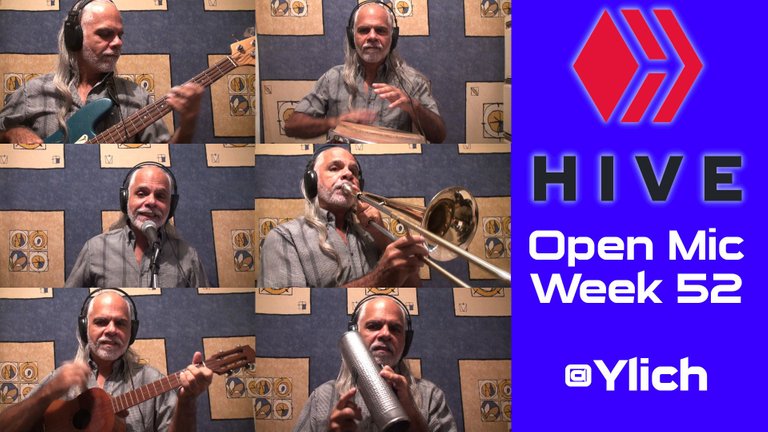 I've wanted to record this song for a long time, because I like it a lot. It is originally a ballad by one of Venezuela's most important rock bands, Caramelos de Cianuro and one of my favorites.
This song, composed by the band's vocalist Asier Cazalis and bassist Pavel Tello, portrays the feeling of emptiness left by a sentimental breakup, through the house, with a huge load of nostalgia.
I had originally thought of playing it in its original style, but I ended up choosing to accompany it myself and ended up making a production that took me three days, between defining the sounds and recording the parts and that in the end took (once again) the rhythms of the Caribbean.
I hope you like it as much as I do. This is my participation in the Hive Open Mic week 52.

Esta canción hace mucho tiempo que quería grabarla, pues me gusta mucho. Originalmente es una balada de una de las bandas de rock más importantes de Venezuela, Caramelos de Cianuro y una de mis preferidas.
Esta canción, composición del vocalista de la banda, Asier Cazalis y el bajista Pavel Tello, retrata la sensación de vacío que deja una ruptura sentimental, a través de la casa, con una enorme carga de nostalgia.
Originalmente había pensado en interpretarla en su estilo original, pero terminé optando por acompañarla yo mismo y terminé haciendo una producción que me tomó tres días, entre definir los sonidos y grabar las partes y que al final tomó (una vez más) los ritmos del Caribe.
Espero que a ustedes les guste tanto como me gusta a mí. Esta es mi participación en el Hive Open Mic semana 52.

Lyrics || Letra
Ahora salgo y me emborracho, veo la noche hacerse el día
Desayuno con un cacho y con una fría
Desde que te has ido mi vida ha sido control y descontrol

Ya vi todas las de ovnis, las de sangre y las de zombis
En estado vegetal frente al televisor, inmóvil
Cada noche es más negra y ya no me alegra ni el alcohol

* Porque esta casa ya no es un hogar desde que te fuiste
Sola y triste
Paredes frías, camas vacías, siento sin tu aliento el tiempo lento
Porque esta casa ya no es un hogar desde que te fuiste
Sola y triste
Paredes frías, camas vacías, tanto tengo y tanto me arrepiento

Y ahora voy tratando de evitar algo que me conmueva
Hibernando como un animal en una cueva
Desde que te has ido mi vida ha sido soledad, desolación

Ya vi todas las de ovnis, las de sangre y las de zombies
En estado vegetal frente al televisor, inmóvil
Cada noche es más negra y ya no me alegra ni el alcohol

* Porque esta casa ya no es hogar desde que te fuiste, sola y triste
Paredes frías, camas vacías
Siento sin tu aliento el tiempo lento
Porque esta casa ya no es hogar desde que te fuiste, sola y triste
Paredes frías, camas vacías
Tanto tengo y tanto me arrepiento

Esta casa no es hogar desde que te fuiste, nada más
Es fría, es vacía
Siento sin tu aliento el tiempo lento
Esta casa no es hogar desde que te fuiste, nada más
Es fría, es vacía
Tanto tengo y tanto me arrepiento

#Youtube version

---

Music community logo by @ikasumanera | Banner by @equipodelta


@ylich
http://ylich.com
https://sptfy.com/ylich
---
If you don't have an account at Hive yet, I invite you to read my post My Hive Testimony || Mi testimonio Hive
Si aún no tienes cuenta en Hive te invito a leer mi publicación My Hive Testimony || Mi testimonio Hive
---
▶️ 3Speak