Rocking a Blockchain Game
This headline is strange, you are right! You are damn right - having not posted since 4 days on Hive and especially not a lot about my main thing - music - I am now feeling to combine too much into one lol - however let me play one of the best songs of Metallica hinting at an addictive game called Rising Star where your aim is to become a music star or eventually end in sanitarium as you forget all other things of life around you!
How to become a Star in this Game?
Oh well - you need time, enthusiasm and a love for music. The game is a great combination of missions (such as Holybread), Cards (like Splinterlands) plus supports promotion for hive musicians that can enter their music here - you can earn a dedicated crypto and sell / buy items in the game with several other tokens such as Beer or DEC - addicitive it is.
Given I run the music community on Hive and am Gaming addict here (just saying Splinterlands) this is of course a must for me - thanks again for creating this @risingstargame.
My stats below - Level 25
Still working daily to climb up, at least I can now do my first skill set - fingers crossed for all players out there. I can now finally do first local gigs - to go on a real country tour and have a band play takes still! Patience! Rock on Music community and join the Game - fun plus music, what else you want!?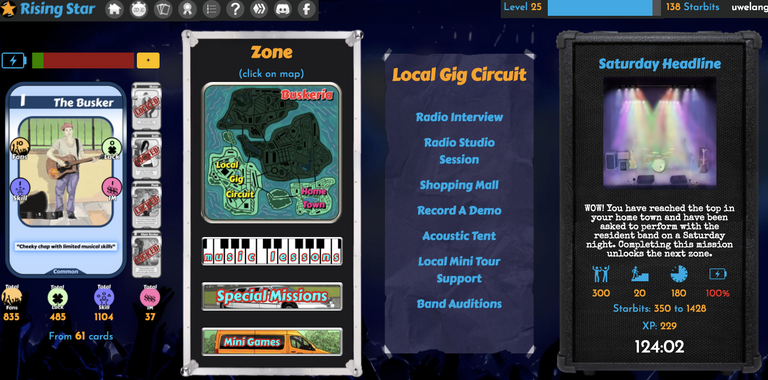 Join the Game here: https://www.risingstargame.com?referrer=uwelang
(Use my referral link if you want to support our music community)
Check their official Discord: https://discord.gg/dbB6Jc7

Check the Music Community on Hive - join here