Four Records of African Music, from 1960-2015
Today I dig through my "world music" section and bring you some great music from Africa, both vintage and modern! Much respect to all the African musicians of the past that have influenced nearly all the music we listen to, to this day- something most of us don't think of🥁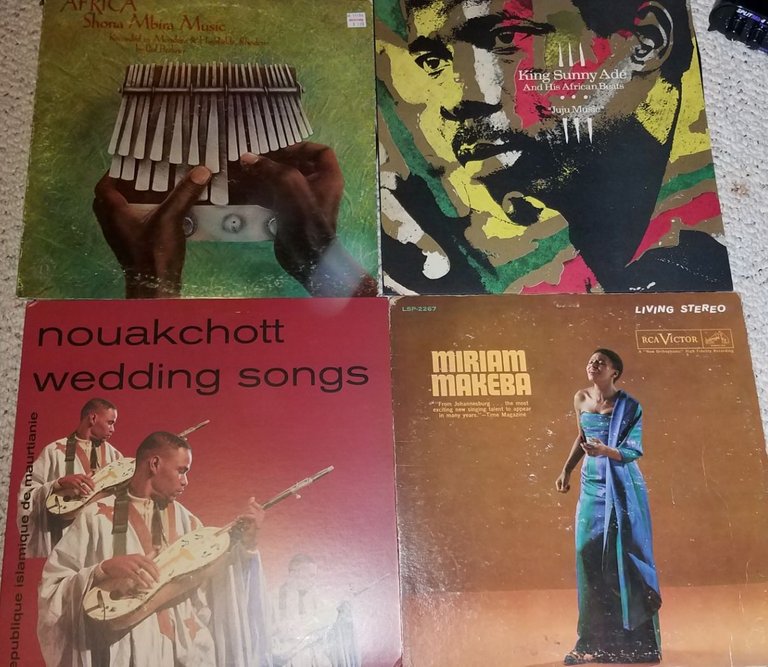 King Sunny Ade and his African Beats
"Juju Music"
1982

Great 80s release from this Nigerian legend AKA "The "Chairman." Loaded with lots of spacy sound fx and great grooves.
Nouakchott Wedding Songs
Recordings by Christopher Kirkley, Republique Islamique De Maurtianie
2015

This one has some avant rock overtones to it, the cool little book and pictures that come with it kind of say that it is modern takes on traditional wedding music, blending technology, "West African guitar"with traditional sounds and Arabic music theory and scales.
Africa
Shona Mbira Music
Recorded by Paul Berliner
1977

Great "Thumb Piano" music from the mbira dzavadzimu instrument. after looking this up on youtube, i realized that i have this on CD too, it just has a different cover. This was released on the nonesuch label, which put out some great traditional music records over the years, of many different cultures.
Miriam Makeba
1960

Not knowing much about her, i just was reading her wikipedia bio...and it seems she had a pretty interesting life and career. Born in Johannesburg in South Africa, she was one of the first African singers to gain success in the West, working with Harry Belefonte being featured in film, etc... and eventually marrying a leader of the Black Panthers and being active in civil rights/anti apartheid...i'm gonna have to dig up some more of her bio, sounds like it might be interesting. I always liked the minimal, lo-fi sound of this record. well, i guess my copy is 60 years old and kinda beat up...
thanks for reading, i hope you liked my post!
---
---