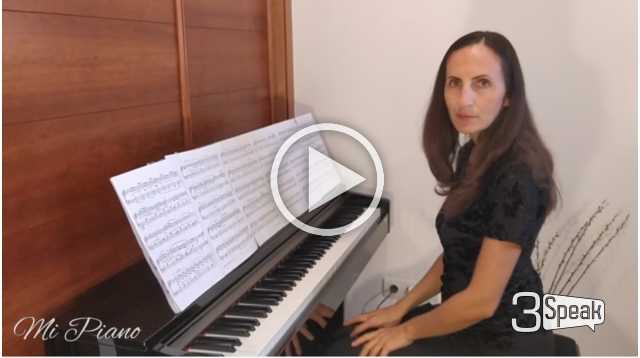 ---
The path of this music marathon is coming to its end. Today is the last day to post, I'm sorry I left for the last day, but this whole week was full of work and I didn't get to record earlier. It is also true that it was not easy to choose the composition. I had several options, but today I opted for this Tarantella. It seems to me that this piece is worthy of the final, as the last point of this whole period where we passed the registration phase and the semifinal phase. I am glad to be in the instrumentalist category side by side with the excellent @danieldedosd2 and with the sweet and talented young @manujune.
A little bit about the composition. This Tarantella in A minor is a popular work of a German composer and pianist, Albert Emil Theodor Pieczonka (1828-1912). He lived and worked as a music instructor in Germany, England and the United States. The tempo of the piece is fast, it requires deft fingers. Fast passages and energetic chords give a very striking ending.
I hope you like it and that I made a good choice for this last phase of the marathon.
El camino de este Maratón Musical llega a su fin. Hoy es el último día para publicar, lamento haberlo dejado para el último día, pero toda esta semana estuvo llena de trabajo y no pude grabar antes. También es cierto que no fue fácil elegir la composición. Tenía varias opciones, pero hoy me he decidido por esta Tarantella. Me parece que esta pieza es digna de la Gran Final, como último punto de todo este período en el que pasamos la fase de registro y la fase de semifinales. Me alegro de estar en la categoría de instrumentista al lado del excelente @danieldedosd2 y del dulce y talentosa jovencita @manujune.
Un poco sobre la composición. Esta Tarantela en La menor es una obra de un compositor y pianista alemán, Albert Emil Theodor Pieczonka (1828-1912). Vivió y trabajó como profesor de música en Alemania, Inglaterra y Estados Unidos. El tempo de la pieza es rápido, requiere dedos hábiles. Pasajes rápidos y acordes enérgicos dan un final muy llamativo.
Espero que les guste y que haya hecho una buena elección para esta última fase del maratón.
Saludos
---
▶️ 3Speak