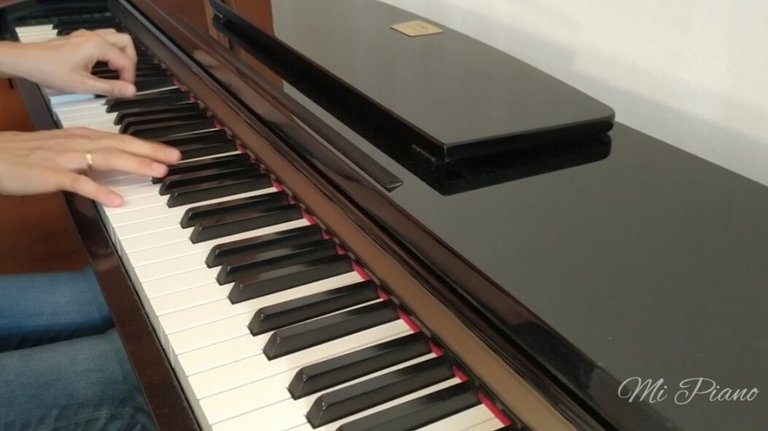 ---
Do you know that feeling when you pile up things you need to do, or that you wanted to do and you never do them? When you feel the responsibility, but, alas, something else is always more important. That is now my situation. I have been carrying one load on my back for a couple of months now, since November. I know exactly the day since (24 of November if anyone wanted to ask). Now you're going to tell me I'm crazy to think about it at all, or I consider it an obligation that I should do. But yes, I can't forget it.
This post will not turn into a rant and complain post, so let's move on to a specific case. I said I would prepare and publish a composition by Tchaikovsky, the favourite composer of one hive user. We barely exchanged a few short messages, but the last one was:
Mipiano: I will see if I can prepare something by Tchaikovsky
Balticbadger: 🤩🤩🤩 exciting!!
And, I found a great composition by that composer and I practised but was not good...I still practised, and it was still not good. Then at one moment, it was good, finally. I played so many times I learned it by heart but what happened that I didn't record it and publish it? I played it faster before and with more ease. I don't really remember, but the thing is that:
-It is again not so good
-I am afraid my carpal tunnel syndrome is back but I still can play.
I wanted to record it, even it is not in the best shape now and even balticbadger is not anymore active on the platform, as I don't know if my hands would allow me to do it in some days or weeks. A few years ago I had the same thing for some months :( I have done the nerve conduction velocity test in the hospital. So they placed a small electrode on my skin near my elbow which was sending a mild electrical current down to my median nerve. They measured the velocity of that current, some numbers went there up and down, I didn't understand a lot. But what I did understand is that at the end the doctor said it is still in a halfway phase, but I better change my profession. Hahaha, no way. Piano playing is a part of me. 💙
Then, back in those days the syndromes slowly faded away. I was at least three years free of that and I hope it will happen again that way. Just patience and without panic. :)
So here comes that Tchaikovsky piece. I made a difficult choice, it was not an easy piece. The most I had to practice the middle part, as I always had mistakes in the left-hand melody line. And the endings of the phrases in the first and last section, I always messed up.
Trepak, the piece in question, is one of the character dances from the ballet The Nutcracker. It is based on traditional Russian dance. The composer, as I already mentioned is Piotr Ilych Tchaikovsky.
You are listening to your own responsibility. Any hearing damage will not be covered by my health insurance :D So, turn a bit down the volume, in this heavy-metal style classical composition.
I would say before that it is happy and so cheerful...but it is just a bit more than that.
---
▶️ 3Speak