---
This is my first entry at Hive Music Festival. I hope you can accept me to enter this week 10 and I can join the party. Yes, party, because this has been a pleasure and fun to prepare for this entry.
Many such talented musicians are already bringing this weekly festival to life, and it is a pleasure to be with them.
I've lost all the weeks before, just because of not knowing what this Hive Music Festival is. Curiously, about a week ago I saw a post by @esthersanchez where she mentioned this festival, between events.
Also, @edwardstobia mentioned the festival. So this has been a discovery, and I decided to participate, better late than never. Thanks, guys.
I participate with a work composed by Friedrich Burgmüller. He was a German composer, who dedicated almost all his opus to works and studies for piano. This piece is a study from the Melodic Studies, op. 100, title Angel's Voices.
These days my forearm ached. I was studying a technically difficult work, with many chords and octaves, and I made a mistake. I played it pretty fast, and at the first weird feeling in my arm, I had to stop. But I did not. I kept practising until my tendons ached, and I had to take a two-day break from playing the piano. Now I am happy that I have been able to play and record this piece, I hope you like it as well.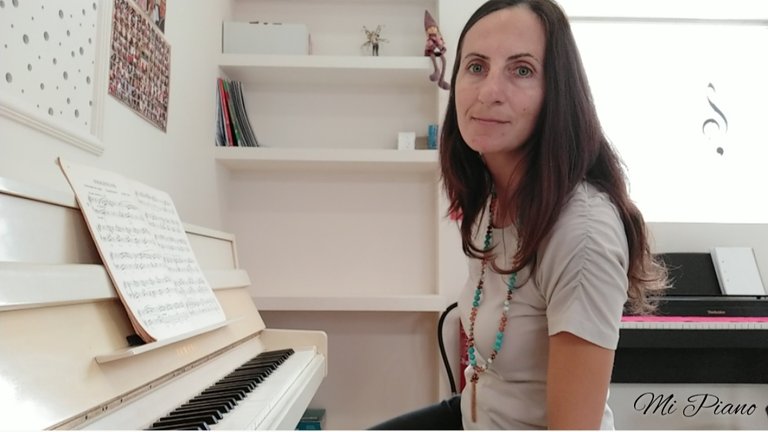 Esta es mi primera entrada al Hive Music Festival. Espero que puedo unirme a la fiesta esta semana 10. Sí, fiesta, porque ha sido divertido preparar esta entrada.
Muchos de estos talentosos músicos ya están dando vida a este festival semanal, y es un placer estar con ellos.
He perdido todas las semanas anteriores, solo por no saber qué es este Hive Music Festival. Curiosamente, hace como una semana vi un post de @esthersanchez donde mencionó este festival, entre eventos.
Además, @edwardstobia mencionó el festival. Así que esto ha sido un descubrimiento y decidí participar, más vale tarde que nunca. Gracias chicos.
Participo con una obra compuesta por Friedrich Burgmüller. Fue un compositor alemán, que dedicó casi toda su vida a obras y estudios para piano. Esta pieza es un estudio de Melodic Studies, op. 100, título Voces del angel.
Estos días me dolía el antebrazo. Estaba estudiando una obra técnicamente difícil, con muchos acordes y octavas, y hice un eror grave. Toqué bastante rápido, y no hice caso ante la primera sensación extraña en mi brazo. Seguí practicando hasta que me dolieron los tendones y tuve que tomarme un descanso de dos días para no tocar el piano. Ahora estoy feliz de haber podido tocar y grabar esta pieza, espero que les guste también.
---
▶️ 3Speak