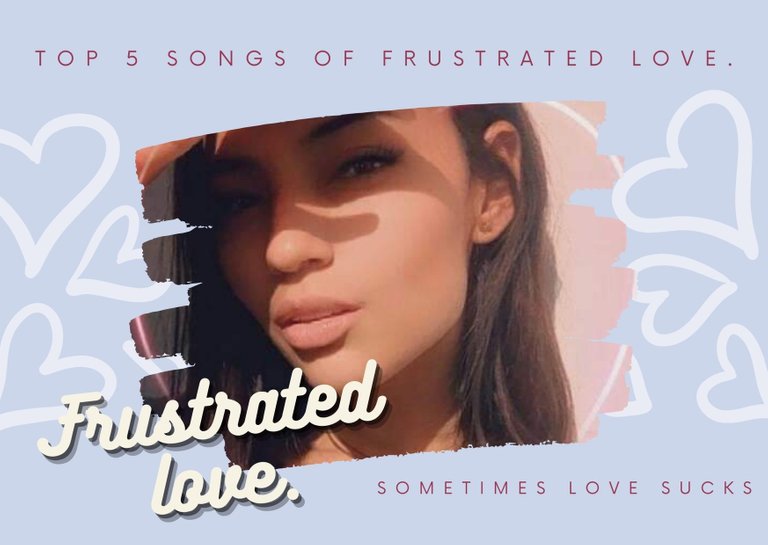 Buenos días por la mañana, buenas tardes por la tarde y buenas noches por la noche. Espero todos estén de ánimo para llenarse de odio con estas canciones de amor frustrado jajaja, sólo bromeo. Gracias a mi hermosa @lolysacc por invitarme y a @georgelys por crear esta iniciativa fuera lo común.

Good morning in the morning, good afternoon in the afternoon and good evening at night. I hope everyone is in the mood to fill up on hate with these songs of frustrated love hahaha, just kidding. Thanks to my beautiful @lolysacc for inviting me and @georgelys for creating this out of the ordinary initiative.
---

1: Esta canción siendo mi himno actual. Sam Smith con esa voz angelical que transmite miles de sentimientos, nos cuenta la historia que todos hemos vivido alguna vez, un amor cansado que cada vez que pasa el tiempo las discusiones y los problemas ya no nos afectan como antes, porque de cierta forma estamos acostumbrados a ellos. Pero hemos llegado a un punto en el que somos tan buenos despidiéndonos, que nos volvemos buenos en las despedidas, con el amor intacto, pero es hora de marcharnos.
1: This song being my current hymn. Sam Smith with that angelic voice that transmits thousands of feelings, tells us the story that we all have lived at some time, a tired love that every time time the time passes the discussions and problems no longer affect us as before, because in a way we are used to them. But we have reached a point where we are so good at saying goodbye, that we become good at saying goodbye, with love intact, but it is time to leave.
---

2: Con la hermosa voz de Adele cualquier corazón se conmueve, en esta canción nos podemos sentir conectados, porque todos alguna vez hemos sentido un amor inconfundible por alguien, por alguien que parece haberte borrado de su vida de un día para otro. Y es cuando nos preguntamos ¿todo el tiempo que pasamos juntos de verdad se olvida tan rápido? ¿Me pueden olvidar tan rápido? Es una sensación horrible, pero todos hemos pasado por eso en algún momento.
2: With Adele's beautiful voice any heart is moved, in this song we can feel connected, because we all have felt an unmistakable love for someone, for someone who seems to have erased you from their life from one day to the next. And that's when we wonder, is all the time we spent together really forgotten so quickly? Can I be forgotten so quickly? It's a horrible feeling, but we've all been there at one time or another.
---

3: Greeicy una cantante Colombiana hermosa y con una hermosa voz, en esta canción nos cuenta la historia en la que esa persona que ya se fue vuelve a nosotros, imaginen que construyeron una casa con alguien, ese alguien se va y queda la casa en ruinas, queda en nosotros repararla y luego que te ha tomado tanto tiempo arreglar cada grieta y cada espacio destrozado, ese alguien que la destruyó vuelve a tocar la puerta para entrar. Entonces ya para qué, no le necesitamos más.
3: Greeicy a beautiful Colombian singer with a beautiful voice, in this song she tells us the story in which that person who has already left comes back to us, imagine that you built a house with someone, that someone leaves and the house is left in ruins, it is up to us to repair it and after it has taken you so much time to fix every crack and every destroyed space, that someone who destroyed it comes back to knock on the door to enter. So what's the point, we don't need him anymore.
---

4: Mi cantante favorito me sacó muchas lágrimas con esta canción, a veces las relaciones terminan porque nosotros tuvimos gran parte de la culpa, eso es algo que debemos aceptar de forma honesta, y entonces sentimos que vamos cayendo en un abismo, los sentimientos se ven revueltos por los recuerdos, los lugares que visitaban, la culpa te invade y aunque quizás no quieras tenerle cerca, sientes que sólo esa persona puede levantarte. La verdad es que sólo tu puedes.
4: My favorite singer brought many tears to my eyes with this song, sometimes relationships end because we had much of the blame, that is something we must accept honestly, and then we feel that we are falling into an abyss, feelings are stirred by the memories, the places they visited, the guilt invades you and although you may not want to have him around, you feel that only that person can lift you up. The truth is that only you can.
---

5: ¡Y por supuesto que la reina de los corazones rotos debía estar aqui! Taylor es por mucho una de las artistas más exitosas, desde sus canciones, sus presentaciones en vivo y su carisma. No podemos negar que esta canción es el himno de superación es cuando ya no te duele el corazoncito y dices ¡basta! De verdad nunca volveremos a estar juntos ¡y gracias a Dios que no!
5: And of course the queen of heartbreak had to be here! Taylor is by far one of the most successful artists, from her songs, her live performances and her charisma. We can't deny that this song is the anthem of overcoming is when your heart doesn't hurt anymore and you say enough is enough! We'll never really get back together and thank God we won't!
---

Muchísimas gracias por leerme y espero haberles mostrado alguna canción nueva y buena, las canciones nuevas son siempre es bienvenidas. Espero que estén muy bien y puedan sanar su corazoncito, si eres de los que lo tiene roto; y si no espero que disfrutes como yo escuchar canciones tristes de desamor y llenarnos de odio con algunas para liberar estrés ¡Nos leemos luego gente!
Thank you very much for reading me and I hope I have shown you some new and good songs, new songs are always welcome. I hope you are very well and can heal your little heart, if you are one of those who have it broken; and if not I hope you enjoy like me to listen to sad songs of heartbreak and fill us with hate with some songs to release stress.