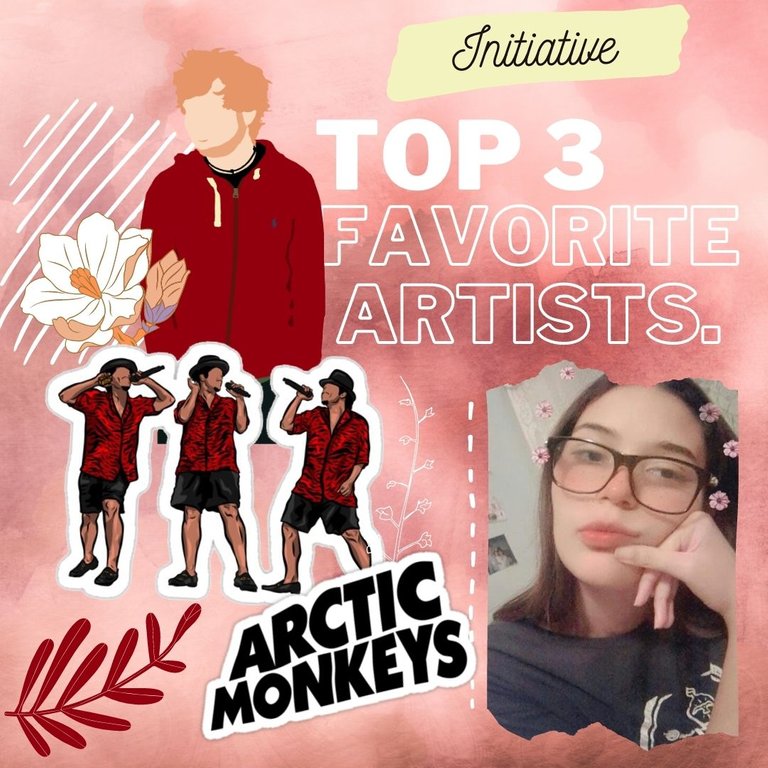 ---

Mi amiga @mariangeltarg ha creado esta iniciativa que me divierte mucho, pues voy a hablar sobre mis tres artistas favoritos y por qué son mis favoritos. Esto va a ser un poco complicado porque no sé cuanto me pueda alargar hablando sobre estos tres increíbles cantantes, pero trataré de no emocionarme demasiado ¡Empecemos este meollo!

My friend @mariangeltarg has created this initiative that I'm having so much fun with, because I'm going to talk about my three favorite artists and why they are my favorites. This is going to be a bit complicated because I don't know how long I can go on talking about these three amazing singers, but I'll try not to get too excited. Let's get this nitty gritty started!
---
Ed Sheeran
---
Oh mi hermoso pelirrojo, un artista que con sólo su guitarra le es suficiente para dar un concierto. La razón por la que es uno de mi artistas favoritos es por sus presentaciones en vivo, siempre con su guitarra, lleno de energía, su voz está llena de calma, pareciera que susurrara poemas en tus oídos ¡Hey! Pero también te hace bailar, rapear, y enamorarte de nuevo con él, las canciones de sus inicios tales como: The A Theam, Give me love, One; hicieron que me enamorara perdidamente de él. Mis canciones favoritas son:
Wake me up.
Dive.
I see fire.
Oh my beautiful redhead, an artist that with just his guitar is enough to give a concert. The reason why he is one of my favorite artists is because of his live performances, always with his guitar, full of energy, his voice is full of calm, it seems that he whispers poems in your ears! Hey! But he also makes you dance, rap, and fall in love again with him, the songs of his beginnings such as: The A Theam, Give me love, One; made me fall madly in love with him. Among my favorite songs are.
Wake me up.
Dive.
I see fire.
---
Bruno Mars
---
Con la primera canción que conocí a Bruno Mars, fue con Grenade, en la radio había escuchado The Lazy Song pero no sabía quién era, luego una vez en youtube encontré este vídeo, que luego me llevó al vídeo de It Will Rain y por ultimo me hizo encontrar aquella canción famosa de la radio. Bruno es... ¿perfecto? Jajaja, es de esos artistas que no se equivocan, con una personalidad vibrante que te hace orbitar alrededor de él, un vocalista increíble con presentaciones en vivos dignas de admirar. Mis canciones favoritas son:
Billionare.
Grenade.
Gorilla.
Runaway.
With the first song I met Bruno Mars, was with Grenade, on the radio I had heard The Lazy Song but I didn't know who he was, then once on youtube I found this video, which then led me to the video of It Will Rain and finally made me find that famous song on the radio. Bruno is... perfect? Hahaha, he's one of those artists that can't go wrong, with a vibrant personality that makes you orbit around him, an amazing vocalist with live performances worth admiring. My favorite songs are:
Billionare.
Grenade.
Gorilla.
Runaway.
---
Arctic Monkeys
---
@mariangeltarg Sé que quizás no cuenten porque son una banda, pero ¡no impora! Esta Banda me hizo obsesionarme al punto de ver y oír todos sus conciertos, sí, incluso los de dos horas de youtube. La razón por la que me enganche tanto con esta banda ha sido por sus letras y sus variado ritmos, también debemos admitir que Alex Turner (vocalista) ha tenido una evolución a lo largo de los años increíble, una banda que se hizo famosa por moda de momento, quedó grabada en mi mente y para que salgan de allí tendrá que pasar mucho tiempo. Mis canciones favoritas:
Do me a favour.
Knee Socks.

Brianstorm.
@mariangeltarg I know they may not count because they are a band, but never mind! This Band made me obsessed to the point of watching and listening to all their concerts, yes, even the two hour youtube ones. The reason why I got so hooked with this band has been because of their lyrics and their varied rhythms, we must also admit that Alex Turner (vocalist) has had an evolution over the years incredible, a band that became famous for fashion for the moment, was engraved in my mind and for them to get out of there will have to spend a long time. My favorite songs:
Do me a favor.
Knee Socks.
505
Brianstorm.
---

Texto traducido en DeepL.com
Imagen de portada editada en Canva.com
---