|ESP|ENG| 3 Venezuelan Social Criticism Songs You Must Listen To. || 3 Canciones de Critica social Venezolanas que Debes Escuchar.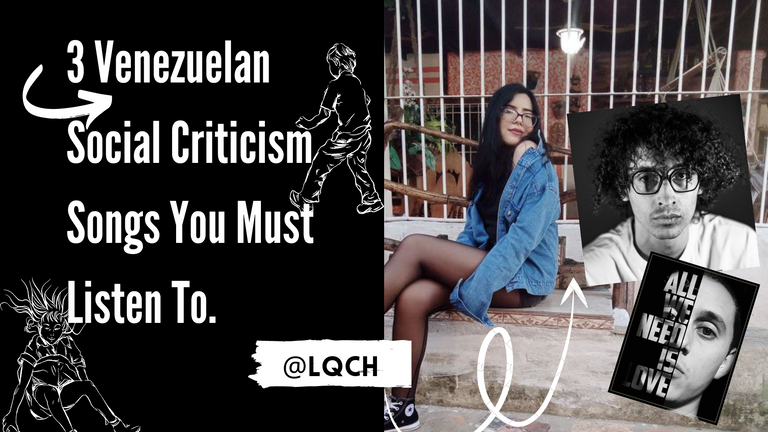 Image edited in Canva.
Source
Source


La música a través del tiempo ha sido, no solo un arte preciada por su belleza, y la constante oda al amor en sus múltiples letras. La música conecta personas, incluso en las diferencias culturales, religiosas, o de idioma.
No solo eso, la música ha servido para decir lo que, en palabras corrientes, nos costaría incluso la vida. Las canciones de este post tienen como propósito, una critica, directa e indirecta, a la sociedad en la que vivimos.
Estos artistas dijeron lo que sentían que debía decirse, y como un gesto de admiración, yo, Laura QCh, os traigo el top de 3 canciones de critica Social, Venezolanas, que deberías escuchar.
Sin más que decir, comencemos.
Music throughout time has been, not only an art treasured for its beauty, and the constant ode to love in its many lyrics. Music connects people, even across cultural, religious, or language differences.
Not only that, music has served to say what, in ordinary words, would cost us even our lives. The songs in this post are intended as criticism, direct and indirect, of the society in which we live.
These artists said what they felt needed to be said, and as a gesture of admiration, I, Laura QCh, bring you the top 3 Venezuelan social criticism songs that you should listen to.
Without more to say, let's begin.

Mcklopedia - #DaLoMejorDeTi (ft. Akapellah)

El orden de las canciones que mencione, no significa que una sea mejor que la otra.
Comencé con esta, porque el año en que salio me llego mucho. Venezuela, y la situación personal en mi hogar era fuerte, a veces, la fe no era suficiente. Y entonces nos apagamos, como si de linternas sin batería, se tratara.
Encontrar el propósito de seguir, se perdía entre el peso y asfixiante situación económica. Para algunos fue duro, para otros no tanto... Y hay quienes admiro por ser personas de tan humilde y fuerte semblante, como lo fueron mis padres, quienes incluso en las situaciones más desesperadas, nunca dejaron de dar lo mejor de sí.
Esta canción no solo me dio a entender que podía hacer yo, una simple hormiguita, dentro del panorama catastrófico de mi país, sino que también me dio fuerzas cuando me faltaban.
Aquí se tocan temas como: el abuso de poder por parte del estado. El adoctrinamiento político de la sociedad para dividirla, y el valor de hacer, individualmente el bien, para en conjunto, ser un mejor país.
The order of the songs I mentioned, does not mean that one is better than the other.
I started with this one, because the year it came out, it touched me a lot. Venezuela, and the personal situation in my home was strong, sometimes faith was not enough. And then we turned off, as if we were flashlights without batteries.
Finding the purpose to continue was lost among the weight and suffocating economic situation. For some it was hard, for others not so much.... And there are those who I admire for being people of such humble and strong countenance, as were my parents, who even in the most desperate situations, never stopped giving their best.
This song not only gave me to understand what I, a simple little ant, could do in the catastrophic panorama of my country, but also gave me strength when I lacked it.
The song touches on topics such as: the abuse of power by the state. The political indoctrination of society to divide it, and the value of doing, individually the good, to as a whole, be a better country.

Canserbero - ¿Aceptas?

Uno de los raperos con mayor reconocimiento de Venezuela y Latinoamerica; Canserbero.
En su corta trayectoria musical alcanzo a un público gigantesco, con sus múltiples canciones sobre amor, perdida y rap consciencia. Pero a todas estas, ¿de qué canción hablaremos hoy?
'¿Aceptas?'
Es una canción que pertenece al album vida, y nos relata, como dice Canserbero, textualmente "una respuesta a los que solo hacen protesta y no buscan las puertas a los problemas que el planeta enfrenta".
Partiendo de este punto, Can, comenta su visión sobre alguno de los grandes problemas que perjudican a la sociedad, entre ellos la televisión, la educación, y la desigualdad.
Habiendo sido él mismo, alguien que nació sin privilegios, y teniendo una vida corriente como cualquier otro ciudadano.
One of the most recognized rappers in Venezuela and Latin America; Canserbero.
In his short musical career he reached a gigantic audience, with his many songs about love, loss and rap consciousness. But what song are we going to talk about today?
'Do you accept?
It is a song that belongs to the album vida, and tells us, as Canserbero says, textually "an answer to those who only protest and do not seek the doors to the problems that the planet faces".
Starting from this point, Can, comments his vision on some of the big problems that harm society, among them television, education, and inequality.
Having been himself, someone who was born without privileges, and having an ordinary life like any other citizen.

La Vida Boheme - Cementerio del Este // Cementerio del Sur

Este ultimo par de canciones, en la que una sucede a la otra, pertenece a la banda venezolana: La Vida Boheme.
He dicho muchas veces antes, que es de mis bandas favoritas Venezolanas, y no es por nada, pues en sus canciones se encuentran analogías como la de Cementerio del Este y Cementerio del Sur. Aquí se usan ambos cementerios para representar la desigualdad en el entorno social venezolano. De este modo, hacen la invitación a eliminar la brecha que los divide, y así ser uno solo.
Así termino este post, esperando que les haya gustado ¡muchos saludos, y se les quiere!
This last pair of songs, in which one succeeds the other, belongs to the Venezuelan band: La Vida Boheme.
I have said many times before, that this is one of my favorite Venezuelan bands, and it is not for nothing, because in their songs you can find analogies such as Cementerio del Este and Cementerio del Sur. Here both cemeteries are used to represent the inequality in the Venezuelan social environment. In this way, they make the invitation to eliminate the gap that divides them, and thus be one.
Thus I end this post, hoping you liked it, best regards, and you are loved!

Traducción hecha en: DeepL
Imagenes editadas en Gimp y PhotoScape.
¡Se despide Laura QCh! / Laura QCh says goodbye!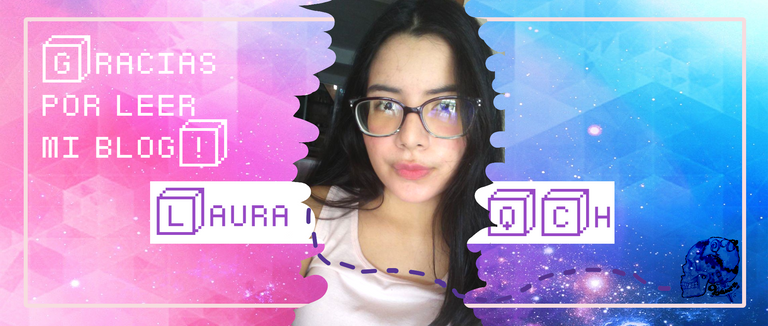 Si quieres saber más de mi, aquí te dejo mis redes sociales.
---
---