Hola, hola, mis corazones/ Hello, hello, my hearts.
---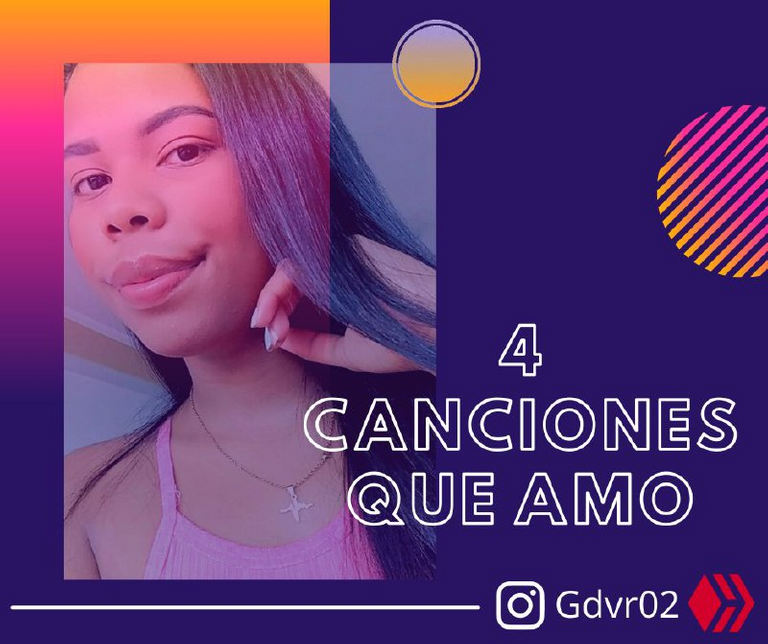 ---
Hoy se nos viene un tema muy divertido: Música. Para el ser humano la música es algo demasiado importante, nos ayuda a expresar felicidad, tristeza, rabia, miedo... Toda la gama de sentimientos, según se quiera, nos puede sacar de un momento de profunda tristeza, hacernos llorar, o hacer crecer nuestra alegría. Al yo ser bailarina, tengo la música en un lugar demasiado especial, para mí es una vía de escape, la forma de liberar todo lo que pueda acomplejar me o molestarme. Soy fiel creyente de que la música puede ayudar en la salud de una persona, es medicinal. Incluso, hace poco me di cuenta de que hago musicoterapia casi siempre y nunca lo había notado, (gracias majo) Sacar lo que llevas por dentro muchas veces ayuda tanto y lo tenemos tan infravalorado, que es triste.
Puedo decir escucho muchos géneros, algunos los comencé a escuchar por responsabilidad y actualmente los disfruto tanto como los que escuchaba por placer. Aquí les dejo mi top.
Today we have a very funny topic: Music. For the human being, music is something too important, it helps us to express happiness, sadness, anger, fear.... The whole range of feelings, depending on what you want, can bring us out of a moment of deep sadness, make us cry, or make our joy grow. Being a dancer myself, I hold music in a very special place, for me it is a way of escape, a way to release everything that may bother me or bother me. I am a true believer that music can help a person's health, it is medicinal. I even realized recently that I do music therapy almost all the time and I never noticed it before (thanks majo).
Bringing out what's inside you often helps so much and it's so undervalued that it's sad.
I can say that I listen to many genres, some I started listening to for responsibility and now I enjoy them as much as the ones I listened to for pleasure. Here is my top.
---

Theres nothing holding me back / No hay nada que me detenga (Shawn Mendes)




---
---
Obviamente tengo que comenzar con mi canción favorita. Desde su lanzamiento esta canción y yo tuvimos click. Me hace sentir que todo está bien, sin importar que, llego a un punto en el que me vuelvo a enamorar de la vida, al escucharla con toda mi atención. Me renueva, me llena el corazón y bueno, básicamente me hace feliz. La canción habla de un muchacho enamorado de una chica segura de si misma y de lo que quiere, sin dudas ni inhibiciones. El ritmo, la letra y la voz de Shawn para mí hacen la triada perfecta.
Obviously I have to start with my favorite song. Ever since its release this song and I clicked. It makes me feel that everything is ok, no matter what, I reach a point where I fall in love with life again, listening to it with all my attention. It renews me, fills my heart and well, basically makes me happy. The song talks about a boy in love with a girl who is sure of herself and what she wants, without doubts or inhibitions. The beat, the lyrics and Shawn's voice for me make the perfect triad.
---

I Will Always love You / Siempre te amaré (Whitney Houston)




---
---
Todo en esta canción está hecho para remover sentimientos, hacerte llorar incluso, cantarla es obligatorio así no sepas inglés. Creo que está canción nos mueve algo a todos, la voz de Whitney, la letra... . Escuchar esta canción te llena poco a poco el corazón, a mí me hace sentir muchísima paz. He llorado muchas veces con ella, la tengo en mi top 4 por la cantidad de emociones que te puede hacer sentir en solo 4:34 minutos.
Everything in this song is made to stir feelings, even make you cry, singing it is mandatory even if you don't know English. I think this song moves all of us, Whitney's voice, the lyrics.... . Listening to this song fills your heart little by little, it makes me feel so much peace. I have cried many times with it, I have it in my top 4 for the amount of emotions it can make you feel in just 4:34 minutes.
---

El Mismo aire / The Same Air ( Camilo ft Pablo Alborán)




---
---
Solo Diosito sabe cuántas veces he cantado esta canción a todo pulmón. Salió hace como 1 año y aún no puedo superarla, a pesar de que no me ha pasado algo similar a la letra, puedo decir que cada vez que la escucho de verdad, vivo la historia una y mil veces. Puedes cantarla, vivirla, amarla. Pablo Alborán siempre tiene algo en sus canciones que te hace querer escucharlas Cien veces, cerrar los ojos y dejarte llevar, me pasa muchas veces lo mismo con Camilo, pero no tan fuerte. Sinceramente esta canción es para abrazarla y respirarla tanto como se pueda. Y si dije respirarla.
God only knows how many times I have sung this song at the top of my lungs. It came out about 1 year ago and I still can't get over it, even though something similar to the lyrics hasn't happened to me, I can say that every time I really listen to it, I live the story a thousand times. You can sing it, live it, love it. Pablo Alborán always has something in his songs that makes you want to listen to them a hundred times, close your eyes and let yourself go, the same thing happens to me many times with Camilo, but not as strong. Sincerely this song is to embrace it and breathe it as much as you can. And yes I said breathe it.
---

Tanto / Both (Jesse y joy ft. Luis fonsi)




---
---
Esta colaboración es algo que no me esperaba y me agradezco cada vez que escucho la canción. Talento por montón, romanticismo y cursilerías, todo lo que me gusta. Ciertamente no podía esperar menos si unimos a Jesse y joy con Luis Fonsi, no puedo decir mucho de esta canción porque ella sola se expresa, el amor es algo que todos deberíamos experimentar de una forma u otra. Y con esta canción puedes sentir amor y pensar en quienes amas.
This collaboration is something I didn't expect and I'm grateful every time I listen to the song. Talent galore, romanticism and cheesiness, everything I love. I certainly couldn't expect less if we join Jesse y joy with Luis Fonsi, I can't say much about this song because it expresses itself, love is something we all should experience in one way or another. And with this song you can feel love and think about those you love.
---
Y este fue mi top 4 de canciones que me hacen sentir lindo y bonito. Como ya mencioné, la música es algo que nos mueve a todos, puede que no te guste mi top y que tú estilo sea otro, pero ciertamente sabes tan bien como yo que sea cual sea el gusto, la música siempre te hará sentir especial.
And this was my top 4 songs that make me feel cute and pretty. As I already mentioned, music is something that moves us all, you may not like my top and your style may be another one, but you certainly know as well as I do that whatever your taste is, music will always make you feel special.

Gracias por leerme, hasta un próximo post /
Thanks for reading me, see you in a future post




---