King Oliver's Creole Jazz Band: King Oliver and Louis Armstrong (cornet), Johnny Dodds (clarinet), Honore Dutrey (trombone), Lillian Hardin (piano), Bill Johnson (banjo) and Baby Dodds (drums) (1923).
In 1923 Louis Armstrong toured the Midwest with the King Oliver's Creole Jazz Band, and upon arrival in Richmond, Indiana, they made their debut for Gennett Records with nine tracks. The ensemble worked as a team with all the members playing at once without creating a sense of chaos, and the clarinet, cornets and trombone developed their own melodic line in the form of collective improvisation or spontaneous counterpoint. In this context, the clarinet played complex and fast-fingering figures, the cornets moved in the middle register playing less elaborate melodies, but driving the group, and the trombone played in the lower register providing the bass lines.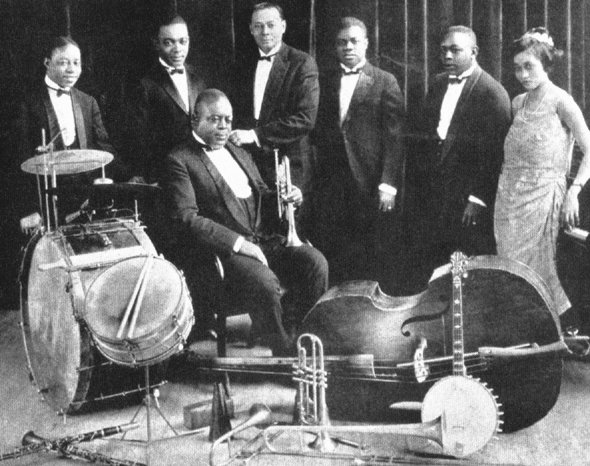 King Oliver's Creole Jazz Band
Sitting down, King Oliver
Standing up third from right, Louis Armstrong
Joe "King" Oliver conceived jazz as music in which the instruments were interdependent and his Creole Jazz Band was the best in this style tha was typical of black musicians in New Orleans and predominant during the early 1920s. The first piece in which Armstrong made a solo was "Chime Blues" with a powerful tone and a rhythmic mastery that no one had ever shown before; please, find the piece below. When the King Oliver's Creole Jazz Band returned to Chicago it gave a concert at the landmark Drake Hotel and as a result signed with the Okeh label to record. That same year the group worked again for the Gennett label in Richmond as well as for Columbia Records in Chicago, and in these sessions we can hear a more confident and evolved Armstrong.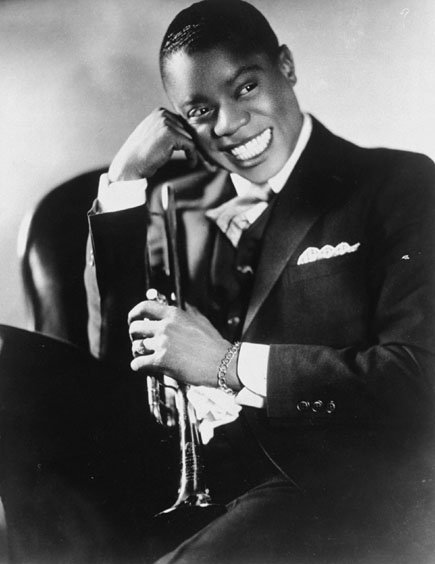 The last time the King Oliver's Creole Jazz Band played in a studio was for the Paramount label, as the relationship between the musicians was increasingly difficult. In 1924 Armstrong married the band's pianist Lillian Hardin and she encouraged him to become independent and seek greater artistic goals, as he was already the most technically gifted and creative soloist in the group. Then the contract with the Lincoln Gardens ballroom ended and the King Oliver's Creole Jazz Band toured Michigan, Ohio and Pennsylvania, but after a performance at the Grand Theater in Chicago, Armstrong said goodbye to King Oliver in a friendly way.