Me Cuesta tanto Olvidarte // It's so hard to forget you "Mecano" cover by @dianakyv

---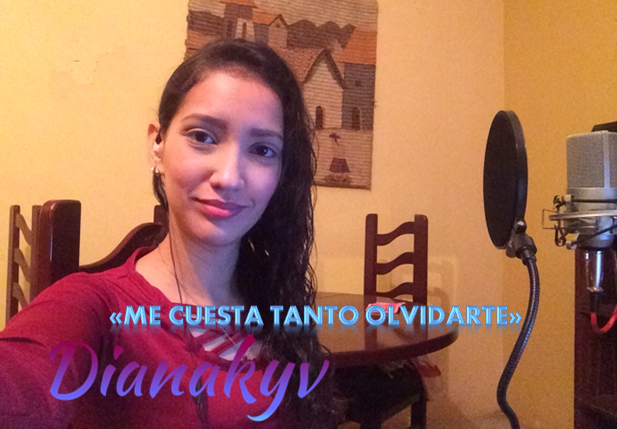 Waaaaooo!! luego de dos semanas y media sin poder traerles algo de música hoy pude subir un tema y poder compartirlo!. La verdad es que sin la música en mi vida, créanme, no es lo mismo, a pesar de estar atravesando momentos difíciles aun así seguimos trabajando!.
Me cuesta tanto olvidarte es un tema compuesto y producido por José María Cano para el grupo español de música pop "Mecano", fue el tercer sencillo sacado del álbum "Entre el cielo y el suelo" y logro ser una de las canciones mas emblemáticas del grupo.
after two and a half weeks without being able to bring them some music today I was able to upload a song and be able to share it! The truth is that without the music in my life, believe me, it is not the same, despite being going through difficult times, we still continue working!
It costs me so much to forget you is a song composed and produced by José María Cano for the Spanish pop music group "Mecano", it was the third single from the album "Between the sky and the ground" and managed to be one of the most emblematic songs of the group.

Mecano
Letra / lyrics: Me cuesta tanto olvidarte // It's so hard to forget you
Entre el cielo y el suelo hay algo Con tendencia a quedarse calvo de tanto recordar
Y ese algo que soy yo mismo
Es un cuadro de bifrontismo
que solo da una faz
La cara a vista es un anuncio de Signal
La cara oculta es la resulta
de mi idea genial de echarte
Me cuesta tanto olvidarte
Me cuesta tanto
Olvidarte me cuesta tanto
Olvidar quince mil encantos es
mucha sensatez
Y no sé si seré sensato
Lo que sé es que me cuesta un rato
hacer cosas sin querer
Y aunque fui yo quien decidió que ya no más
Y no me canse de jurarte que no habrá segunda parte
Me cuesta tanto olvidarte
Me cuesta tanto
Y aunque fui yo quien decidió
que ya no más
Y no me canse de jurarte
que no habrá segunda parte
Me cuesta tanto olvidarte
Me cuesta tanto olvidarte
Me cuesta tanto olvidarte
Between the sky and the ground there is something With a tendency to go bald from remembering so much
And that something that I am myself
It is a picture of bifrontism
that only gives a face
Face to face is an advertisement from Signal
The hidden face is the result
of my great idea to kick you out
It's so hard to forget you
It costs me so much
Forgetting you costs me so much
Forgetting fifteen thousand charms is
very sensible
And I don't know if I'll be sensible
What I know is that it takes a while
do things inadvertently
And although I was the one who decided that no more
And don't get tired of swearing that there won't be a second part
It's so hard to forget you
It costs me so much
And although I was the one who decided
that no more
And don't get tired of swearing
that there will be no second part
It's so hard to forget you
It's so hard to forget you
It's so hard to forget you

Gracias por Leerme, seguirme y escucharme
Thanks for reading, following and listening to me

---
▶️ 3Speak
---
---