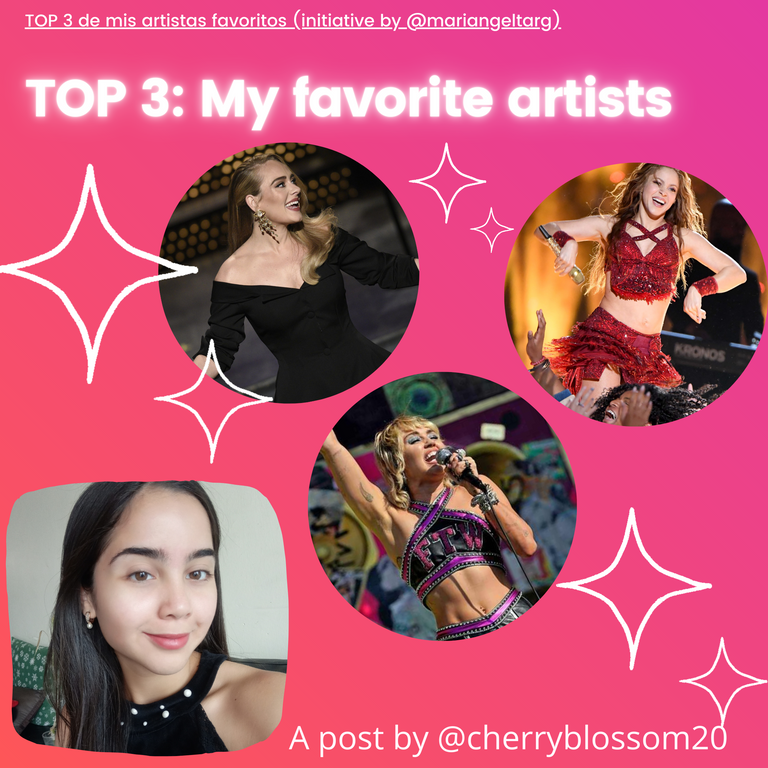 ENGLISH
Hello, Hivers! How have you been lately? I sincerely hope you're better than ever 🤗. This is the first time that I enter into this community and I was so excited cause a few days ago my friend @mariangeltarg made this initiative in which we had to share our Top 3 of Favorite Artists.
ESPAÑOL
Hola, hivers! Cómo han estado últimamente? Yo sinceramente espero que estén mejor que nunca🤗. Esta es la primera vez que entro a esta comunidad y debo decir que estaba emocionada porque hace unos pocos días mi amiga @mariangeltarg realizó esta iniciativa en la cual debíamos compartir nuestro top 3 de artistas favoritos.
I must say that it took me a little more than I expected, but I could finally choose only 3 and something is extremely clear in this top ... there's a lot of female power!
Debo decir que me tomó un poco más de lo que esperaba, pero finalmente pude escoger solamente a 3 y algo está sumamente claro en este top...Hay muchísimo poder femenino!
We're talking about 3 completely different artists, but each of them has managed to stand out and reinvent themselves continuously.
Estamos hablando de 3 artistas completamente diferentes, pero cada una de ellas se las ha arreglado para sobresalir y para reinventarse continuamente.

My first artist of this Top is Miley Cyrus.
Mi primera artista de este top es Miley Cyrus.
I admit that I have let myself be carried away by nostalgia to give her this place. I definitely can't deny that Miley was a figure who marked my childhood, the Hannah Montana series is something that I will always have among the best memories of my childhood.
Admito que me he dejado llevar por la nostalgia para darle este puesto. Definitivamente no puedo negar que Miley fue una figura que marcó mi infancia, la serie de Hannah Montana es algo que siempre tendré entre los mejores recuerdos de mi niñez.
Beyond every afternoon and night I spent sitten in front of the television on Disney Channel, we are talking about an artist who has managed to continue protruding after spending almost all of her life on the musical industry.
Más allá de todas las tardes y noches que pasé sentada frente al televisor en Disney Channel, estamos hablando de una artista que se las ha arreglado para seguir sobresaliendo después de pasar casi toda su vida en la industria musical.
In addition, she has been the only former Disney girl who has managed to participate in one of the biggest and most tuned shows in the world. The Super Bowl! And what a show she gave us.
Además, ha sido la única ex chica Disney que ha conseguido tener participación en uno de los shows más grandes y sintonizados del mundo. El Súper Bowl! Y vaya espectáculo que nos regaló.
Her voice is deep and powerful and her lyrics can make us fall in love, form an uproar or declare our freedom out loud. Her talent does not remain only in her voice, since she also plays the guitar. It is also very clear that although Miley isn't a character that is out of controversy or scandal, we're talking about a girl who is not afraid of exposing her point of view to anyone.
Su voz es profunda y potente y sus letras pueden enamorarnos, llevarnos a formar un alboroto o a declarar nuestra libertad a lo alto. Su talento no se queda sólo en su voz, ya que también toca la guitarra. Además está clarísimo también que aunque Miley no es un personaje que esté fuera de la polémica o el escándalo, hablamos de una chica que no teme exponer su punto de vista ante nadie.
Have you ever seen the video of Nothing Breaks Like a Heart? In this collaboration that she did with Mark Ronson it is very clear that we're not talking about a girl that is afraid of showing her critics towards society.
Han visto alguna vez el vídeo de Nothing Breaks like a heart? En esta colaboración que hizo con Mark Ronson está clarísimo que no hablamos de una chica que tema mostrar sus críticas hacia la sociedad.

My second artist on this top is the English Queen of Music. Adele.
Mi segunda artista en este top es la reina inglesa de la música. Adele.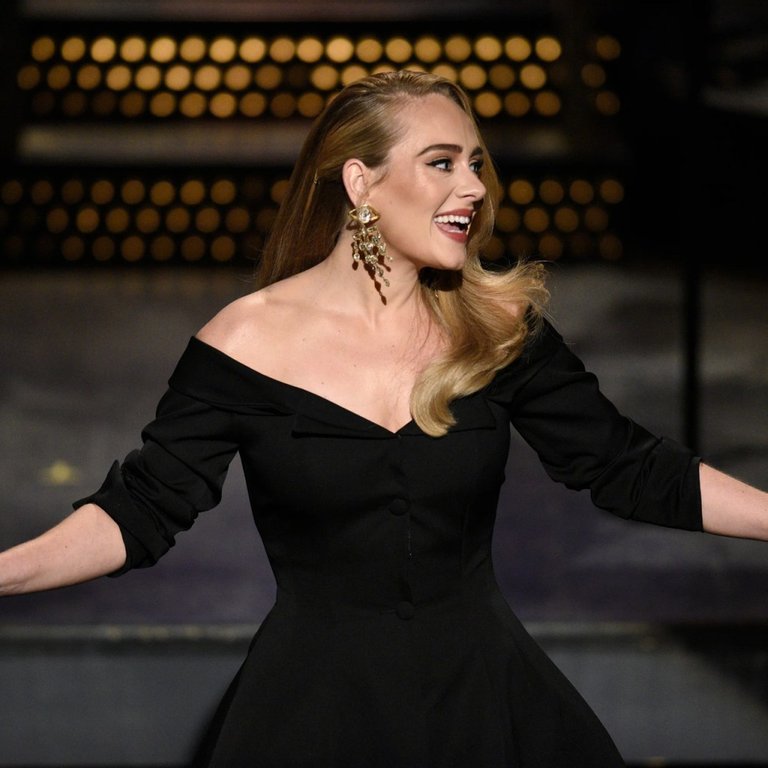 ---
It cost me a lot to leave her second on this top and I only did it because she came to my life a little later. Although, OH GOD, is there anyone who doesn't love this woman's music? It's not just because of her warm and powerful voice that manages to put the goosebumps on you or by her powerful letters that fill you with emotion and make you cry even when there's nothing external that causes it.
Me costó mucho dejarla de segunda en este top y solamente lo hice puesto a que llegó a mi vida un poco después. Aunque, díos mío, hay alguien que no ame la música de esta mujer? No es sólo por su cálida y potente voz que logra ponerte la piel de gallina ni por sus poderosas letras que te llenan de emoción y te hacen llorar incluso cuando no haya nada externo que lo provoque.
---
We've put Adele on a pedestal of soul music because there are very few artists who can manage to transmit as much as she does in her songs. On the other hand, she isn't afraid of reinventing herself and being an example of positive change in the lives of the people who love her music.
A Adele la hemos puesto en un pedestal de la música soul porque hay muy pocos artistas que logran transmitir tanto como ella en sus canciones. Por otro lado, no teme reinventarse y ser un ejemplo de cambio positivos en la vida de las personas que aman su música.
We love you Adele! Release another album, please!😍
Te amamos, Adele. Saca otro álbum, por favor!😍

My third artist in this top is no other than the Colombian queen of pop. Shakira.
Mi tercera artista en este top es nadie más que la reina colombiana del pop Shakira.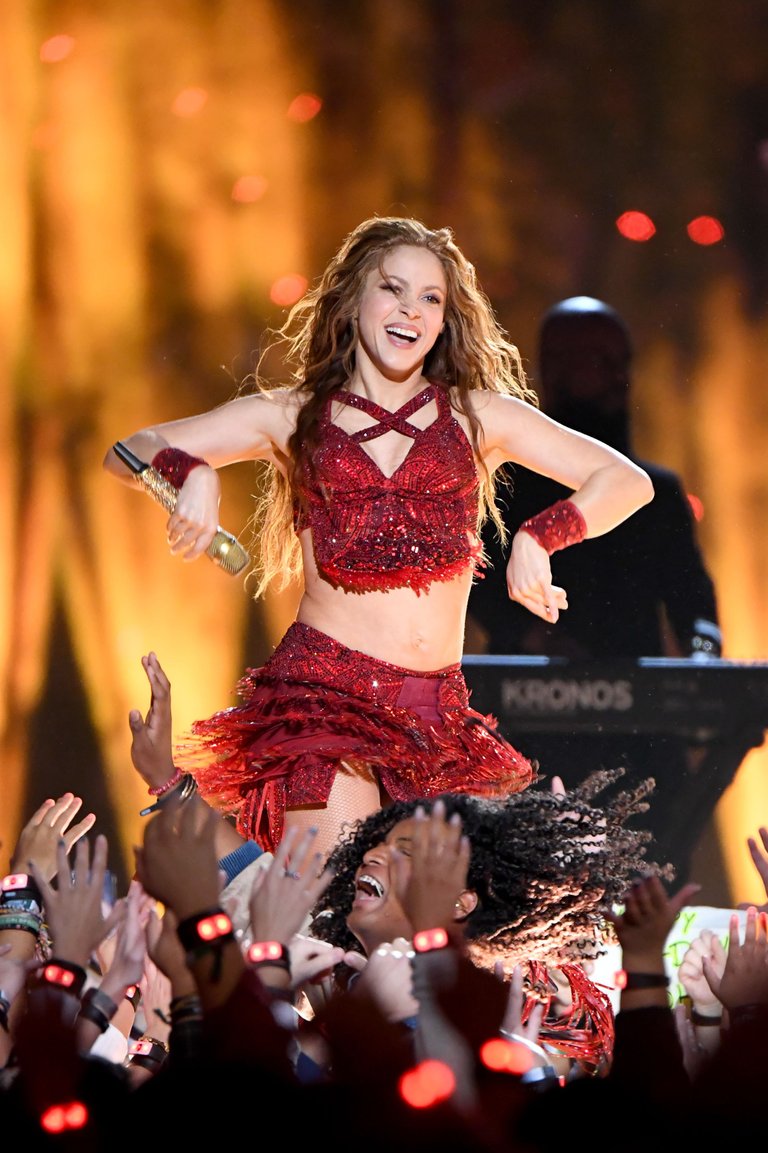 Perhaps it goes without saying that almost no other Latin American artist has managed as well as her in the music industry around the world for so many years.
Tal vez esté de más decir que casi ningún otro artista latinoamericano se las ha arreglado tan bien como ella en la industria musical alrededor del mundo durante tantos años.
Talent has not been a lack on her. We're talking about a singer-songwriter, dancer (her hips don't lie, after all!), musician (drums, guitar, harmonica and a bit of piano) and also a polyglot. She's able to make you fall in love with her in Spanish, English, French, Italian, Portuguese, Catalan and Arabic.
Talento no le ha faltado. Estamos hablando de una cantautora, bailarina (sus caderas no mienten, después de todo!), músico (batería, guitarra, armónica y un poco de piano) y además políglota. Ella es capaz de hacer que te enamores de ella en español, inglés, francés, italiano, portugués, catalán y árabe.
Besides, it is impossible not to recognize Shakira's voice among all the other artists. I love listening to her in her pop-rock ballads from the 90s, in her songs from the 2000s when she took her Arab roots all over the world through her songs, the she-wolf and crazy Shakira... and I'm still fascinated with her to this date.
Además, es imposible no reconocer la voz de Shakira entre todos los demás artistas. A mí me encanta escucharla en sus baladas pop-rock de los 90, en sus canciones de los 2000 cuando llevó sus raíces árabes por todo el mundo a través de sus canciones, la Shakira loba y loca...y todavía a estas fechas me sigue fascinando.
That's it for this post, thank you very much if you've read it all and if you have given me a little bit of your time. I hope you liked it and that you can tell me what you think on your comments behind.
A huge kiss 😚
-Nazareth (@cherryblossom20)
Eso es todo por este post, muchas gracias si lo has leído todo y si me has regalado un poquitín de tu tiempo. Espero que te haya gustado y que puedas comentarme abajo qué te ha parecido.
Un beso enorme 😚
-Nazareth (@cherryblossom20)
Cover edited with Canva
Text partially translated by Google Translate
Portada editada con Canvas
Texto parcialmente traducido por Google Translate