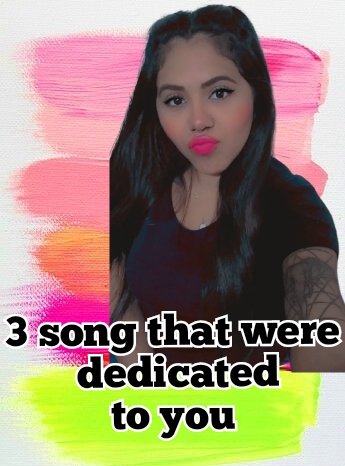 Holaaa, estoy por acá esta iniciativa de @georgelys, sobre estas canciones que me han dedicado, bueno siempre es muy emocional.
He visto varias chicas con esta iniciativa y decidí unirme, así que comenzamos.
Holaaa, I'm here this initiative of @georgelys, about these songs that have been dedicated to me, well it's always very emotional.
I've seen several girls with this initiative and I decided to join so we started.
DEDICATORIAS!!!

Jorge Luis Chacin
Cantautor Venezolano, que tiene hermosas canciones, canto en una banda muy famosa que aún suena mucho , y desde entonces me gusta su música, siempre tengo sus canciónes y las bailo realmente en cualquier lugar que esté sonando. Tuve mi último ex novio, quien compartia la misma música y nos gustaba oírlas , pero esta en particular, es romántica y me la dedico un día que ibamos de viaje y recuerdo mucho que me hizo sentir una nostalgia, ya que yo sabría que al oírla, siempre iba a recordar ese momento, no suelo dedicar canciones, que se que escucharé siempre, pero en esta ocasión fue el.
Venezuelan singer-songwriter, who has beautiful songs, he sang in a very famous band that still plays a lot, and since then I like his music, I always have his songs and I really dance to them wherever they are playing. I had my last ex boyfriend, who shared the same music and we liked to listen to them, but this one in particular, is romantic and he dedicated it to me one day when we were going on a trip and I remember that it made me feel nostalgic, because I knew that when I heard it, I would always remember that moment, I don't usually dedicate songs that I know I will always listen to, but this time it was him.
SI USTED LA VIERA

Fito Páez
Esta rola, principalmente tiene una historia de amor a distancia, una persona que se fue hace 5 años del país y me dedico esa canción días antes de irse, la recuerdo con muchos sentimientos encontrados, desde hace unos 3 años no la he odio más, escucharla es sentir demasiado y el y yo actualmente, ya no somos tan cercanos, pero fito sin duda hizo una canción hermosa. Me hace sentir especial que me hallan dedicado esa canción.
This song, mainly has a long distance love story, a person who left the country 5 years ago and dedicated that song to me days before he left, I remember it with many mixed feelings, since about 3 years ago I haven't hated it anymore, listening to it is feeling too much and he and I are not so close anymore, but Fito made a beautiful song without a doubt. It makes me feel special that they dedicated that song to me.
Tu vida mi vida

Gondwana
Uff deje la parte más difícil de ultimo, esta canción me resultó en su momento especial, su letra y todo lo que me hacía sentir, me la dedico mi primera pareja, y relación más larga, donde quizás aprendí todo lo que soy y no quiero ser. Cuando me la dedicaron tenía 24 años, ha pasado casi 8 años, al decirlo en voz alta es bastante tiempo, este género es reggae y el tocaba reggae, entonces le daba más importancia, confieso me costó elegir una canción, pero esta, fue la más honesta y linda de esa relación. Y que da decir que mas nunca la he oído.
Uff I left the most difficult part last, this song was special for me at the time, its lyrics and everything it made me feel, it was dedicated to me by my first partner, and longest relationship, where perhaps I learned everything I am and don't want to be. When it was dedicated to me I was 24 years old, it's been almost 8 years, to say it out loud is quite a long time, this genre is reggae and he played reggae, so I confess it was hard to choose a song, but this was the most honest and beautiful of that relationship. And I must say that I have never heard it before.
Pequeña Dama

Creo que no me acordaba de muchas de estas canciones o momentos, pero esto revuelve mucho el pasado y los sentimientos que dejan estas canciones, podría decir que me devuelven a mucho atrás. Quizás a ver a esas personas con el amor o amistad que pudimos tener. El tiempo a veces guarda su caja de pandora, espero que les halla gustado mi top 3.
I don't think I remembered many of these songs or moments, but this stirs up a lot of the past and the feelings these songs leave behind, I could say they take me back a long way. Maybe to see those people with the love or friendship we might have had. Time sometimes keeps its pandora's box, I hope you liked my top 3.

HASTA EL PRÓXIMO POST