It was mayhem out on the disc golf course today, lol. A fowl wind was blowing very steadily and I had an extreme difficulty with it at the start of the round. I made some jokes about flying into a rage and spiking my disc into the basket in imitation of one of the infamous Pro disc golfers my son and I are familiar with.
There were some dog walkers on the course and a couple of women a little older than my son came through and held him up for some time.
On the very next hole some older dog walkers were approaching quickly. The wind was blowing strong left to right towards the river. Not wanting to wait for what would be an extended time for them to clear the path next to the hole, I rushed my throw.
At that moment I asked if there was anyone on the path ahead and my son answered some snarky not to be repeated comment about the two woman who had held us up earlier. I'm pretty sure the older couple heard it and I was rather embarrassed about the comment but...
The woman were out of my range so, I took my understable Shryke out and crushed it down through the trees. Unfortunately the wind got under it and turned it up and it flew out of the fairway towards the river on a low turn and burn line. The older guy walking the dogs said, "That's dunked."
He was farther towards the river and had a better view of it so I kind of thought the disc was gone into the river. (I can't see that far real well without my glasses on.)
My son made his throw, which turned out alright. I rushed up to the old couple and asked if he had really seen the disc go into the river for sure. I thought this was a fair enough question since if it was in the river there was use in looking for it all over the riverbank. Sometimes I'll look for a half an hour before giving up.
He rushed up to where he saw it go over the bank - which is where I had seen it too. He wife was glaring at me like I was the devil incarnate. I looked around and spotted it on the bush by the river. He was ahead of me and started down the only narrow path close to where it was. I kept asking him to stop and let me get it but he would not listen to me. His wife was right up in my face and yelling strange unrepeatble things at me.
I really did not want him to go after the disc but there was no way of preventing him other than physically grabbing him and pushing him out the way. I figured we might both be taking a tumble if I tried that.
So to make a long story short I got my disc back.
The old lady wandered away with her hubby and looked back glaring at me and stuck her tongue out. Really kind of laughable if you ask me. I had not had that happen since... grade school?
LOL.
In any case it took a bit of time before I actually could complete the round. To top it off partway through the ordeal the old guy was telling me how, "When it's windy you really need to compensate for it."
Right, LOL. Let's see you lace it four hunded feet through the trees on a strong left to right headwind next time. Maybe I made a bad disc choice but I was kind of rushed on account of the situation. :D
The moral of the story: Never rush your throw and people are strange...
---
I was trying to get a photo of the flowers on the rosemary bush but Doggie photo bombed the background: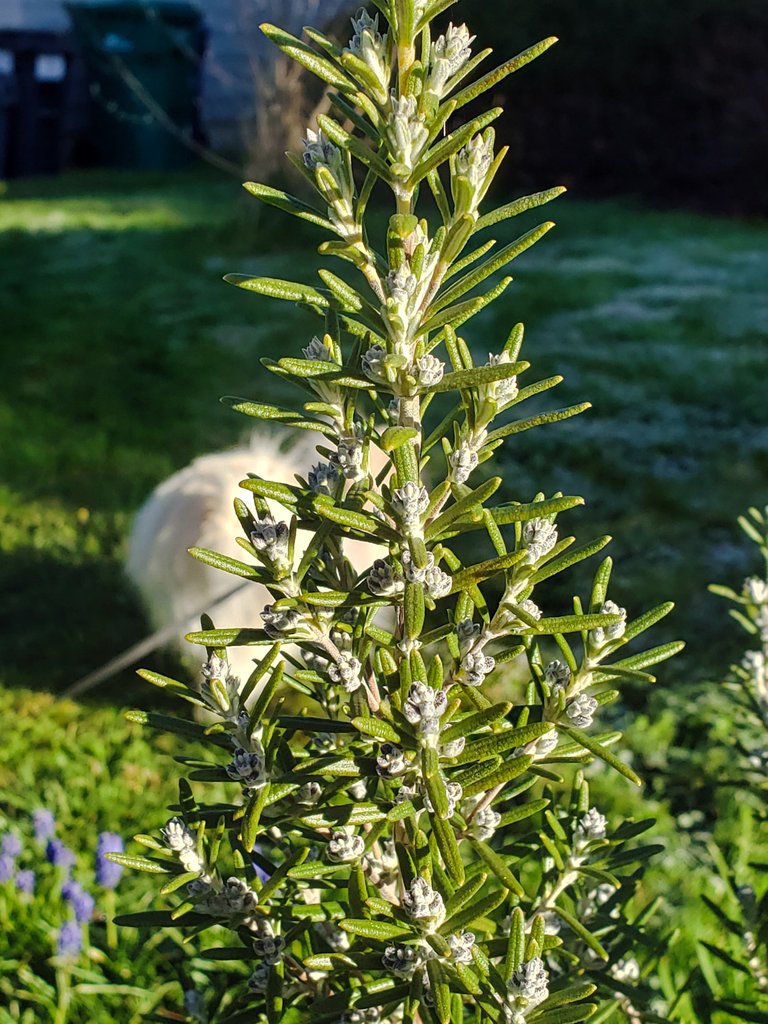 There was some light frost this morning that you can see on the grass.
Here's my favorite little orchid flower:

People are strange:
(The video above is shared under Youtube license and is not my work.)
---
Thanks for reading! I always value your support and comments. The pictures were taken by me with my Galaxy S9+. Text and graphics copyright lightsplasher & litesplasher.
---

This report was published via Actifit app (Android | iOS). Check out the original version here on actifit.io




8648

Daily Activity, Golf, House Chores, Walking