Well, I paced around the house again. I'm trying to support the effort to slow the spread of the virus. I wanted to play disc golf but the PDGA has been discouraging anyone to play on any public course.
With all the things that are happening, I would rather be cautious and not encourage other people too much to be in the parks. Where I'm at there are not that many people so I doubt it would be that big a deal but the virus seems to be very contagious.
I did ride my e-bike for a short distance today. It started to rain just as I left the house and the air felt cold. I wanted to head out and take some pictures of the flowers but did not make it that far.
For today a picture of my glass artsy object will need to suffice: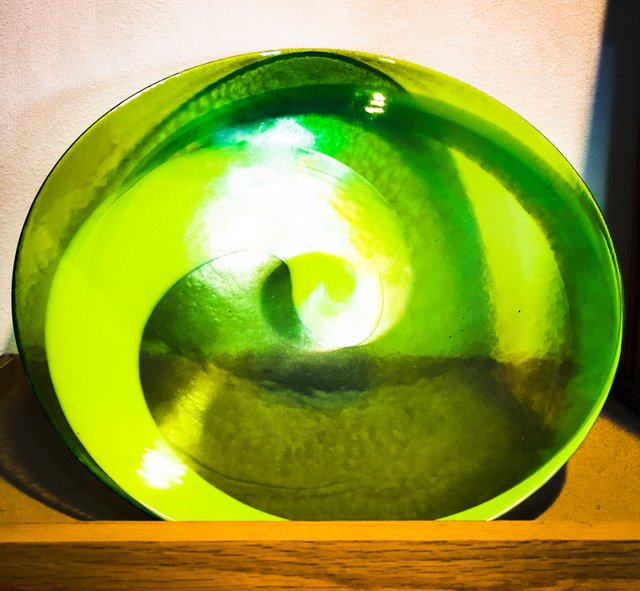 Artsy glass object kind of altered in software for dramatic appearance
This kind of reminds me of a yin yang symbol. It kind of seemed fitting for all the various things that have been happening lately.
I moved a bunch of tokens from a blockchain to a blockchain. (I leave it to the reader to figure that statement out - I don't want to get on the bad side anyone out there, terms of agreement being how that they are and all, lol)
I contemplated briefly cashing out to fiat but the government seems to be planning to send out some free cash. I thought also about getting some more of my favorite "MUCH WOW!" crypto but I guess I got enough for now.
So anyhow, it feels good to be moving some crypto around yet again.
---
Thanks for reading! I always value your support and comments. The pictures were taken by me with my Galaxy S9+. Text and graphics copyright lightsplasher & litesplasher.
---


5007

Cycling, Daily Activity, Walking