I paced around the house again today for my steps. We were going to go play disc golf but the city had closed off the parking lot. We could have parked on the street but the message was clear that they did not want anyone in the park.
I managed to sleep good last night and getting out for disc golf yesterday was really nice.
As far as I know you can still ride your bike or walk but they seem to be really wanting to keep people in their houses right now. I might try to see if one of the more rural disc golf courses is still open tomorrow.
A big regular golf course closed up for good around here too. I bet it takes a lot of cash to maintain a big golf course and with everything that is going on right now it would be hard to keep it up.
There is a lot of land there and it would make a really nice disc golf course. I think it is private land though so I'm not sure if that would happen but it would be nice to use the area in some way for the community.
Lots of changes are happening very fast around here. It is a bit of an uneasy feeling honestly.
I'm not sure exactly why but I felt like sharing a picture of my grandfather's railroad spike that I inherited. I've collected a few of these spikes too but this one is in the nicest shape.
Railroads were really big back in my grandfather's day. I remember that he always wanted to see the trains whenever he came out to visit us.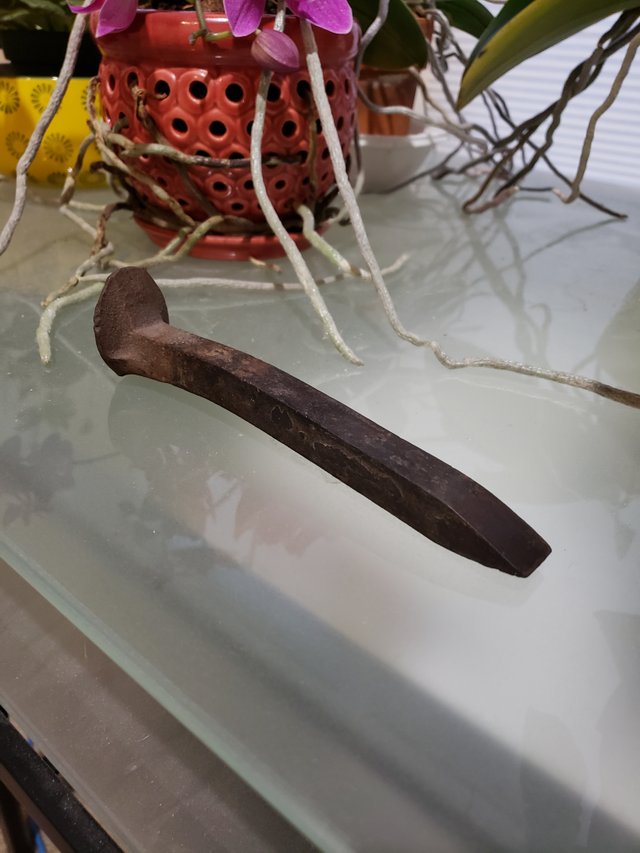 My Grandfather's railroad spike
There were a lot of really hard things that people in the past went through. I think you can hear about them but not really understand without direct experience.
It is all a part of the human experience.
Perhaps I shall write again about something else if all goes as planned...
---
Thanks for reading! I always value your support and comments. The pictures were taken by me with my Galaxy S9+. Text and graphics copyright lightsplasher & litesplasher.
---


6050