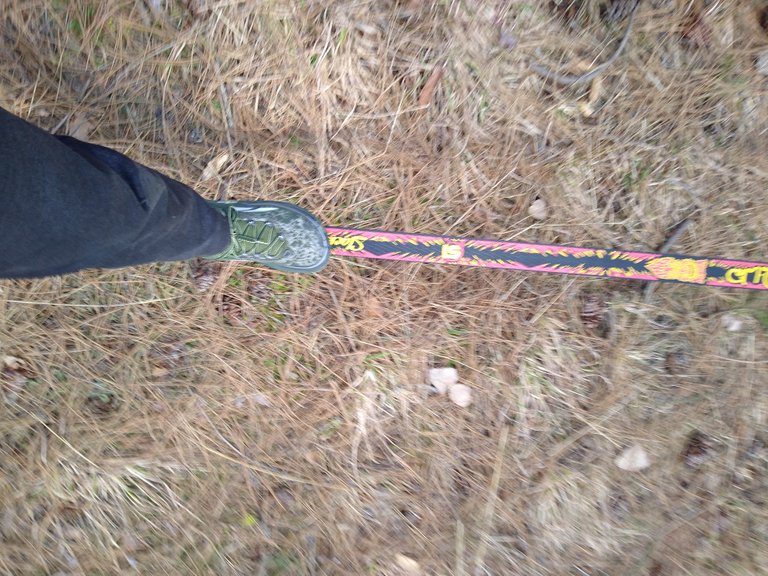 Yesterday was a nice day for the most part. The sun was out a good part of the day and we all got outside to hike and play. In the morning I went to town and picked up a bunch of barrels of grain from the brewery. After getting home I emptied 2 and half barrels into the garden and then the otehr 2 barrels into the sheep pen.
Mid day once the sun was out @stryeyz and I went for a walk around the property up on the hill. It was nice in the sun and the view was really nice looking out over the valley and the town. We were talking of possible future sturctures that we could build up there so we could have a nice place to "camp" during the year. It would give us the possibility to see northern lights when they get farther south.
After our hike I setup the slack line in the yard. It is an 84 foot line that I have set at about 70 to 75 feet. I managed to do a double walk on it which is at least 140 feet of line to walk. My shoulders and arms were torched afterwards since I haven't been on a line in years.
I spent 20 minutes on the climbing wall a little while after my time on the slack line. I managed to get through about half of my new route "Gas line" which has hte crux in the last half. It is a fairly thin hand hold problem and the hand holds get small and sloper at about 25 feet throug hthe traverse. Good since it gives me something to work on.



11093

Aerobics, Daily Activity, Gardening, Hiking, Home Improvement, House Chores, Moving Around Office, Walking, Yard Work