Fatass Journal... 2021#319 - November 15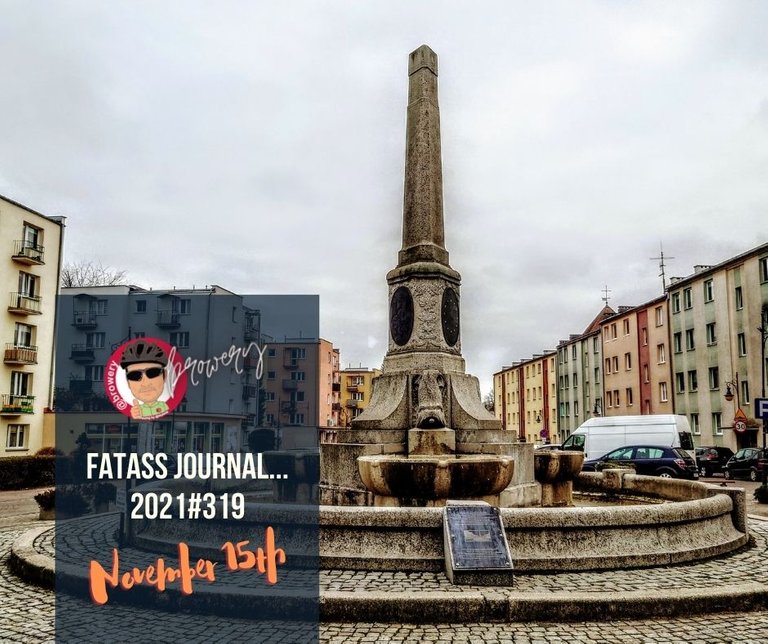 Wczoraj był ważny dzień w naszym życiu. Dzięki wcześniejszym mediacjom, wczoraj podpisywaliśmy z bankiem ugodę w sprawie przewalutowania kredytu frankowego. Od jakiegoś czasu nosiliśmy się z zamiarem spłaty reszty kredytu, ale przed ugodą po piętnastu latach spłacania kredytu hipotecznego pozostała do spłaty większa kwota w PLN niż początkowo pożyczyliśmy na zakup mieszkania. Ugoda znacznie zmniejszyła pozostałą kwotę, więc od razu zdecydowaliśmy się ją spłacić. Po podpisaniu ugody i odnotowaniu tego w systemie przez doradcę w banku przeżyliśmy chwilę grozy, bo w aplikacji banku pojawił się kredyt po przewalutowaniu, ale tak jakby został zamieniony bez niczego po wczorajszym kursie. Dopiero dziś odetchnęliśmy z ulgą, bo informacja o kredycie zniknęła z aplikacji banku.
[ENG] Yesterday was an important day in our lives. Thanks to earlier mediation, yesterday we signed a settlement with the bank regarding the currency conversion of the franc loan. We had been planning to pay off the rest of the loan for some time, but before the settlement, after fifteen years of paying off the mortgage, we were left with a larger amount in PLN than we had originally borrowed to buy the flat. The settlement significantly reduced the remaining amount, so we decided to pay it off right away. After signing the settlement and noting this in the system by the bank advisor, we experienced a moment of horror, because in the bank's application appeared credit after currency conversion, but as if it had been converted without anything at yesterday's exchange rate. Only today we breathed a sigh of relief, because the information about the credit disappeared from the bank's app.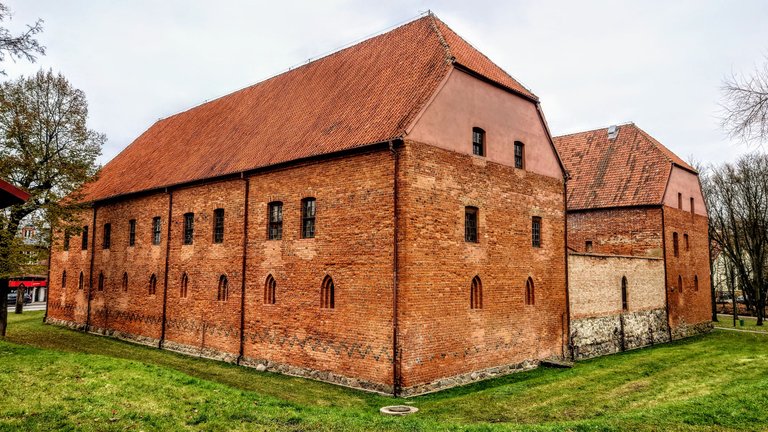 Poniżej współczesna fontanna "Pomnik Jedności Europejskiej", która znajduje się na Placu 1000-lecia w Ostródzie. Nawiązuje ona od znajdującej się w tym miejscu fontanny wzniesionej na cześć "Trzech Cesarzy" z początku XX wieku, kiedy to miasto było w rękach Prusów.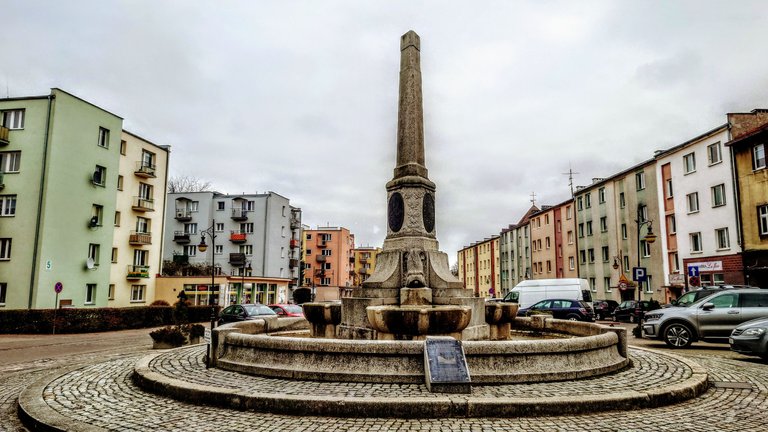 Fontanna- Pomnik Jedności Europejskiej (d. Trzech Cesarzy)
Tak się zdarzyło, że w 1888 roku panowało w Prusach kolejno trzech cesarzy: Wilhelm I (1797-1888), Fryderyk III (1831-1888) i Wilhelm III (1859-1941). Dziewiętnaście lat później, 19 sierpnia 1907 roku, uroczyście odsłonięto w Ostródzie poświęcony im pomnik-fontannę. Odwołując się do mitologii egipskiej, wolnomularze uważali obeliski za symbole boga słońca – Ra. Budowali je zwykle po środku kamiennych okręgów, by obserwowane z góry przypominały słoneczny piktogram – otoczony kołem punkt. W tradycji masońskiej, za pomocą tego symbolu przedstawiano również oculus – wszystkowidzące oko Wielkiego Budowniczego Wszechświata. Tak widziana z lotu ptaka wyglądała też ostródzka Fontanna Trzech Cesarzy.
| | |
| --- | --- |
| | |
Po wojnie, w 1945 roku usunięto z pomnika wizerunki trzech cesarzy, a następnie pod koniec lat 60-tych XX wieku rozebrano całą fontannę i pozostałości wyrzucono na miejskie gruzowisko, skąd kolumnę zabrał miejscowy prywatny przedsiębiorca. Następnie "Stowarzyszenie Mniejszości Niemieckiej "Jodły" wykupiło kolumnę z jego rąk i przeniosło do ogródka przy swojej siedzibie. Stamtąd kolumna trafiła na swoje stare miejsce przy obecnym Placu Tysiąclecia i od 1 maja 2004 roku jest oficjalnie Pomnikiem Jedności Europejskiej. Zamiast wizerunków trzech niemieckich cesarzy, na cokole umieszczono herby Ostródy, Osterode am Harz oraz flagę Unii Europejskiej"
Źródło starych fotografii i historii pomnika
---


Dystans pokonany w 2021 roku: 3995,38 km - z podziałem na dyscypliny:
| Dyscyplina | Dystans |
| --- | --- |
| Spacer / Marsz / Nordic Walking | 2863,39 km (8,60 km) |
| Kolarstwo / Rower MTB | 912,27 km |
| Jogging / Bieganie | 219,72 km |
---

LEAGUE ONE:
Na cztery kolejki przed końcem @manuvert może zacząć przyjmować gratulacje za zdobycie mistrzostwa w League One. Wciąż trwa walka o miejsca od II do IV, które są premiowane nagrodami. Do końca będzie trwała walka o miejsce 14, które zapewnia pozostanie w League One, teoretyczne szanse posiada obecnie czterech uczestników. Na chwilę obecną jedynie @homesteadlt zapewnił sobie spacek do niższej ligi. Nagrody 100 AFIT za aktywność otrzymują: @merthin (najlepszy wynik) i @venan (najlepszy wynik przegranego).
[ENG] With four queues to go, @manuvert can start accepting congratulations for winning the League One championship. There is still a battle for places II to IV, which are rewarded with prizes. Until the end there will be a fight for 14th place, which ensures remaining in League One, the theoretical chances currently have four participants. At the moment only @homesteadlt has secured a move to a lower league. The 100 AFIT prizes for activity go to: @merthin (best score) and @venan (best loser score).
Tomorrow's Today's pairs:
Full schedule of games here.
LEAGUE TWO:
Kwestia mistrza League Two wciąż jest otwarta, ale największe szanse ma @dirkzett, który zapewnił sobie już awans do wyższej ligi. O drugie premiowane miejsce walczą @zimnaherbata i @sandraa1, teoretyczne szance mają też @ervin-lemark i @racibo. Nagrody 100 AFIT za aktywność otrzymują: @ykretz.sports (najlepszy wynik) i @davidthompson57 (najlepszy wynik przegranego).
[ENG] The question of the League Two champion is still open, but the best chances have @dirkzett, who has already secured promotion to a higher league. @zimnaherbata and @sandraa1 are fighting for the second place, while @ervin-lemark and @racibo also have theoretical chances. The 100 AFIT prizes for activity go to: @ykretz.sports (best score) and @davidthompson57 (best loser score).
Tomorrow's Today's pairs:
Full schedule of games here.

This report was published via Actifit app (Android | iOS). Check out the original version here on actifit.io




16/11/2021

17485

---
---