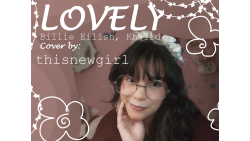 ---
Hello little bees! bring your beers because this is a sad song!
well,
not at all ahhaha it's a song with a sad theme, for a long time it has accompanied me, I have sung it alone in my difficult moments and today I want to share it, I feel quite identified with the lyrics and I know that all those who have felt trapped at some time too.
this is the track i used nwn i hope you like my way of singing it and that you always find that little light at the end of the tunnel.
Lyrics
Thought I found a way
Thought I found a way, out (found)
But you never go away (never go away)
So I guess I gotta stay now
Oh, I hope some day I'll make it out of here
Even if it takes all night or a hundred years
Need a place to hide, but I can't find one near
Wanna feel alive, outside I can't fight my fear
Isn't it lovely, all alone?
Heart made of glass, my mind of stone
Tear me to pieces, skin to bone
Hello, welcome home
Walkin' out of town
Lookin' for a better place (lookin' for a better place)
Something's on my mind (mind)
Always in my head space
But I know some day I'll make it out of here
Even if it takes all night or a hundred years
Need a place to hide, but I can't find one near
Wanna feel alive, outside I can't fight my fear
Isn't it lovely, all alone?
Heart made of glass, my mind of stone
Tear me to pieces, skin and bone
Hello, welcome home
Whoa, yeah
Yeah, ah
Whoa, whoa
Hello, welcome home
---
▶️ 3Speak