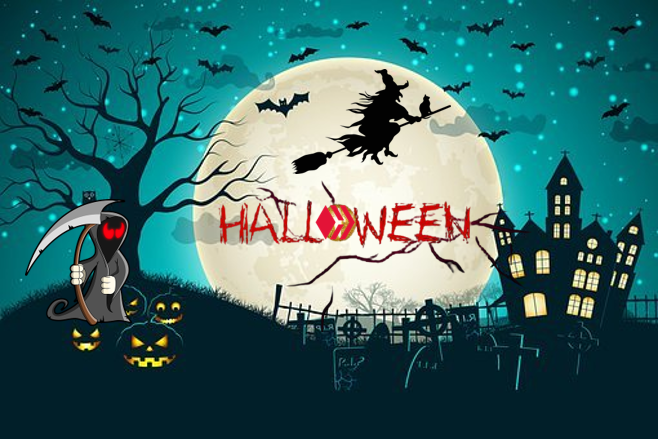 ---
3 Meses de vida… Un pacto con la muerte.
Con motivo de la celebración del Halloween, les traigo una obra donde la muerte es la principal protagonista, un guión para recrearse y divertirse durante la celebración del próximo 31 de octubre.
Narrador: Sentado en su despacho, Walter Riso lee los resultados de su último estudio médico.
-Walter: ¡No puede ser! Estos resultados deben estar errados, imposible que vaya a morir. ¿Sólo tres meses? Aún me queda mucho por hacer. No he disfrutado mi vida al máximo, sin esposa, sin hijos, esto no es cierto. ¿Y mi dinero? Tengo mucho y en tres meses imposible que gaste una fortuna.
Narrador: Angustiado camina de un lado a otro, la expresión de desesperación es evidente, lanza al piso toda la documentación que había sobre el escritorio, se lleva las manos a la cabeza exclamando.
-Walter: Esto es una equivocación, yo no puedo morir, no voy a morir y no quiero morir.
Narrador: Sentado en la silla nuevamente, con la mirada perdida en el vacío, grita.
-Walter: Dios ¿Por qué? ¿Qué prueba es esta señor? Daría mi alma por vivir un poco más.
Narrador: En ese momento comienza a sentir como la habitación se torna fría, un escalofrío invade todo su cuerpo y una sombra empieza a materializarse, vestida con una túnica negra y capucha del mismo color, que le impedían ver su rostro. En su mano izquierda sostiene una guadaña mientras que en la derecha, un pergamino en forma cilíndrica. Es la muerte, quien escuchó su petición haciendo acto de presencia, y con voz tétrica lo llama.
-Muerte: Walter Riso.
-Walter: Pero ¿Tú quién eres?.
-Muerte: Soy la muerte, y he venido a cumplir tu deseo.
-Walter: ¿¡En serio!? ¿No me mientes?.
-Muerte: Jamás, la muerte no miente, cuando llega la hora morir, es la hora.
Narrador: La muerte le muestra el pergamino a Walter, éste dudoso y preocupado estira la mano y lo toma. Comienza a leerlo y al estar de acuerdo con las condiciones firma sin dudar.
-Walter: Listo, aquí tienes.
-Muerte: El trato queda sellado, con tu permiso me retiro. Nos veremos luego… Walter Riso.
Narrador: Al desaparecer la muerte, Walter se pone a reflexionar acerca de lo que había hecho, en sí fue correcto o no, pero entendía que ya no había marcha atrás, ya el pacto estaba firmado. Con la tranquilidad de saber que ya no moriría a los tres meses, vivió al máximo, así transcurrió el tiempo. Llegado el día uno luego de los tres meses, llega a su casa completamente ebrio, sin fuerzas para sostenerse en pie, cae al piso y ríe a carcajadas.
-Walter: Jajaja, ya ni estar de pie puedo, jajaja. ¡Esto es el colmo!.
Narrador: Mientras aún se reía, aparece ante él la muerte nuevamente.
-Muerte: Walter Riso.
-Walter:
¿Quién eres? Ah ya sé, eres
@tripode
¿Pero que haces vestida así? ¿Vas a actuar en alguna obra de teatro?.
Narrador: La muerte al darse cuenta del estado de Walter, extiende su mano y le quita la embriaguez.
-Muerte: Llegó la hora de tu muerte, llevaré tu alma al inframundo.
-Walter: ¿Cómo? Pero solo han pasado tres meses ¿Y el contrato que hicimos? Me engañaste.
-Muerte: No te he engañado, el contrato que firmaste decía que vivirías más de los tres meses. Viviste tres meses y un día, trato cumplido.
FIN.
---
English Version
---
3 Months of life... A pact with death
On the occasion of the celebration of Halloween, I bring you a play where death is the main protagonist, a script for recreation and fun during the celebration of October 31.
Narrator: Sitting in his office, Walter Riso reads the results of his latest medical study.
-Walter: It can't be! These results must be wrong, there's no way he's going to die. Only three months? I still have a lot to do. I haven't enjoyed my life to the fullest, without a wife, without children, this is not true. And my money? I have a lot and in three months it will be impossible for me to spend a fortune.
Narrator: Anguished, he walks back and forth, his expression of despair is evident, he throws all the papers on the desk on the floor, and takes his hands to his head, exclaiming.
-Walter: This is a mistake, I can't die, I'm not going to die and I don't want to die.
Narrator: Sitting in the chair again, staring into the void, he screams.
-Walter: God, Why? What proof is it? I would give my soul to live a little longer.
Narrator: At that moment he begins to feel how the room begins to freeze, a shiver invades his whole body and a shadow begins to materialize, dressed in a black robe and hood of the same color, which prevented him from seeing his face. In her left hand she holds a scythe while in her right hand she holds a parchment in cylindrical form. It is death, who heard his request making an act of presence, and with a dismal voice calls him.
-Death:
Walter Riso.
-Walter: But who are you?
-Death: I am death, and I have come to fulfill your wish.
-Walter: Really? You're not lying to me?
-Death: Never, death does not lie, when the time comes to die, it is the time.
Narrator: Death shows the scroll to Walter, who, doubtful and worried, reaches out and takes it. He begins to read it and when he agrees to the conditions he signs without hesitation.
-Walter: There you go.
-Death: The deal is sealed, with your permission I withdraw. See you later... Walter Riso.
Narrator: As death disappears, Walter begins to reflect on what he had done, whether it was right or wrong, but he understood that there was no turning back now, the pact was already signed. With the tranquility of knowing that he would no longer die after three months, he lived to the fullest, and time passed. On the first day, after three months, he arrives at his house completely drunk, with no strength to stand, falls to the floor and laughs out loud.
-Walter: Hahaha, I can't even stand up anymore, hahaha. This is the last straw!.
Narrator: While he was still laughing, death appears before him again.
-Death: Walter Riso.
-Walter:
Who are you? Ah I know, you're
@tripode
but what are you doing dressed like that? Are you going to act in some play?.
Narrator: Death, upon realizing Walter's state, extends his hand and takes away his intoxication.
-Death: The hour of your death has come, I will take your soul to the underworld.
-Walter: How? But it's only been three months. You cheated me.
-Death: I didn't cheat you, the contract you signed said you would live beyond three months. You lived three months and one day.
END.
---
FUENTES
Imagen de portada diseñada en PowerPoint
Imágenes tomadas de pixabay.com
Imagen 1
Imagen 2
Imagen 3
Imagen 4
SOURCES
Cover image designed in PowerPoint
Images taken from pixabay.com
Image 1
Image 2
Image 3
Image 4
---

Thank you for reading my blog
Gracias por leer mi blog