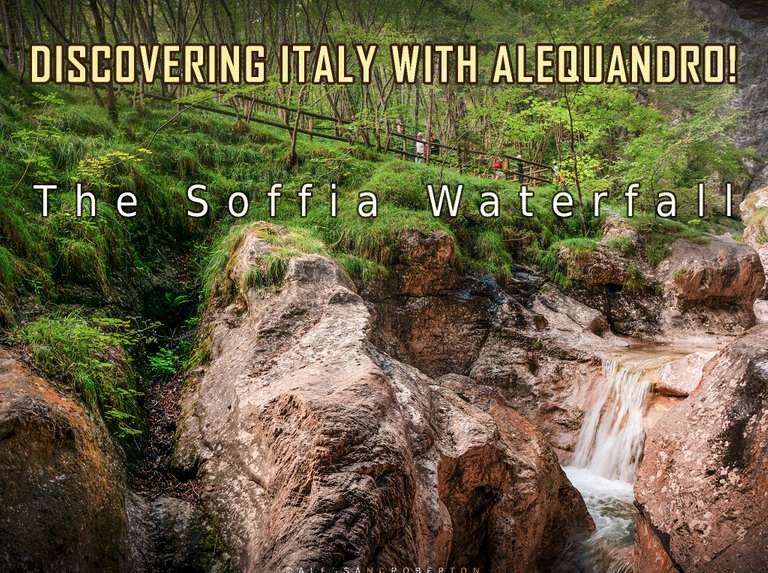 Hello everyone! Here we are with another really interesting discovery!
ITA
Ciao a tutti! Eccoci con un'altra scoperta davvero interessante!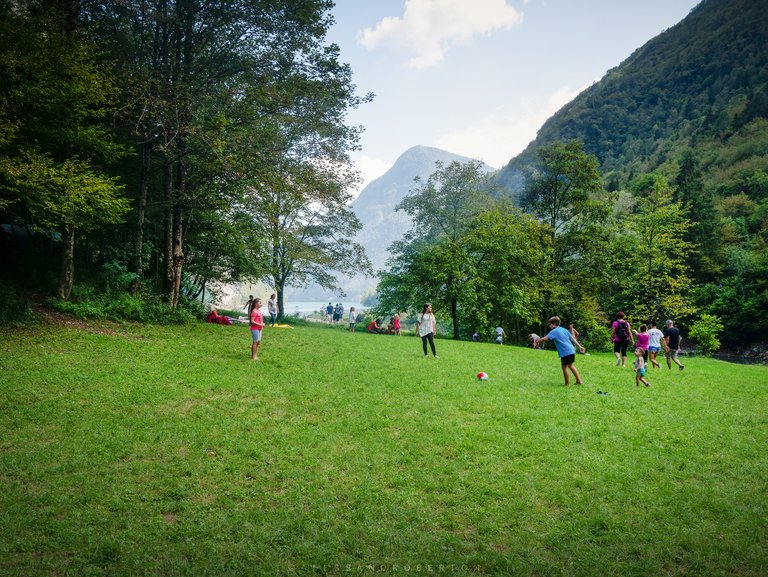 With the main intention of visiting Lake Mis in the province of Belluno. that I will tell you in another post, I decided to visit the Soffia waterfall, a place that exceeded all expectations!
ITA
Con l'intento principale di visitare il Lago di Mis nella provincia di Belluno. che vi racconterò in un altro post, ho deciso di visitare la cascata della Soffia, un luogo che è stato superiore ad ogni aspettativa!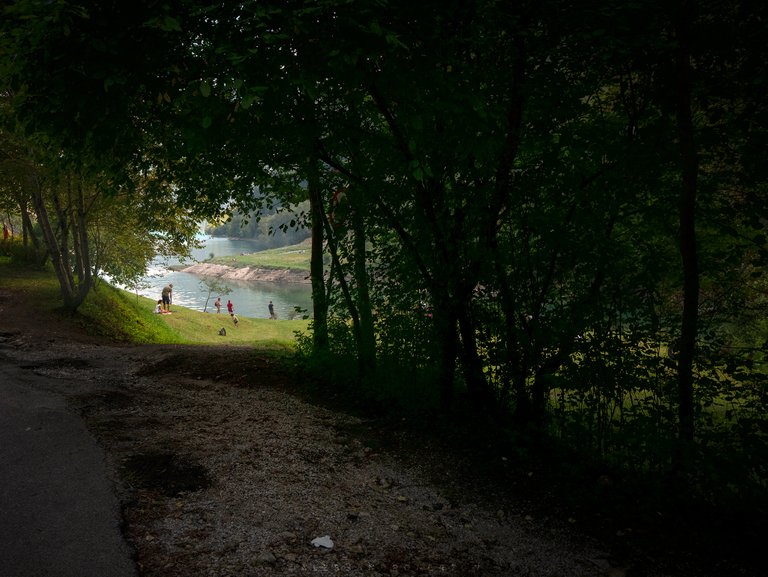 I parked the car near the lake and walked to the waterfall.
The lake is very popular with tourists who enjoyed playing on the lawns, barbecuing, sunbathing in the sun or playing in the water.
ITA
Ho parcheggiato l'auto vicino al lago e mi sono diretto a piedi verso la cascata.
Il lago è molto frequentato da turisti che si divertivano giocando sui prati, facendo barbecue, abbronzandosi al sole o giocando nell'acqua.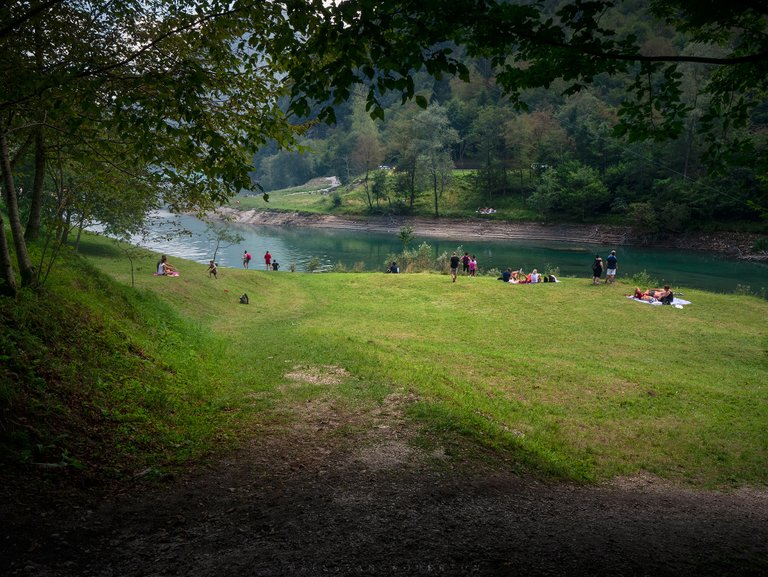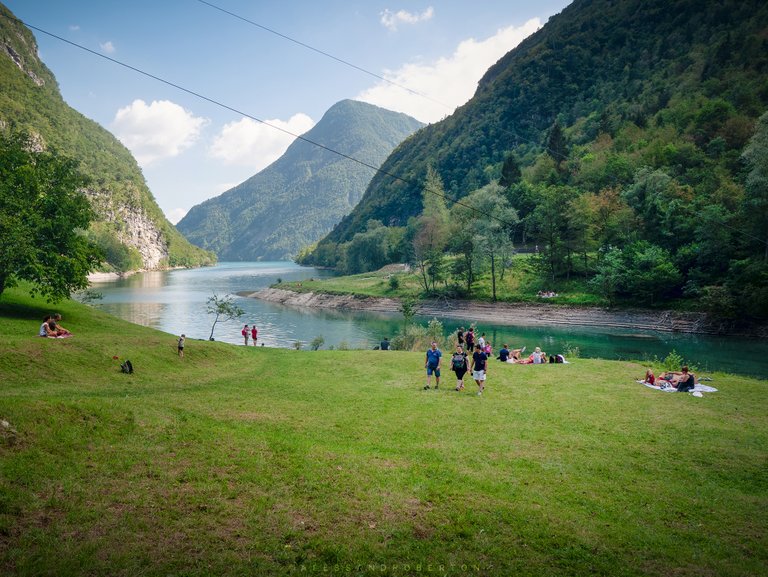 Just before the path leading to the waterfall there is a restaurant with a nice terrace overlooking the lake, a beautiful view!
ITA
Appena prima del sentiero che porta alla cascata c'è un ristorante con una bella terrazza che da sul lago, una bellissima veduta!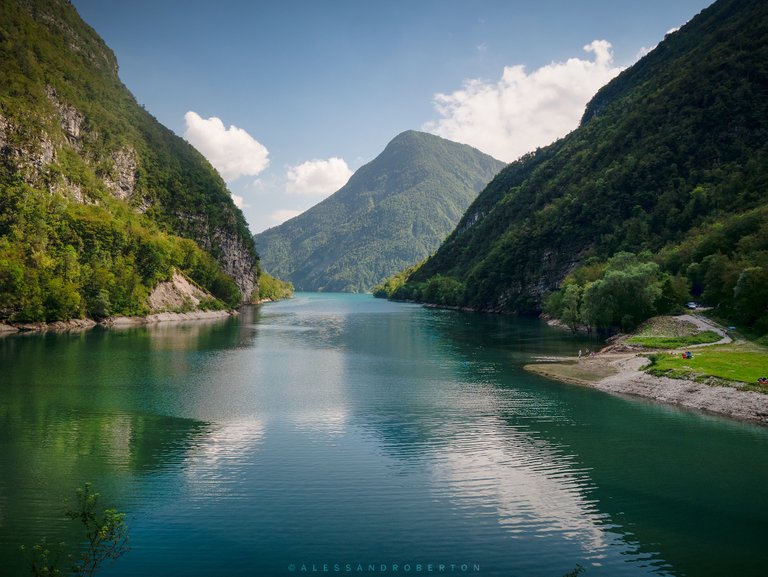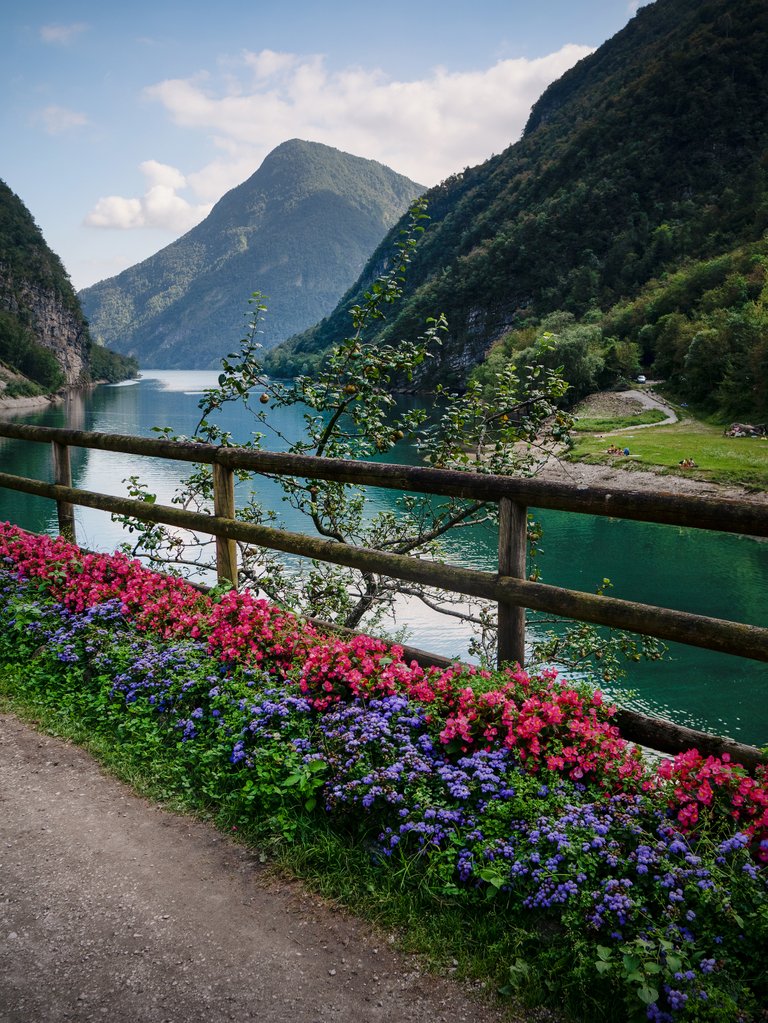 Here is the first indication for the waterfall, it is a few minutes walk.
ITA
Ecco la prima indicazione per la cascata, si tratta di una passeggiata di pochi minuti.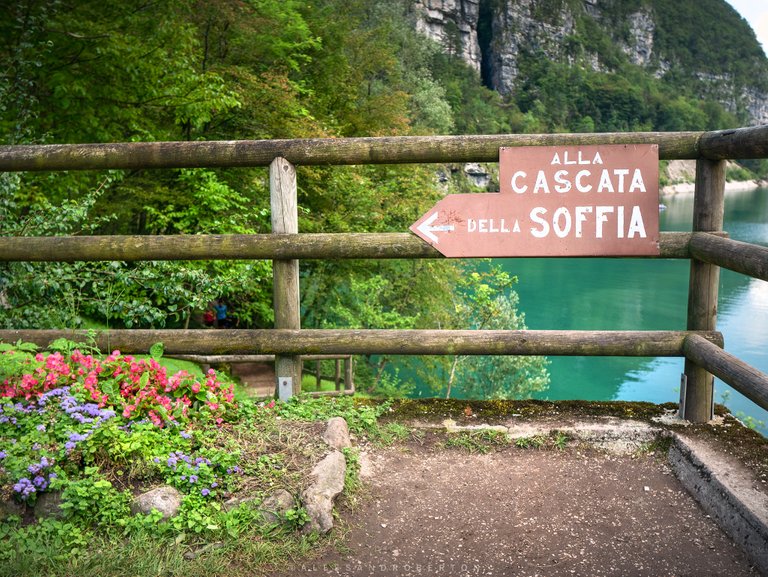 There is also a cute little wooden bear standing guard.
ITA
C'è anche un simpatico orsetto di legno a fare la guardia.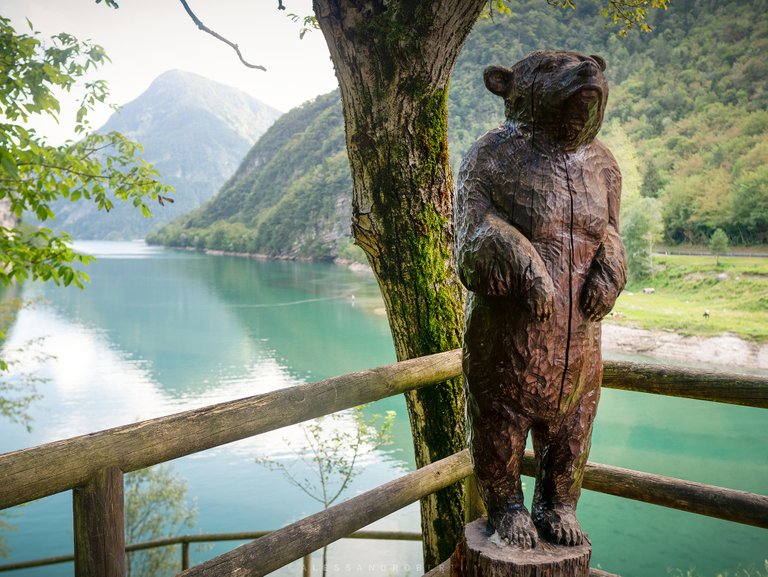 As soon as you set foot in the deciduous forest you can already hear the sound of water, and it's loud!
ITA
Appena si mette piede nel bosco di latifoglie si sente già il rumore dell'acqua, ed è forte!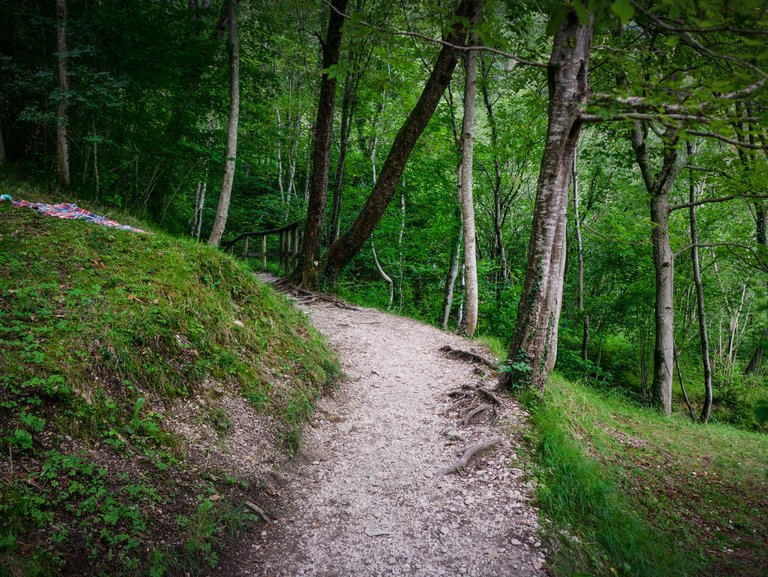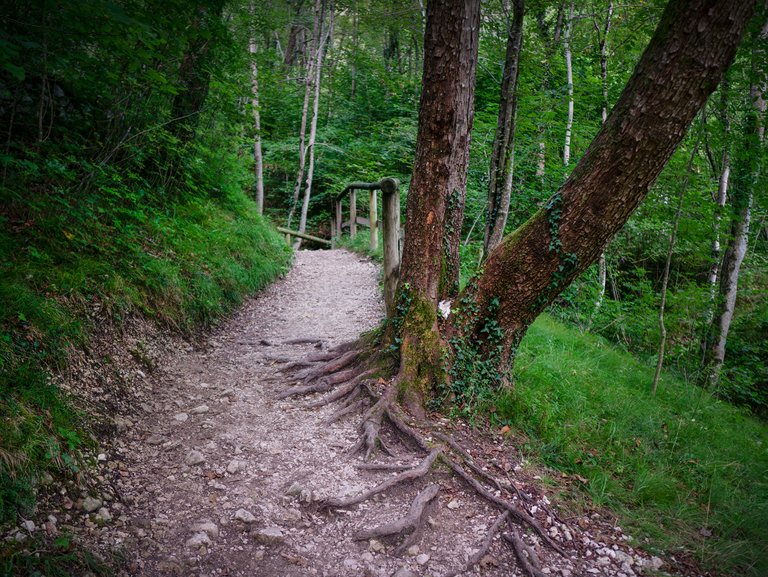 The path is very beautiful with wooden fences and walkways.
ITA
Il sentiero è molto bello con staccionate e passerelle di legno.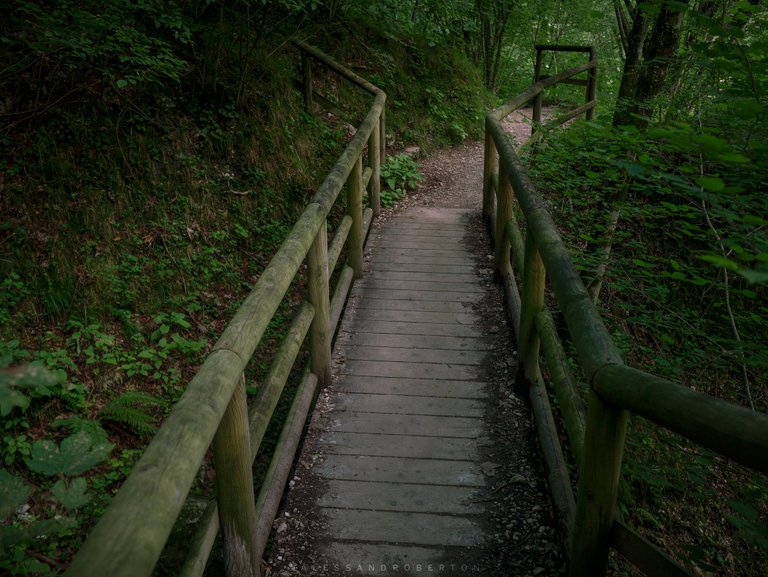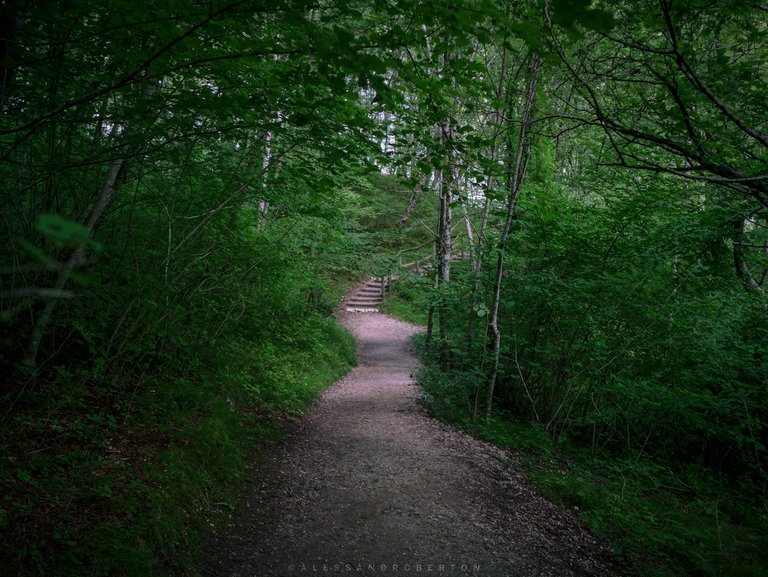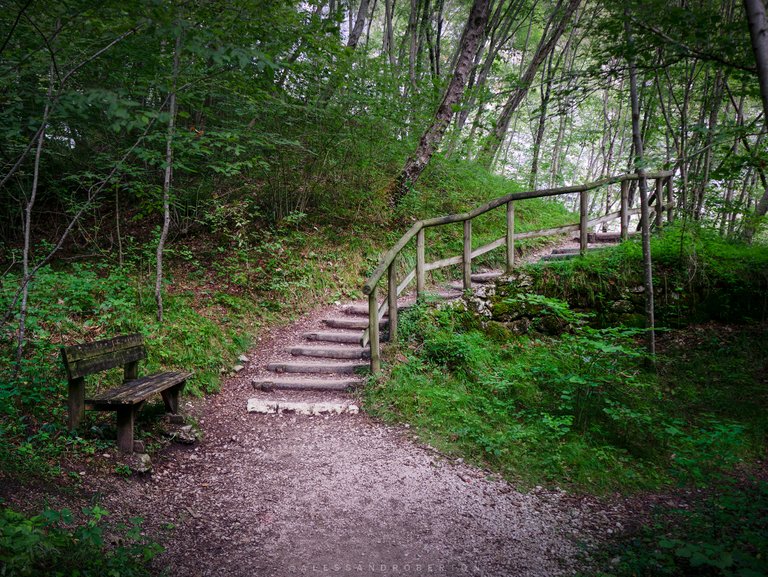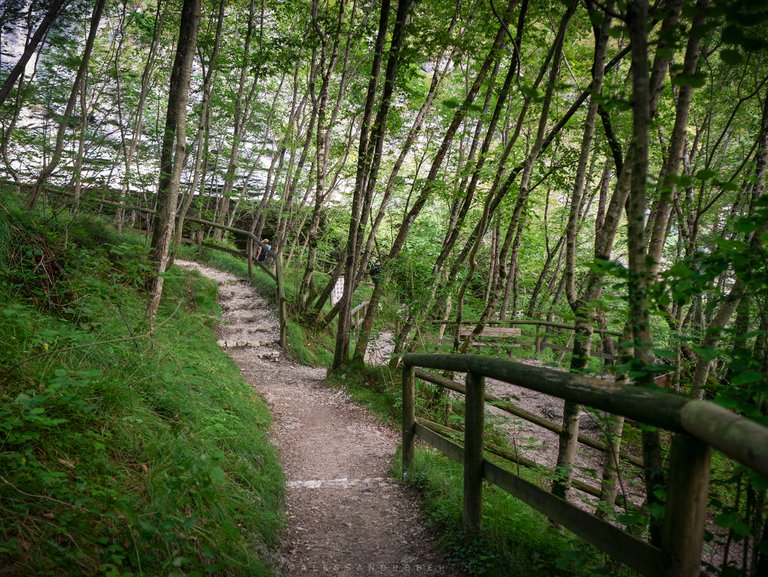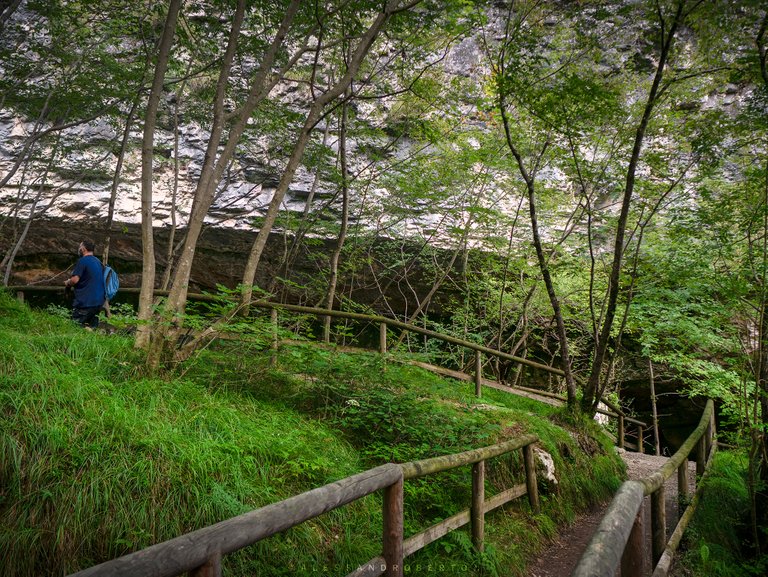 I was beginning to glimpse a rocky wall, but I couldn't see the water despite the loud sound of water falling from above.
ITA
Cominciavo ad intravedere una parete rocciosa, ma non riuscivo a vedere l'acqua nonostante il rumore forte di acqua che cade dall'alto.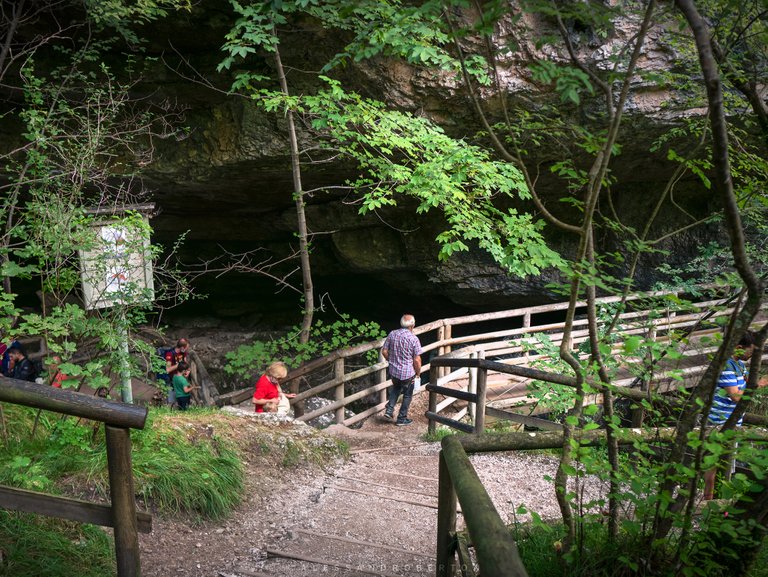 After a few steps I realized the majesty of that overhanging rock, all digging and rubbing from the furious water as if it were trying to escape.
ITA
Dopo qualche passo mi sono reso conto della maestosità di quella roccia strapiombante, tutta scava e percosa da l'acqua furiosa come se stesse cercando di scappare.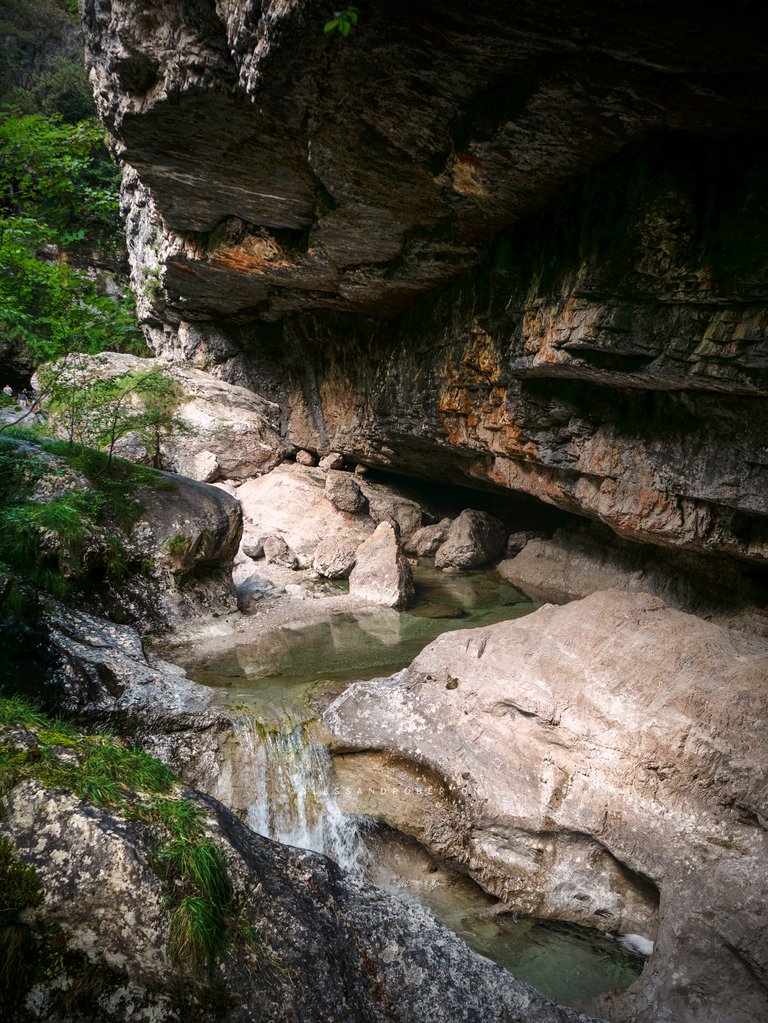 There is also a wooden terrace from where you have an even more immersive view, where everyone took selfies.
ITA
C'è anche una terrazza di legno da dove si ha una vista ancora più coinvolgente, dove tutti si scattavano selfie.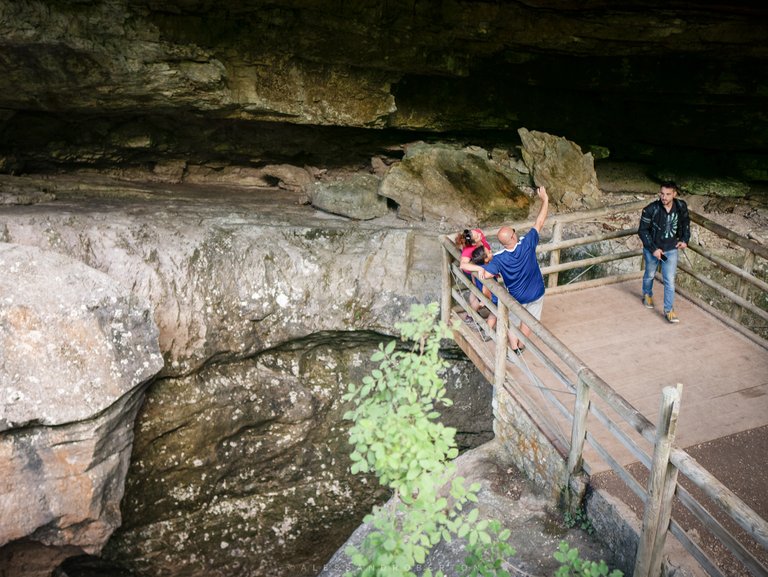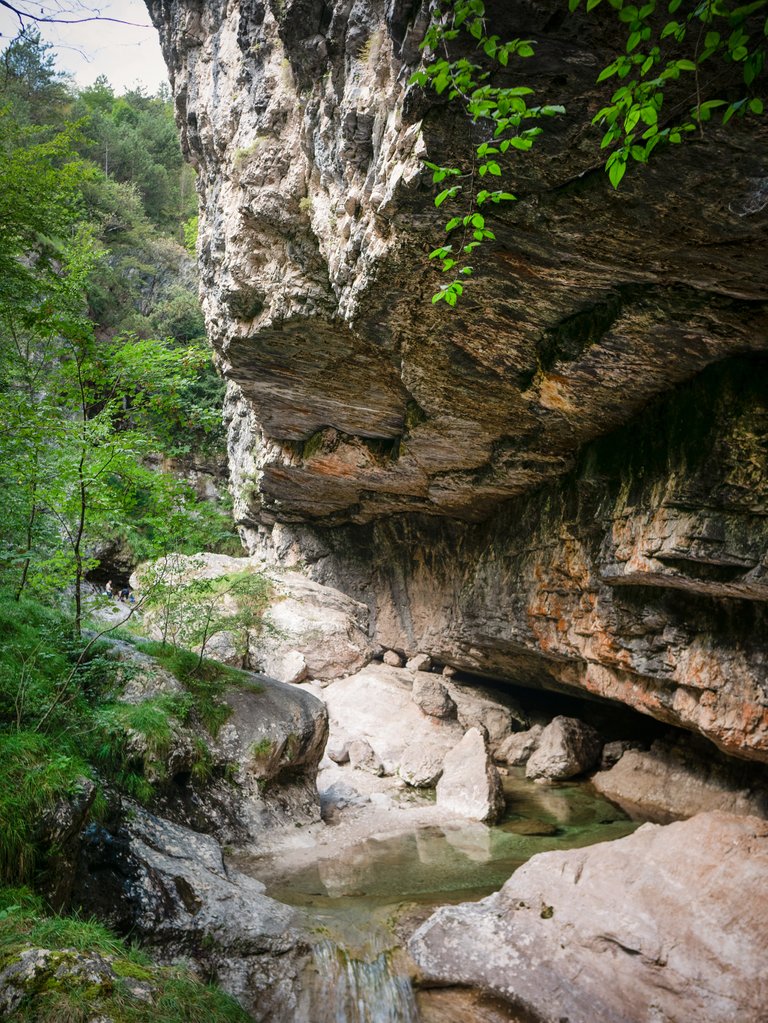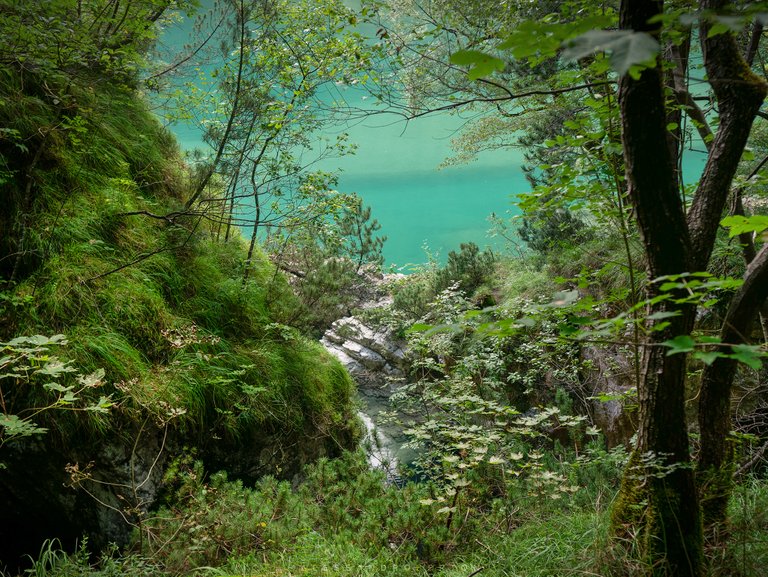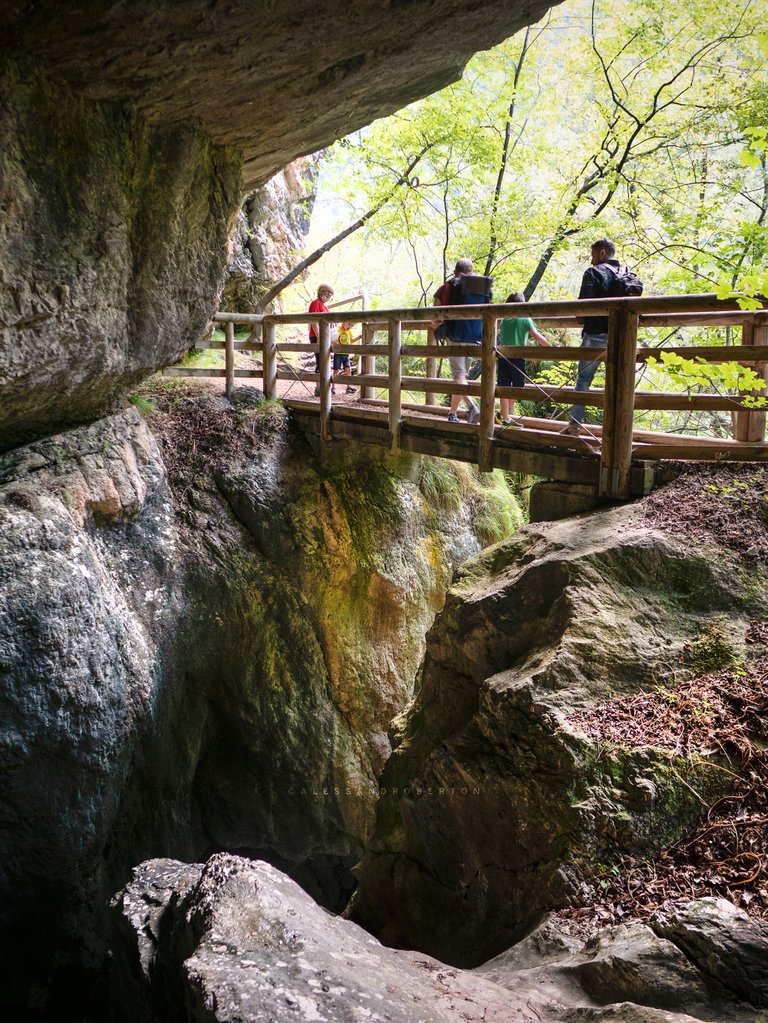 In some places you could not see the bottom, there were meters of difference in height dug by centuries of passage of water.
ITA
In certi punti non si vedeva il fondo, c'erano metri di dislivello scavati da secoli di passaggio dell'acqua.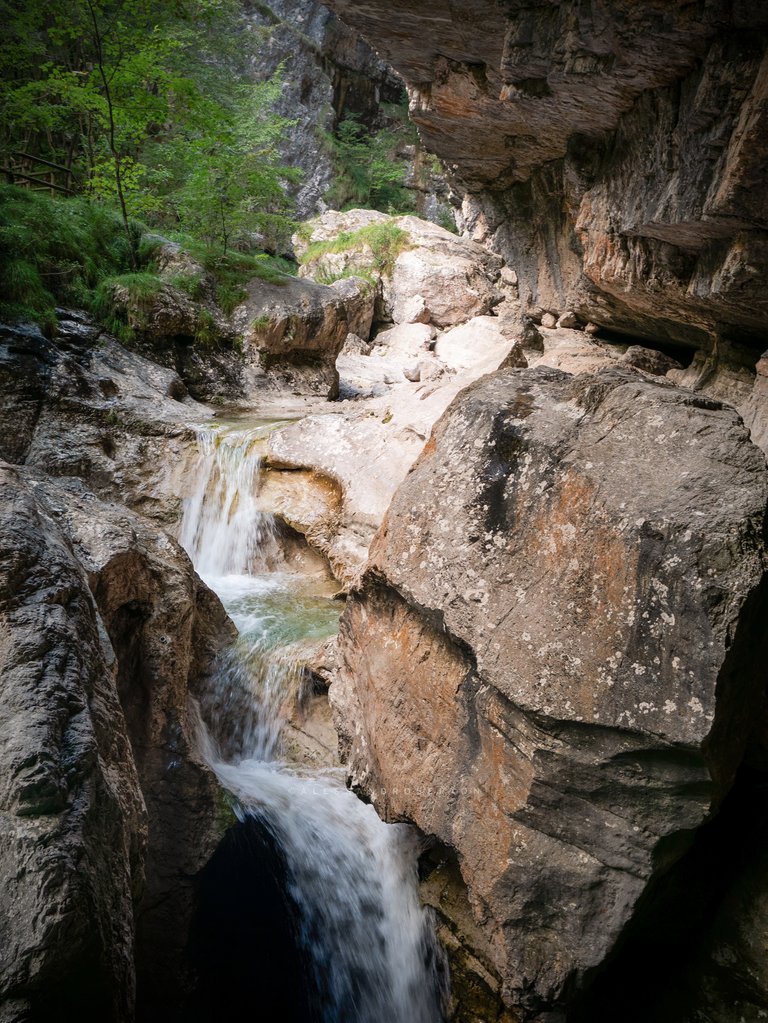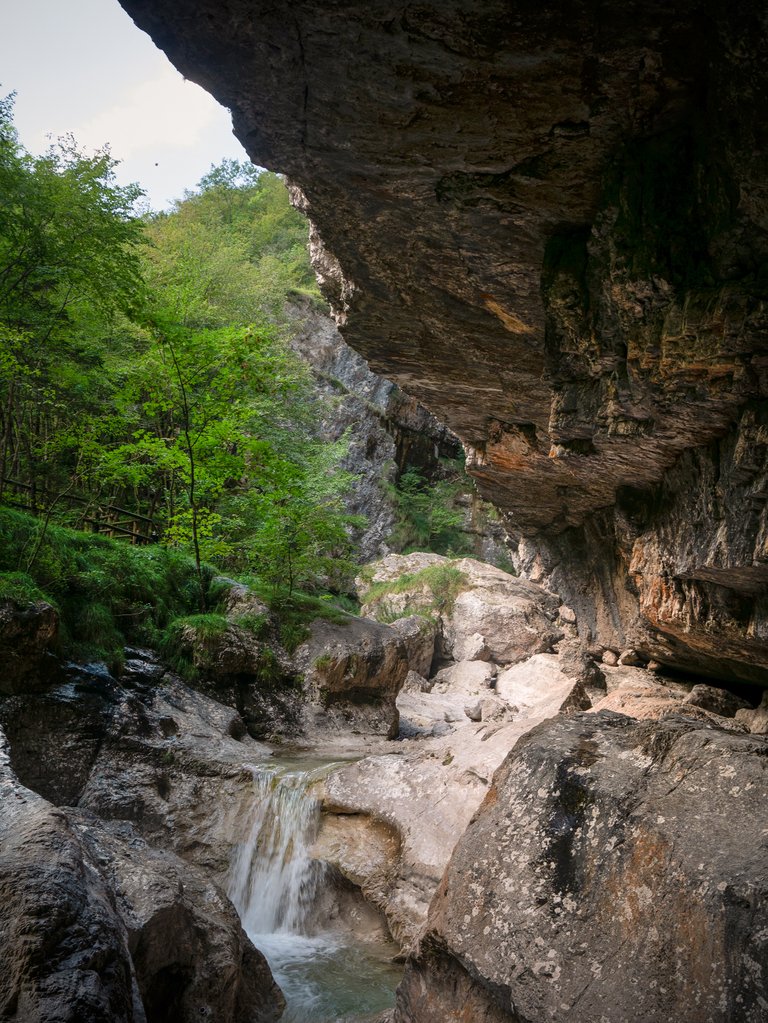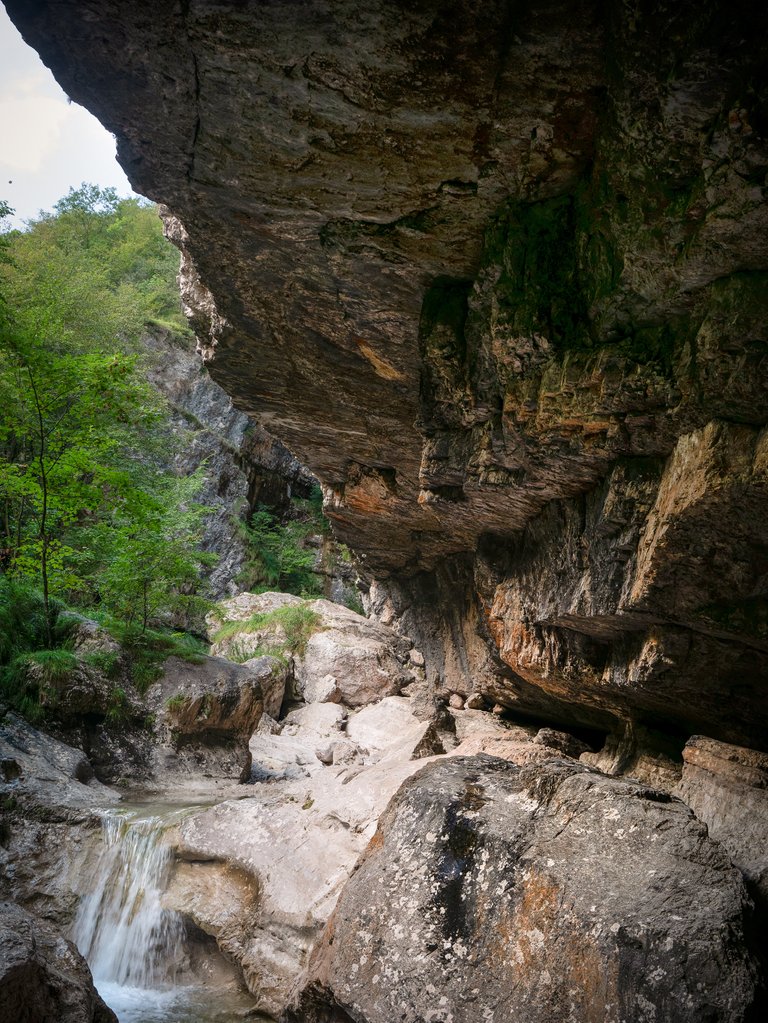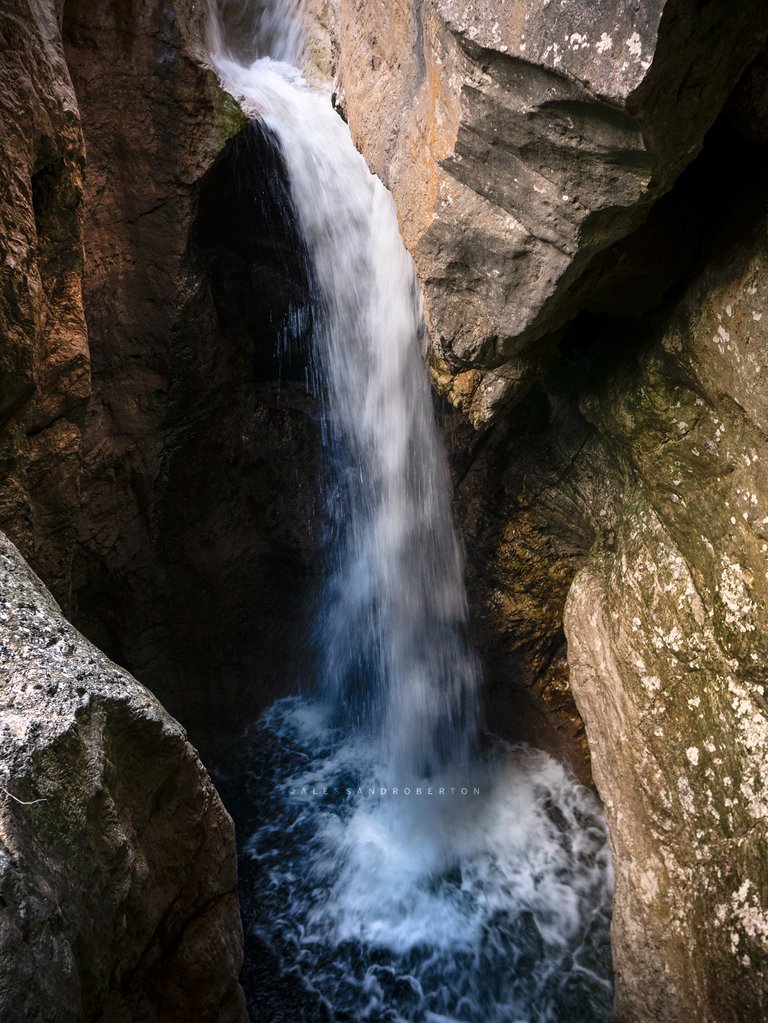 In this photo I was able to capture some people in the background, so you can understand the size of that incredible place.
ITA
In questa foto sono riuscito a cogliere alcune persone sullo sfondo, così si riesce a capire le dimensioni di quel posto così incredibile.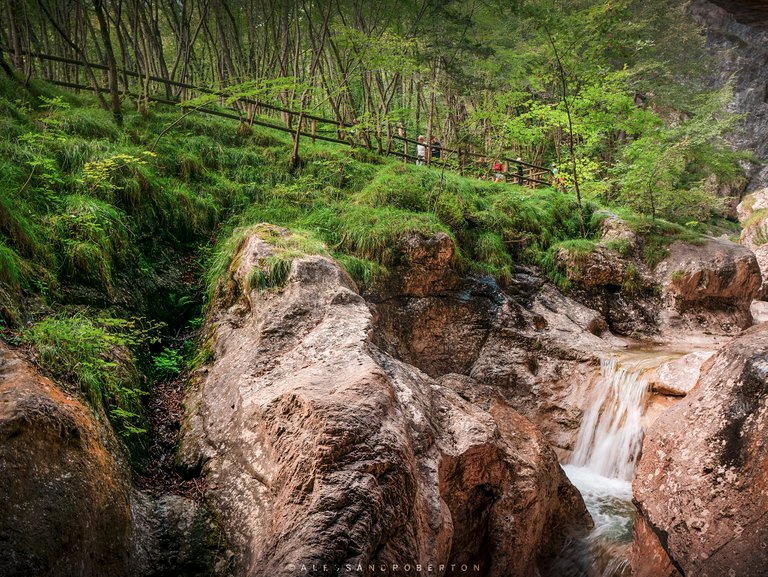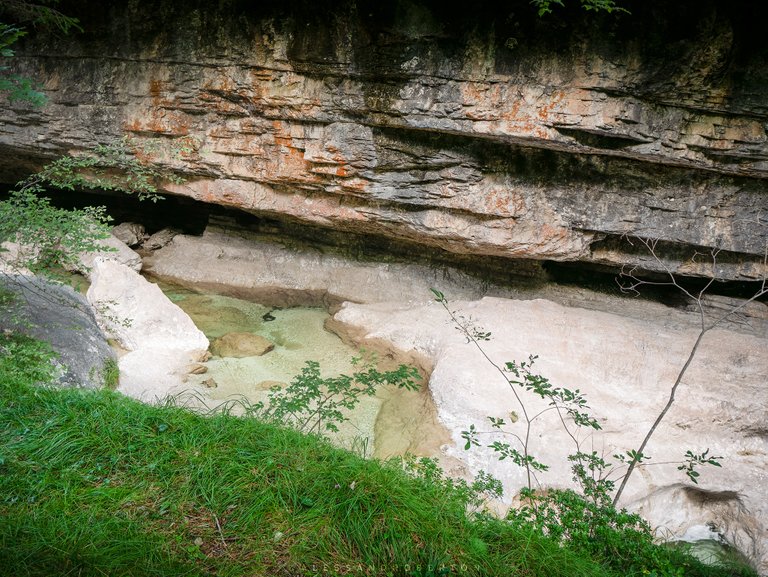 A path allowed you to skirt the watercourse then ended with a concrete wall that has the purpose of keeping visitors safe because in case of heavy rain there is a risk that everything will flood.
ITA
Un percorso permetteva di costeggiare il corso d'acqua poi terminava con un muro di cemento che ha lo scopo di tenere in sicurezza i visitatori perchè in caso di forti piogge c'è il rischio che si allaghi tutto.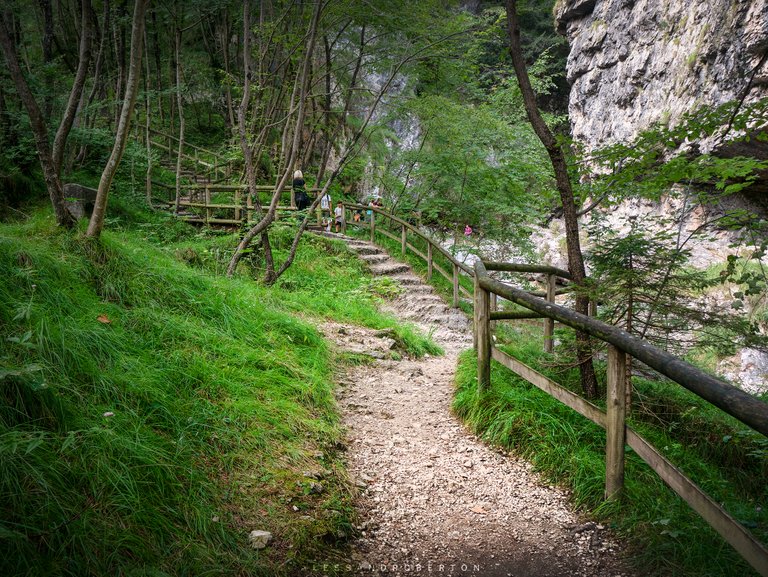 A couple of tourists had climbed over the security wall and went to visit further, but then they were reprimanded by other people.
In fact, if it had rained upstream, they would have been overwhelmed by the water.
It has already happened!
ITA
Un paio di turisti avevano scavalcato il muro di sicurezza e ed erano andati a visitare oltre, ma poi sono stati rimproverati da altre persone.
In effetti se a monte avesse piovuto, sarebbero stati travolti dall'acqua.
E' già capitato!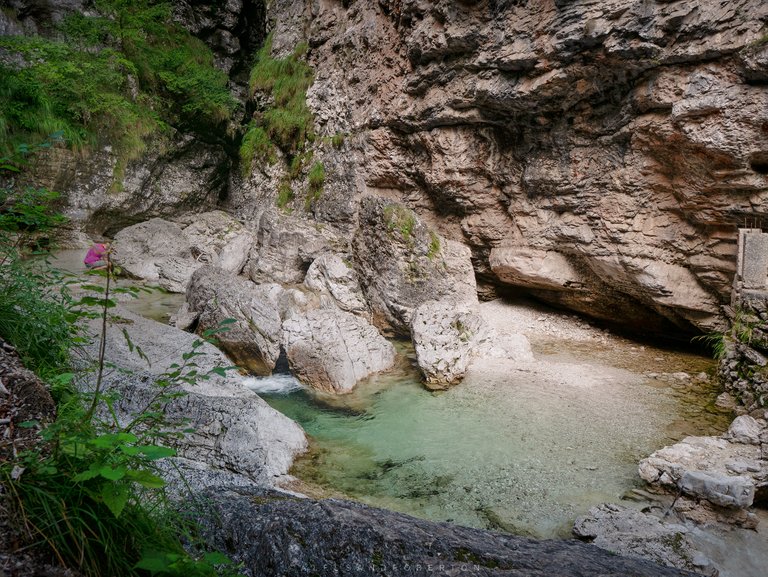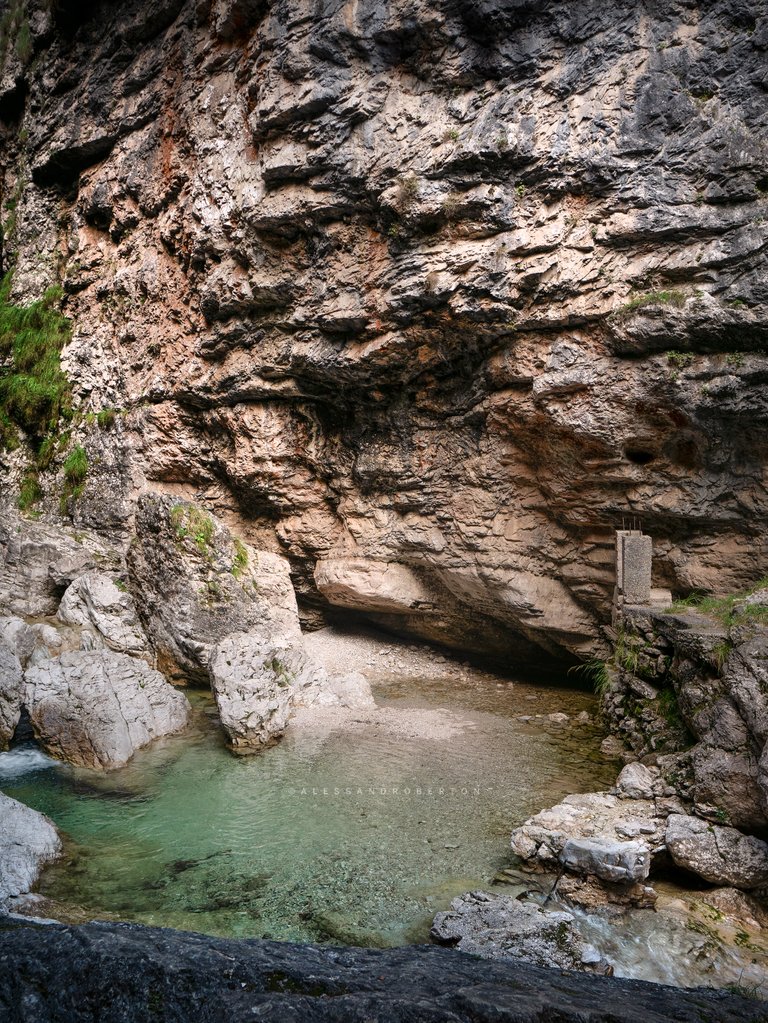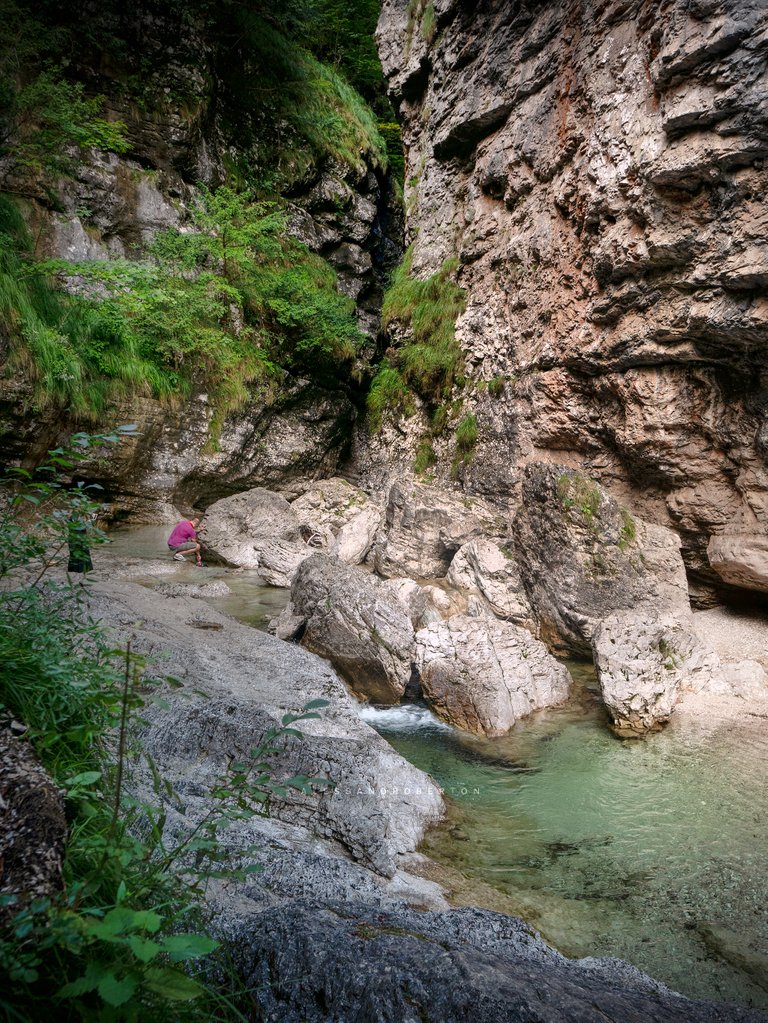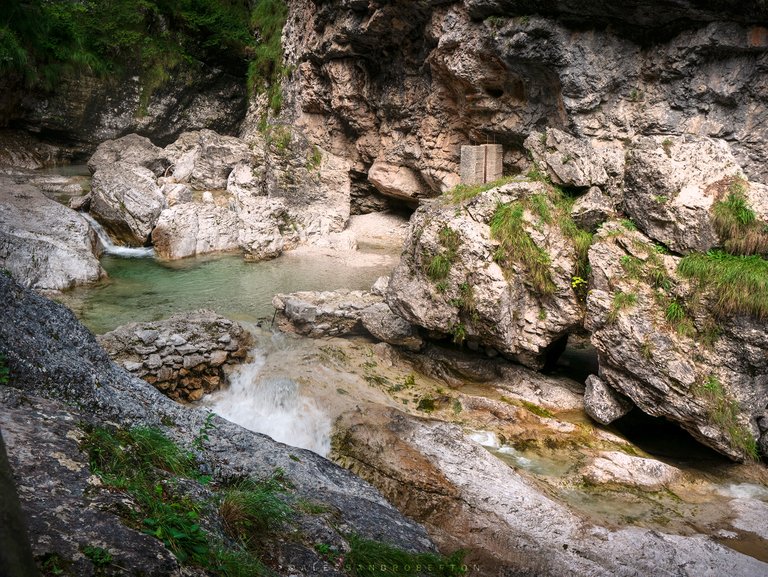 I went back and continued the path, also photographing the very suggestive openings on the water.
ITA
Sono tornato indietro e ho proseguito il percorso, fotografando anche delle aperture sull'acqua, molto suggestive.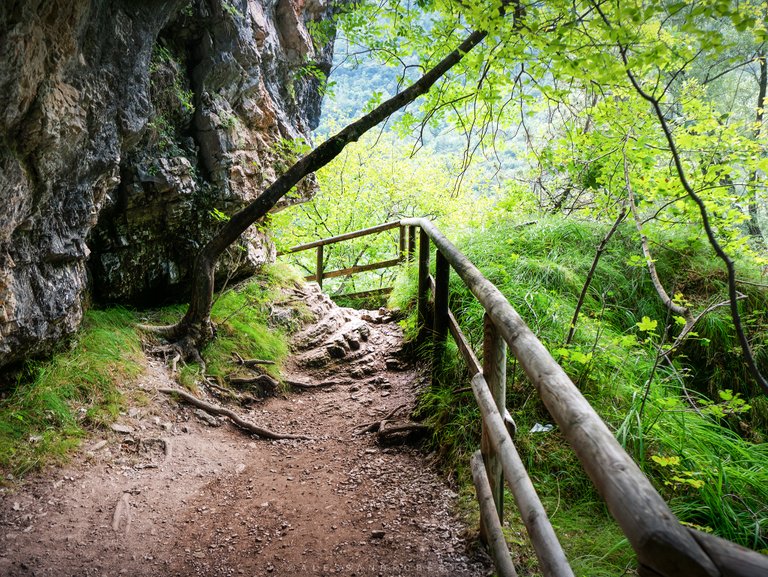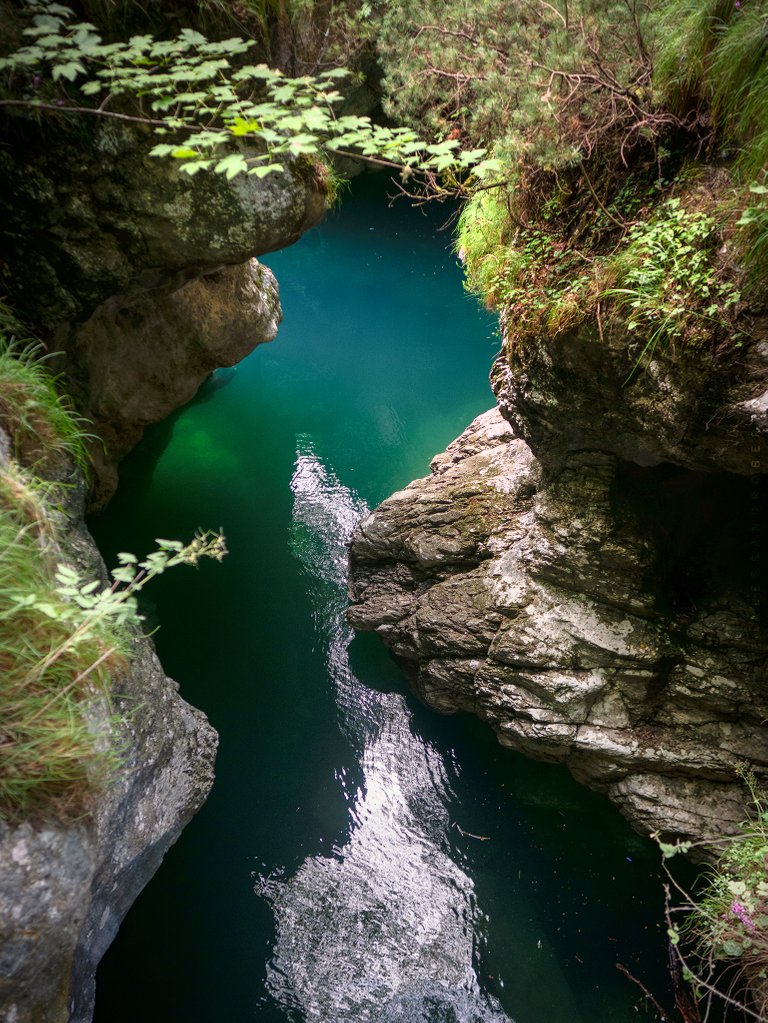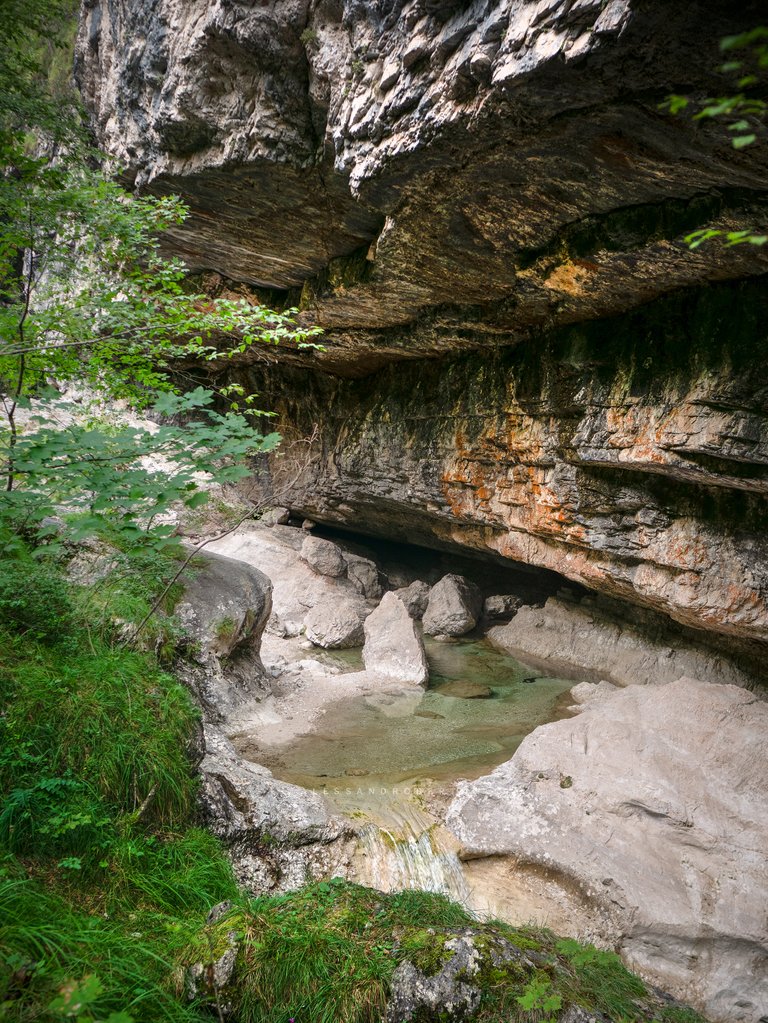 The path develops for a few meters alongside the rocky wall and on the right there is a view of the lake.
ITA
Il percorso si sviluppa per pochi metri a fianco della parete rocciosa e sulla destra c'è la vista del lago.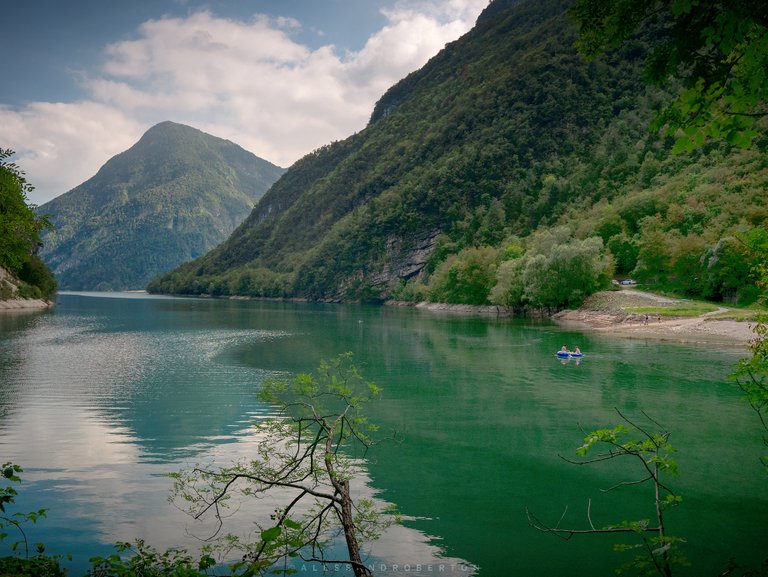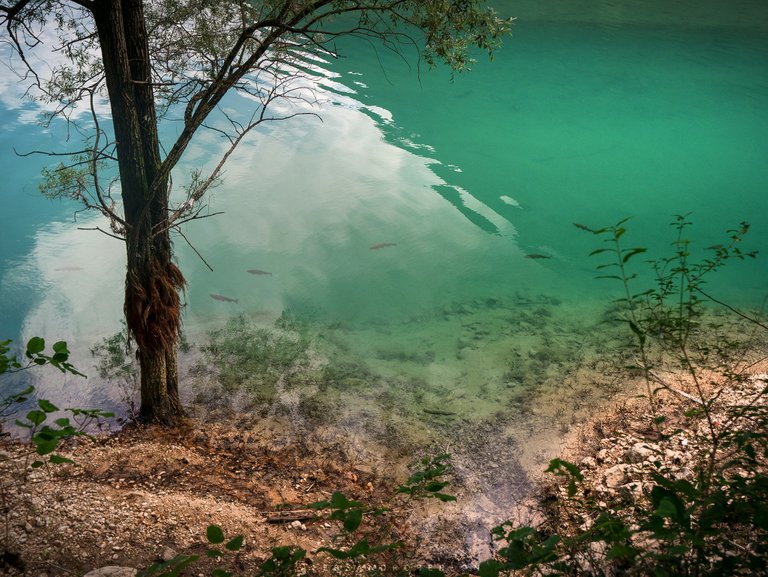 The path then stops and all you can do is go back and conclude the visit to the nearby restaurant is the best choice since the beer is not bad!
ITA
The path then stops and all you can do is go back and conclude the visit to the nearby restaurant is the best choice since the beer is not bad!