Cuando decidimos emprender cualquier actividad en la vida podemos encontrarnos con múltiples perspectivas, e incluso, muchas personas te dirán tantas cosas que solo querrán hacerte ver lo malo que podría pasar. Y es verdad, cualquier cosas puede suceder, sin embargo, hay quienes tienen una visión tan parcialidades a lo negativo que solo hacen énfasis en eso.
When we decide to undertake any activity in life we may encounter multiple perspectives, and even many people will tell you so many things that they will only want to make you see the bad things that could happen. And it is true, anything can happen, however, there are those who have a vision so biased to the negative that they only emphasize that.
Y está bien, debemos reconocer que las posibilidades de que no ocurra un accidente o eventualidad siempre está, pero de igual manera todo puede.ie muy bien, incluso mucho mejor de lo que podríamos esperar.
And okay, we must recognize that the chances of an accident or eventuality not occurring are always there, but still everything can be very good, even much better than we might expect.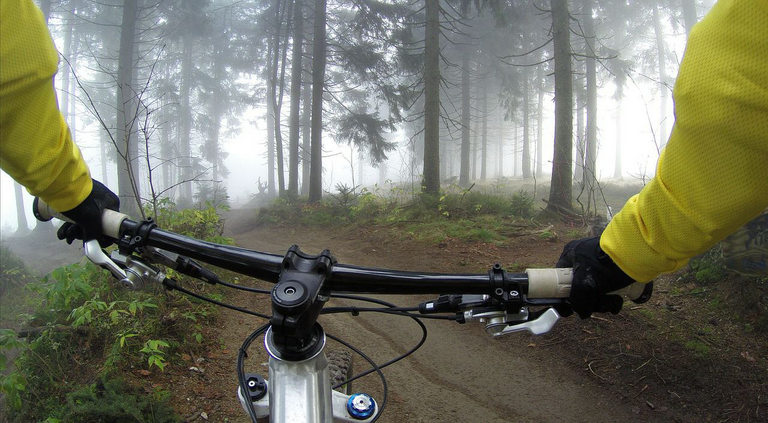 Src
Y es en estos puntos positivos que debemos enfocarnos. Por ejemplo, dar un paseo en bicicleta en un bosque o parque. Algo que podría ser una experiencia muy buena, con los Beneficios que trae consigo tanto en lo mental como en lo físico, algunas personas podrían decir que es muy peligroso, ya que podrías tener un accidente, incluso podrían robar la bicicleta o peor aun, porque la soledad del bosque se presta para muchas cosas, la lista puede seguir.
And it is on these positive points that we should focus. For example, taking a bike ride in a forest or park. Something that could be a very good experience, with the benefits it brings both mentally and physically, some people might say that it is very dangerous, because you could have an accident, they could even steal the bike or worse, because the solitude of the forest lends itself to many things, the list can go on.
Es verdad, cualquier cosa podría pasar, pero la realidad es que siempre ocurren cosas buenas, la mayoría de veces y es en eso que debemos pensar. No atraer lo malo a nuestras vidas con esos pensamientos.
It's true, anything could happen, but the reality is that good things always happen, most of the time, and that's what we should think about. Not to attract bad things into our lives with those thoughts.