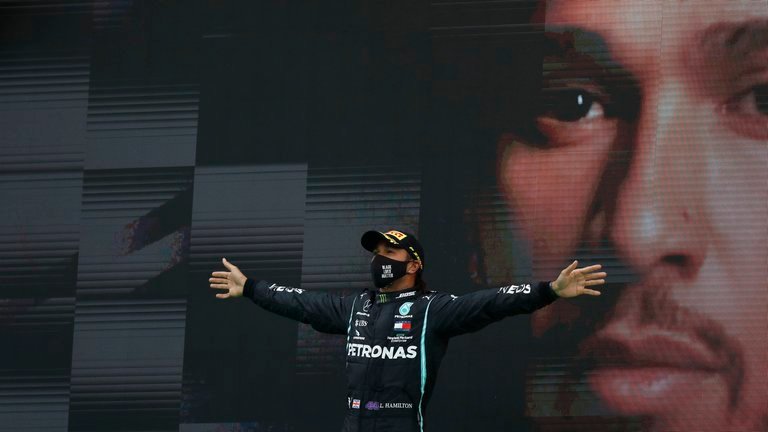 Yesterday at the end of the F1 race my wife came from the kitchen and asked me who had won, Hamilton was my answer to what she told me: "I don't know why you watch these races if the same one always wins."
If we look at the results, I have no choice but to give him the reason, indeed, on several occasions I have asked myself that question. The Mercedes Benz team and its drivers have demonstrated in recent years an overwhelming dominance in the most important category of world motorsport and it is a bit frustrating for those of us who want to see the essence of this sport that is nothing other than fair competition and in equal footing.
Criticisms are heard everywhere and the most forceful is the one that says that this is how the category is dying, that it is losing interest and that people are going to other automobile events where the competition is more even.
It is true, all those arguments are valid and it is certain that the leaders and those responsible are looking for alternative methods, in fact, there is already a great change of regulations stipulated for the end of next season.
What cannot be done and luckily has not been done, is something that unfortunately is used daily in some activities, even in the policies of those who have to lead countries: I am referring to the ease of equalizing down. Since there are no ideas to improve the situation of all, let us worsen those of those who are eventually higher so that there are fewer differences.
To give a specific example and without leaving motorsport, here in my country there are categories where they devised adds ballast to the winning cars to equalize the opportunities with the others. Instead of rewarding those who win, they are punished, instead of encouraging those who do not arrive with their knowledge, technology, even budget, a Machiavellian reverse justice has been invented. Of course, in many cases they achieved the opposite effect, some drivers and teams began to speculate about not winning so as not to have to add weight to the vehicles. It is only a sample of the failure of this type of measure.
I will continue to see the Mercedes and Hamilton win, even if I do not like them too much, I will do it because they deserve it, with the same budget that other teams have made an important difference in their favor, it speaks well of the whole team and also of the leaders of the category that have not adopted the easy idea of ​​equalizing down to save a juncture.

En el día de ayer al terminar la carrera de F1 mi esposa vino desde la cocina y me preguntó quién había ganado, Hamilton fue mi respuesta a lo que ella me dijo: "no se para que ves estas carreras si siempre gana el mismo".
Si nos fijamos en los resultados no me queda otra opción que darle razón, es más, en varias ocasiones yo mismo me he planteado esa cuestión. El equipo Mercedes Benz y sus pilotos han demostrado en estos últimos años un dominio abrumador en la categoría más importante del automovilismo mundial y es un poco frustrante para aquellos que queremos ver la esencia de este deporte que no es otra cosa que la competencia leal y en igualdad de condiciones.
En todas partes se escuchan críticas y la más contundente es aquella que dice que así se está muriendo la categoría, que está perdiendo interés y que la gente se está yendo hacia otros eventos automovilísticos donde la competencia es más pareja.
Es cierto, todos esos argumentos son válidos y es seguro que los dirigentes y responsables están buscando métodos alternativos, de hecho ya hay un gran cambio de reglamentos estipulado para fines de la próxima temporada.
Lo que no se puede hacer y por suerte no se ha hecho, es algo que lamentablemente es de uso cotidiano en algunas actividades, incluso en las políticas de aquellos que les toca dirigir países: me refiero al facilismo de igualar hacia abajo. Ya que no hay ideas para mejorar la situación de todos empeoremos las de los que eventualmente están más arriba para que haya menos diferencias.
Por poner algún ejemplo concreto y sin irme del deporte motor, aquí en mi país hay categorías donde idearon agrega lastre a los automóviles ganadores para igualar las oportunidades con los demás. En lugar de premiar al que gana se lo castiga, en vez de incentivar al que no llega con sus conocimientos, tecnología, incluso presupuesto se ha inventado una maquiavélica de justicia inversa. Por supuesto que en muchos casos lograron el efecto contrario, algunos pilotos y equipos comenzaron a especular con no ganar para no tener que agregar peso a los vehículos. Es solo una muestra del fracaso de este tipo de medidas.
Seguiré viendo ganas a los Mercedes y a Hamilton aunque no me simpaticen demasiado, lo haré porque se lo merecen, con el mismo presupuesto que otros equipos han logrado una diferencia importante a su favor, habla bien de todo el equipo y también de los dirigentes de la categoría que no han adoptado la fácil idea de igualar hacia abajo para salvar una coyuntura.
Las fotografías son de mi propiedad excepto las que menciono la fuente.
The photographs are my property except those mentioned by the source.
Héctor Gugliermo
@hosgug