Well, it's been a lot of 'hurry up and wait' around my house. We're waiting on the imminent arrival of our second child so much of the day is just spent waiting for baby to finally be able to come into the world. This has meant that I've had a bit of time to kind of poke around at my art - and so I've done another bit of map update today!
I thought it might be nice for my players to have something to at-a-glance reference what each kingdom claims as its borders... so I made a photocopy of my current map, and started playing around with how to depict that.
The results are... okay. They're nothing special, and I may revisit the map and do my next overlay in GIMP or something, but for now this is pretty good I think!
I started with just flat colour border to a couple of regions and while I sort of like how that looked, I opted to go a bit further with it.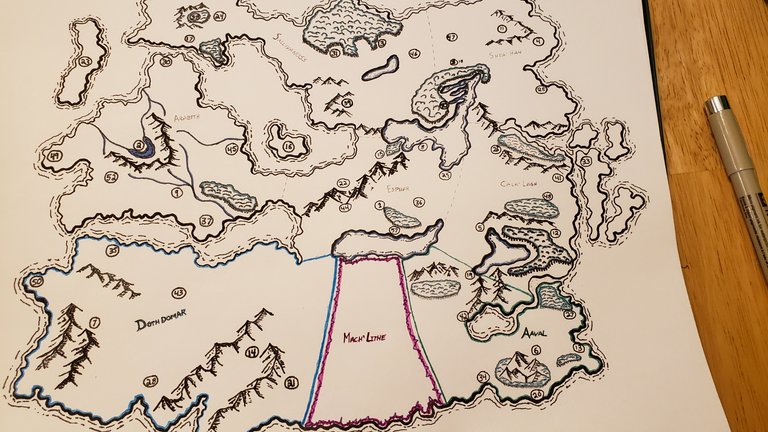 I added some simple lines in the same colour as the border, but with a little less weight behind them and I was immediately impressed with the results.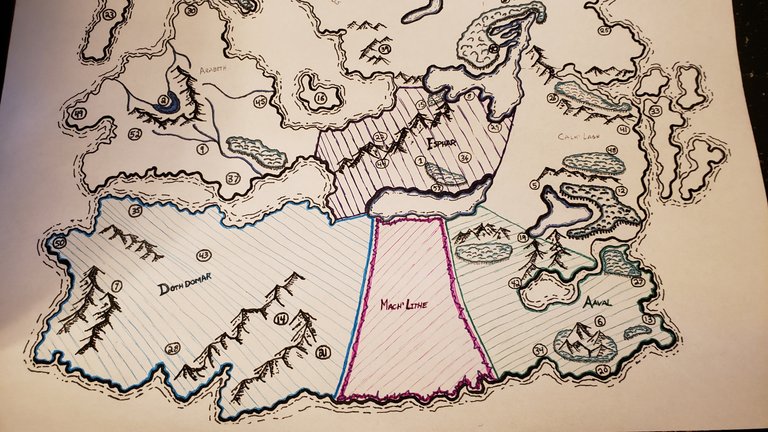 The final version came out looking like this: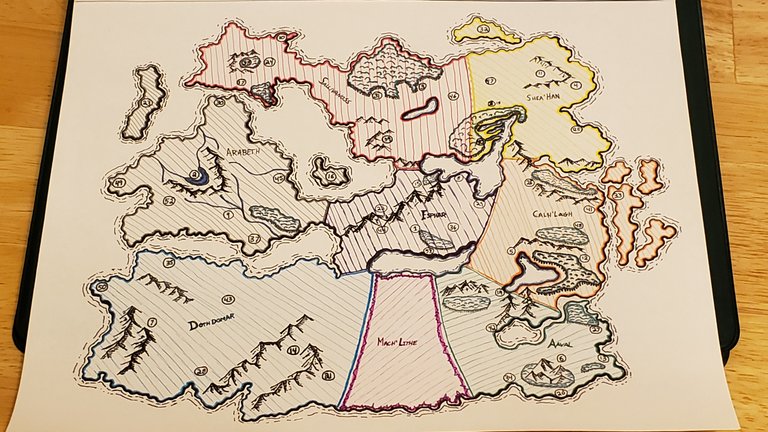 And for comparison, this is the core map I've been updating side-by-side with my photocopy and it's kingdom colours.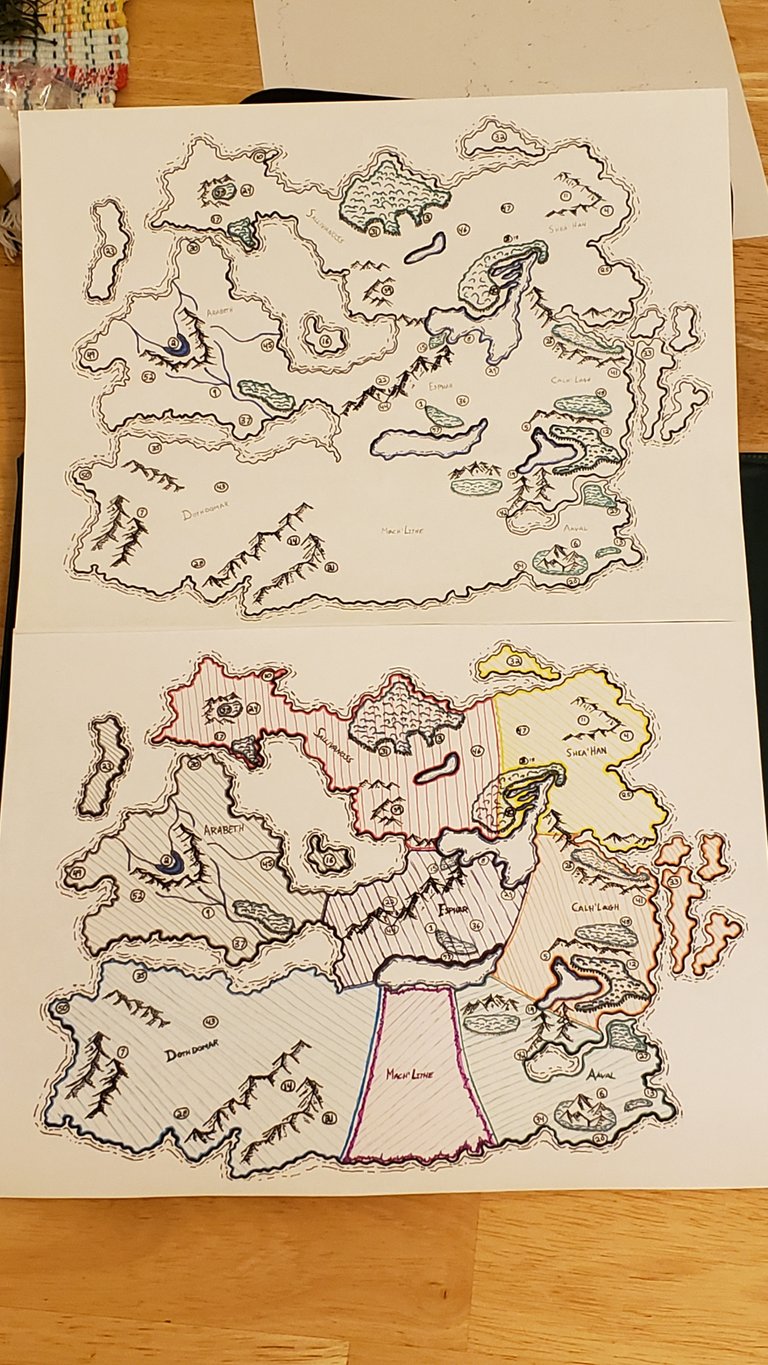 And last but not least, a scan of it instead of a meh-quality photo, so that you can see the colours I went with.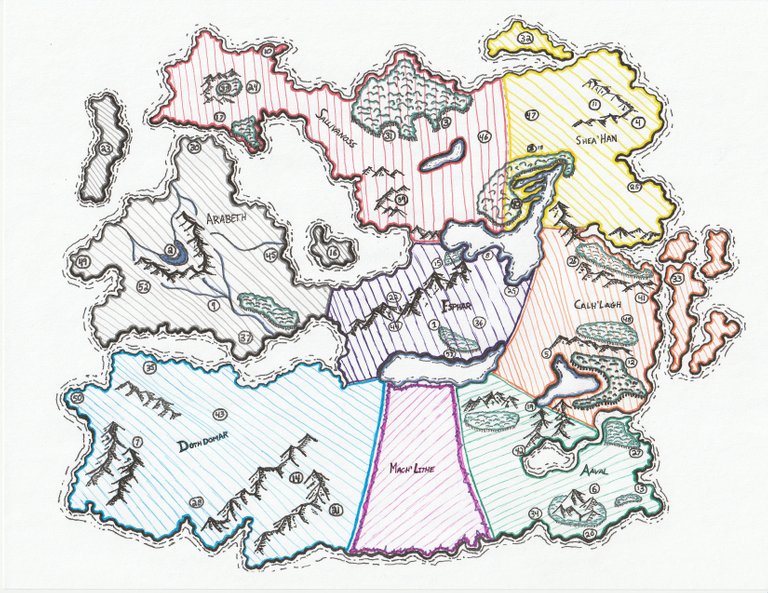 The only one hard to tell (to me at least) what colour it is, is Esphar in the center. It's purple, but in most of my photos and scans it looks almost black. The purple is a very dark shade. A bit more touch-up though will probably go a long way in making that look more obvious. I think I'll end up re-visiting this with some simple crayons or pencil crayons to add a lighter flat colour as well to really make the lines pop.
With this done, I think my next task will be to really dive in and flesh out the cultures of each kingdom. I have a pretty vague idea in my head about how I want each to be, but it's currently a thinly veiled 'world of hats' trope and with a bit more detailed work on each area I think I can really bring these places to life for my players.
Each region will still have its gimmick, but I'm hoping that they add to rather than detract from the verisimillitude.
Arabeth's gimmick for example is that I've modeled the entire kingdom on the same type of power-politics dynamics that are featured in my favorite Sci-Fi book of all time: Dune. The intergalactic empire in Dune is entirely shaped by the Emperor's power politics, and while it's not in the obvious forefront of the book its influence shapes everything for the characters. In Arabeth, I want to have something similar. The lands of Arabeth are my take on how that style of governance would play out in a fantasy setting.
That's just one example, but I think it points out what the 'World Of Hats' trope for that region is, and gives a good example of why I would like to add some depth and nuance beyond that... so that Arabeth doesn't feel like a one-dimensional area where politics between noble houses are all that really matters.
Anyhow, I'm kind of just rambling about this all as I wait to see if my wife's going to go into labor and I don't really have a focused point for this post... so I'll end this here today and - with any freaking luck - when I next post it'll be with two children in the world!
Happy Hive-ing my friends. Until next time!