Do you really feel as old as you are counted in years?
( EN / DE ) Dear Hivians, I actually made a crazy mistake in my HI FROM HIVE posting yesterday.
After the post was posted, it dawned on me that I might have made a mistake with my age. I was firmly convinced that I am 52 years old, but then I was no longer so sure and have recalculated... I knew for sure that I had celebrated my 50th birthday in January 2018. So ... 2018 - 2019 - 2020 - 2021 ! Crap. 53???
After recounting several times, I am now sure, yes! I am fifty-three years old. And even worse, I will soon be 54!
In my defense, I could now mention that 2020 was quite a strange year with all the covid restrictions and that it was a year that was not quite lived. Thus it would be 52 normally lived years plus one unlived year.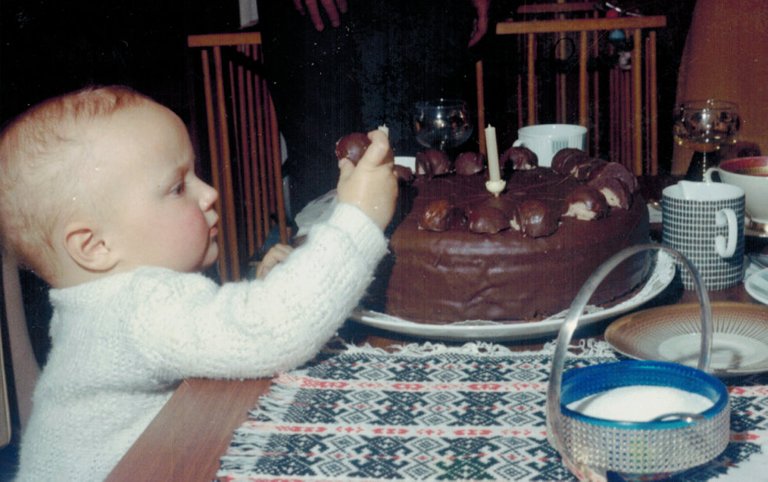 Here is a photo of my very first birthday :-)
However, I've been feeling like this for a while now, that I don't feel my age. Well, the question arises how should one feel at 53 that it would be "right"?
I think to remember that this feeling had started somewhere around the age of 35 / 40. That although I knew I was older, I still remained mentally in my early 30's.
I'm posting this in the "Feel Good" community now because I feel really good about it, everything is fine, just wondering how this can happen. :-)
I would really be interested in your thoughts on this:
How do you feel about that?
Has it ever happened to you that you thought you were a different age?
How old are you in your thoughts and hearts?
mostly Translated with www.DeepL.com/Translator (free version)
---
DEUTSCH / GERMAN
Liebe Hivians, in meinem gestrigen Posting zum HI FROM HIVE Contest ist mir doch tatsächlich ein verrückter Fehler passiert.
Nachdem der Beitrag gepostet war, dämmerte es mir, dass ich mich da eventuell mit meinem Alter vertan hatte. Ich war der festen Überzeugung, ich sei 52. Aber dann war ich mir doch nicht mehr so sicher und habe nachgerechnet... Mit Sicherheit wusste ich, dass ich meinen 50. Geburtstag im Januar 2018 gefeiert hatte. Also ... 2018 - 2019 - 2020 - 2021 ! Mist. 53???
Nach mehrmaligem Nachzählen bin ich mir nun sicher, ja ich bin dreiundfünfzig Jahre alt. Und noch viel schlimmer, ich werde ja schon bald 54! ;-)
Zu meiner Verteidigung könnte ich jetzt erwähnen, dass 2020 ja ein durchaus merkwürdiges Jahr war mit all den Corona Restriktionen und dass es ein Jahr war, das nicht so ganz gelebt wurde. Somit wären es 52 normal gelebte Jahre plus ein ungelebtes im weitesten Sinne.
Hier ein Foto meines allerersten Geburtstages :-)
Allerdings geht es mir schon seit längerem so, dass ich mich nicht meinem Alter entsprechend fühle. Gut, es stellt sich die Frage wie sollte man sich mit 53 fühlen, dass es "richtig" wäre.
Ich glaube mich zu erinnern, dass dieses Gefühl irgendwann um die 35 / 40 angefangen hatte, sich bemerkbar zu machen. Dass ich zwar wusste ich bin älter, aber immer noch gedanklich in den frühen 30ern geblieben bin.
Ich poste das jetzt in die "Feel Good" Community, weil ich mich auch wirklich gut mit dem 52er .. öh 53er fühle :-) Aber mich würde doch eure Meinung dazu interessieren:
Wie geht es euch damit?
Ist es euch schon einmal passiert, dass ihr dachtet ihr hättet ein anderes Alter?
Wie alt seid ihr in euren Gedanken und Herzen?
---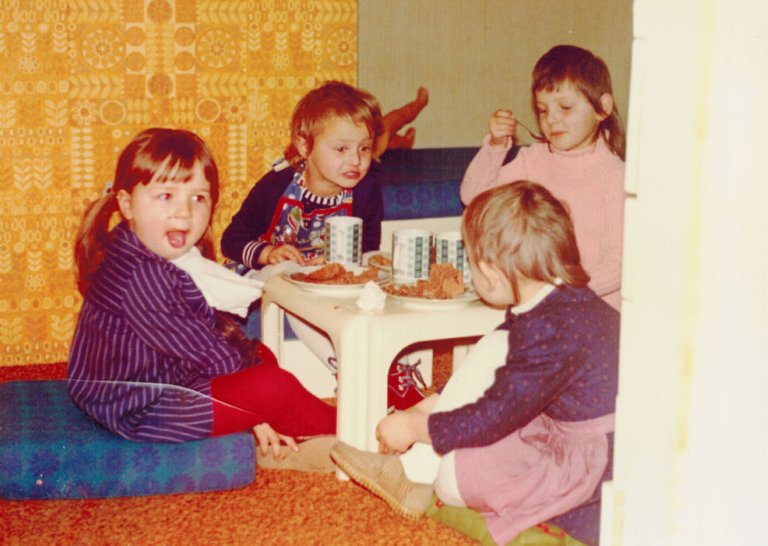 I would like to end this post with a photo from my 4th or 5th birthday with my best friends from that time and a quote from John Lennon:
"Count your age by friends, not years.
Count your life by smiles, not tears"
Ich möchte diesen Beitrag gerne mit einem Foto von meinem 4. oder 5. Geburtstag gemeinsam mit meinen besten Freundinnen aus dieser Zeit und einem Zitat von John Lennon beenden:
"Zähle dein Alter an Freunden, nicht an Jahren.
Zähle dein Alter am Lachen, nicht an den Tränen"
As always, I hope you enjoyed reading my words :-) Yours B.
---
---