#AlphabetHunt letter W- and the winners of the lucky draw [ENG-FR]

Hello alphabet hunters !
| | |
| --- | --- |
| This week we're chasing words starting with the letter W, and as we now almost reach the end of the alphabet, I can confirm that next week it will be a XYZ hunt 😉 | Cette semaine, nous recherchons des mots commençant par la lettre W, et maintenant que nous sommes presque à la fin de l'alphabet, je peux confirmer que la semaine prochaine ce sera une chasse XYZ 😉 |
| So we group these last three letters and you can come up with 6 words starting with X Y and/or Z, while trying to find words in each, as far as possible 😊 ...do not only propose Y, try to propose in X and Z too ...😉 | Nous regroupons donc ces trois dernières lettres et vous pouvez proposer 6 mots commençant par X Y ou Z, tout en essayant de trouver des mots dans chacune, dans la mesure du possible 😊 ... ne proposez pas seulement Y, essayez de proposer en X et Z aussi ... 😉 |
| but for now we will perform the W-hunt and this is a letter with endless possibilities so I hope you'll have fun !😉 | mais pour l'instant, nous allons effectuer la chasse au W et c'est une lettre aux possibilités infinies alors j'espère que vous vous amuserez bien ! 😉 |
---
Now here is my own W hunt :
WIZARD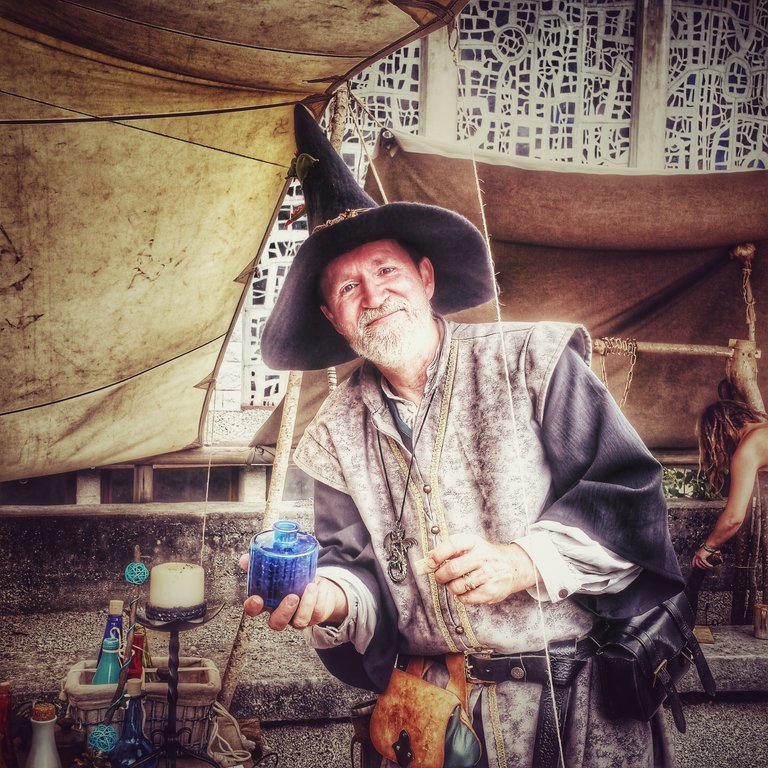 | The magician always has some potions on him, but we can recognize him especially by his big pointed hat. | Le magicien a toujours quelques potions sur lui, mais on le reconnait surtout à son grand chapeau pointu |
| --- | --- |
| ... even if we meet them rather rarely 😁 | ...même si on en rencontre plutôt rarement 😁 |
| I could also call him a Warlock..but I think this one is more a wizard...😉 | |

WHITE WINTER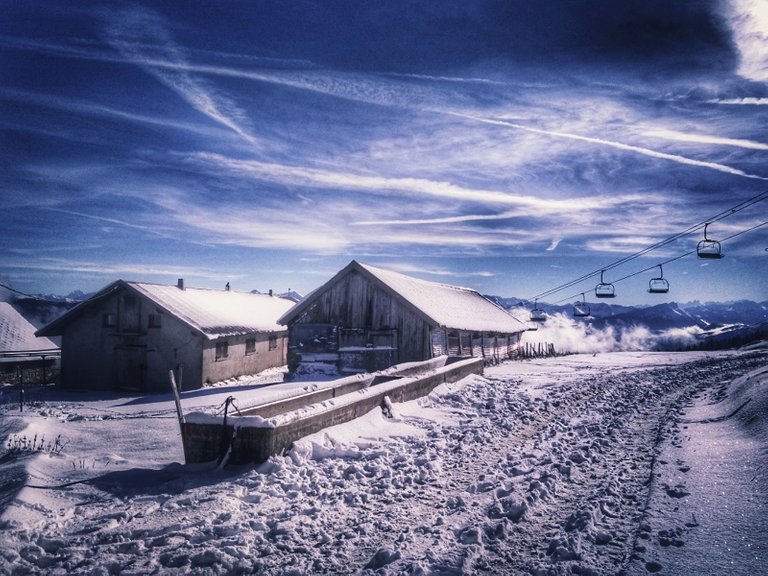 | A double shot here thanks to the magnificent snowy Winters of our mountains ... | Un coup double ici grâce aux magnifiques hivers enneigés de nos montagnes... |
| --- | --- |
| we have ski resorts a few kilometers from where we live and i have to say that i enjoy the snowy landscapes much more than the snow in town ... luckily we have very little snow in town in recent years, but beautiful snowy mountains areas that we can enjoy at leisure ... 😊 | nous avons des stations de skis à quelques kilomètres de chez nous et je dois dire que j'apprécie beaucoup plus les paysages enneigés que la neige en ville...heureusement nous avons très peu de neige en ville ces dernières années, mais de magnifiques montagnes enneigées dont nous pouvons profiter à loisirs...😊 |

WALNUT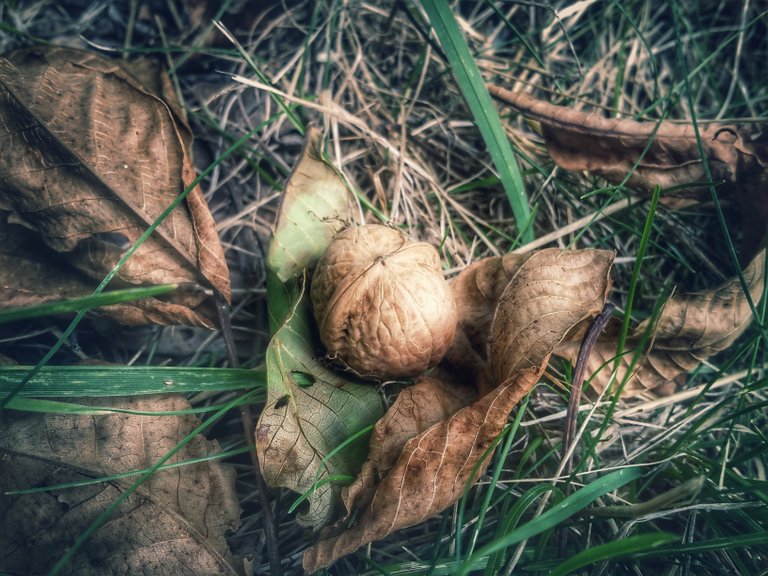 | In our region it's easy to find walnuts in the countryside on the side of the roads or in the fields ...Here fallen from the tree, | Il est aisé chez nous de trouver des noix à la campagne sur le bord des routes ou dans les champs...Ici tombée de l'arbre , |
| --- | --- |
| and below still in its envelope on the branch ... | et ci-dessous encore dans son enveloppe sur la branche... |

WATCH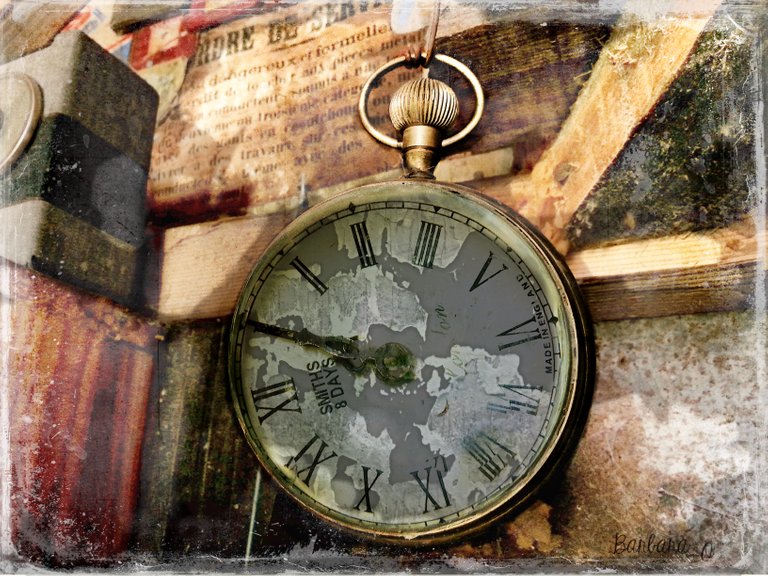 | this watch is very old isn't it ..? it is also called a pocket watch 😉 | cette montre est très vieille n'est-ce pas..? on l'appelle aussi une montre à gousset 😉 |
| --- | --- |
| It is quite possible that she stopped giving the time a long time ago ... I found it as a decorative element at the museum of the scrap-metal poet , a weird and wacky place | Il est bien possible qu'elle ait arrêté de donner l'heure il y a bien longtemps...je l'ai trouvée comme élément décoratif au musée du poète ferrailleur |

WHALE
| Here is a rather unique whale, and I am sure to be the only one to show such a happy smiling one 😁 | Voici une baleine un peu particulière, et je suis sûre d'être la seule à en montrer une aussi joyeuse 😁 |
| --- | --- |
| its second characteritic for the hunt is that this whale was been painted a few years ago with my watersoluble wax pastels 😉 | tableau peint il y a quelques années avec mes crayons à la cire aquarellables 😉 |

WONKIES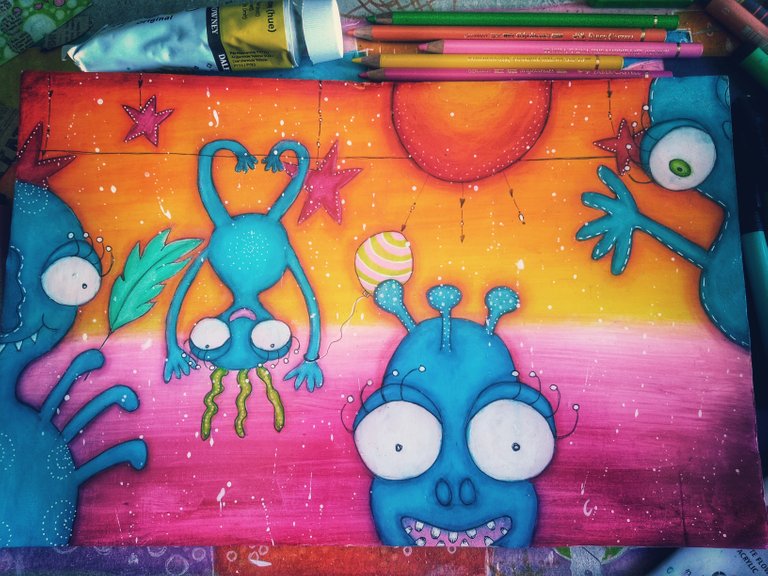 | These characters that I created several years ago are the Wonkies, also known as BlueWonkies since most are blue ... | Ces personnages que j'ai crées il y a plusieurs années sont les Wonkies, connus aussi sous le nom de BlueWonkies puisque la plupart sont bleus... |
| --- | --- |
| but some are also "nude" 😄 | mais certains sont nus également 😄 |
| | |
| --- | --- |
| They are the most joyful and generous people you can meet, they never complain, which in itself already makes of them out of the ordinary beings ... 😉😄 | Ils sont les personnages les plus joyeux et généreux que vous puissiez rencontrer, ils ne se plaignent jamais, ce qui en soit en fait déjà des êtres peu ordinaire...😉😄 |

Voilà les amis ...it's up to you now ! / Voilà les amis ... à vous de faire à présent !
| This week, you were still 26 participants ! | Cette semaine, vous avez été encore 26 participants ! |
| --- | --- |
@adinapoli @elizacheng @johannpiber @melinda010100 @isabelpena @redheadpei @oks2crypto @txatxy @suzana72 @kneelyrac @kawsar8035 @ireenchew @long888 @nelinoeva @amandaj @gems.and.cookies @deerjay @gingbabida @bigsambucca @annephilbrick @mers @qwerrie @lizelle @kohsamui99 @libertycrypto27 @ninahaskin
| and here is the draw that I carried out among the 25 that posted in time in the Feel Good community | et voici le tirage au sort que j'ai effectué parmi les 25 qui ont posté dans les temps dans la communauté Feel Good , |
| --- | --- |
| which was not compulsory for the challenge, but a prerequisite for the draw | ce qui était non obligatoire pour le challenge, mais un pré-requis pour le tirage |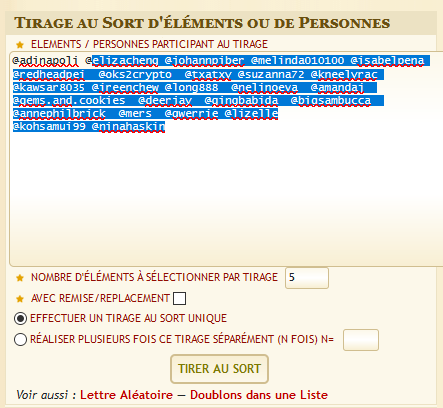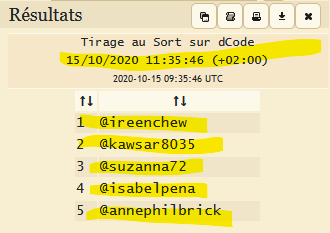 | so the five lucky winners are | Les cinq gagnants sont donc |
| --- | --- |
@ireenchew @kawsar8035 @suzana72 @isabelpena @annephilbrick
| | |
| --- | --- |
| and will each receive 1 hive | et recevront chacun 1 hive |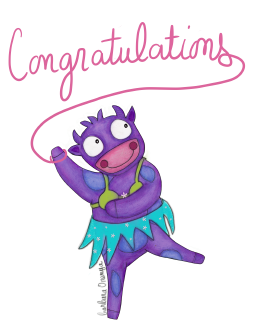 Here are the simple guide lines of the game :
| Make a post with 6 of your own photos representing an object or concept that begins with the letter of the week | Faites un post avec 6 de vos propres photos photos représentant un objet ou concept qui commence par la lettre de la semaine |
| --- | --- |
| * if you post in the Feel Good community (hive-190931 as first tag for those who post from eSteem) you will participate in a random draw rewarding 5 people with 1 Hive each | * si vous postez dans la communauté Feel Good (hive-190931 comme 1er tag pour ceux qui postent depuis eSteem) vous participerez à un tirage au sort récompensant 5 personnes de 1 Hive chacune |
| * use the hashtag #alphabetHunt and call me @barbara-orenya with a mention + leave your link in comment below this post so that others can see it too and have an easy access to it ? | * utilisez le hashtag #alphabetHunt et mentionnez-moi @barbara-orenya + laissez votre lien en commentaire sous ce post pour que d'autres puissent le voir et accèder également à votre post ? |
| You have until next Wednesday 10pm UTC to post | Vous avez jusqu'à mercredi prochain 10pm UTC to post |
| | |
| -------- | -------- |
| And most importantly : Have fun, enjoy this hunt and make sure your readers also have an enjoyable moment discovering your trophy images ! | Et le plus important : Amusez-vous, prenez du plaisir à cette chasse et faites en sorte que vos lecteurs aient aussi beaucoup de plaisir à découvrir vos images de trophés ! |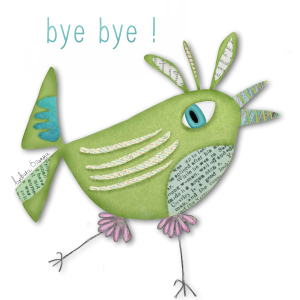 As always BlueWonkies are supporting communities !
Amazing Nature community by @adalger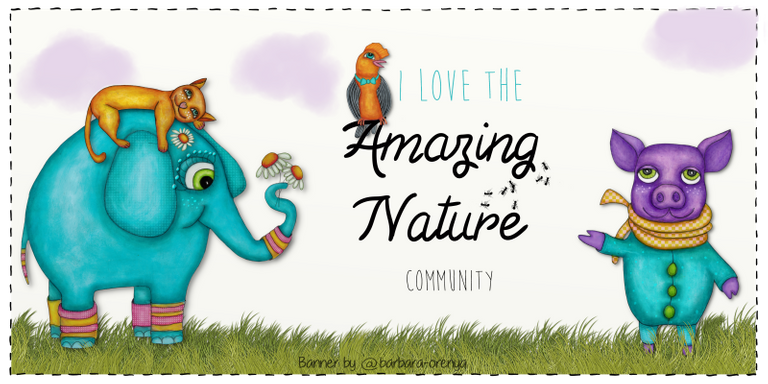 hive-127788

Feathered Friends community by @melinda010100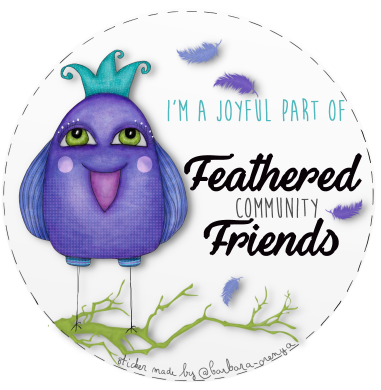 hive-106444

Always a Flower community by @dswigle

hive-154065

Market Friday by @dswigle

hive-196308

Feel Good community by @barbara-orenya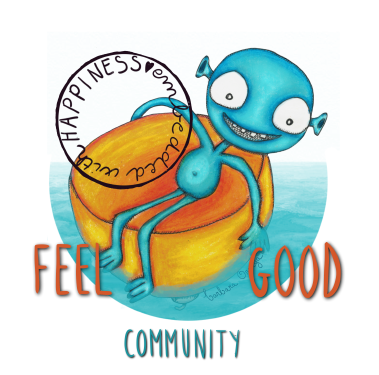 hive-190931
---
---