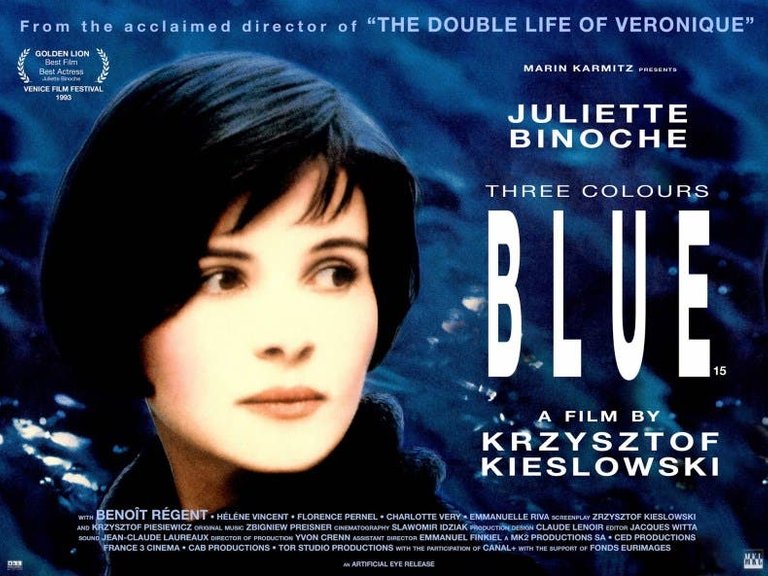 Poster source
A woman who just lost her husband and child in a violent car crash asks her weeping servant why she was crying. The sobbing servant replies, "Because you are not."
Everyone processes their griefs in a distinct manner. Some take it head on, burst into flames of rage and despair, tears roll down their cheeks in unstoppable currents and then everything dies down. A calm serenity comes over. And there are people who cannot do that. Who buries their bane of life, the sorrows deep within them and wants to crush it there. Sometimes the burgeoning pain can burst itself out, but not everyone is that lucky. For them slowly...ever so slowly… the pain starts to deteriorate...burning all the while.
Blue (1993), one of Krzysztof Kieslowski's Three Colors trilogy is a film all about processing grief. But it's not a plain sob story, rather, the drama has enough momentum and moments of mystery and aesthetic beauty to appeal to my senses.
Julie (played by Juliette Binoche), wife of a prominent contemporary composer was with her husband and baby daughter in a car. She survives but the crash takes both of the lives of the two most important persons of her life. After recovering from the hospital, while she looks hard and coping outward, her inner world is torn apart and she deals with it in a radical way. She sells the big mansion she and her husband had, shuns everyone who ever knew her, runs away to Paris and rents a small apartment. No one from her previous life had a clue where she went.
But the busy life of Paris doesn't let her grieve in peace. The street musician's music which seem oddly familiar to her, the nigh-silent scream of wind in lonely nights, the desolate swims in the pool keep haunting her with suppressed memories and emotion. But perhaps all is not lost for her. Not yet. An old friend who was in love with her could perhaps rekindle the fires of life into her. The last supporting pillar of reality.
Blue is the color of pain and grief and sadness. The use of blue colors is remarkable. It's not random as well, you can see the deliberateness underneath.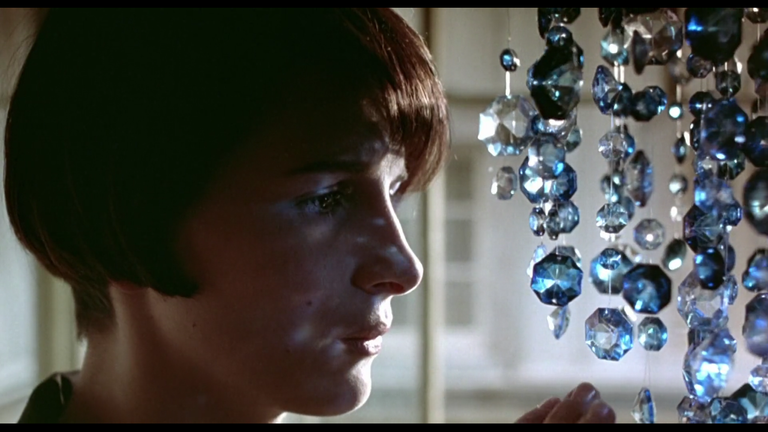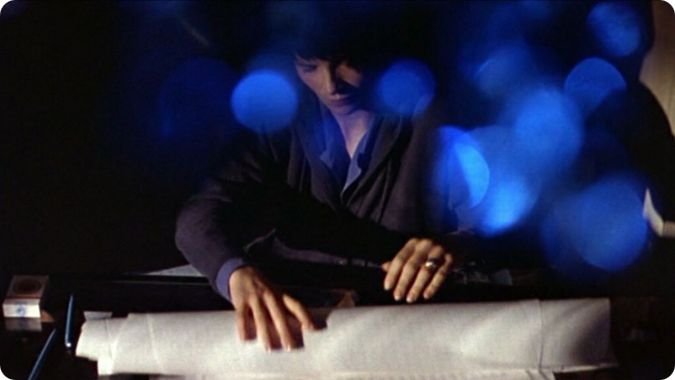 Source
When the people around her reminds her of anything of the past that was connected to her husband and child, an unfinished musical piece begins to howl and the screen goes black for a few seconds. These sudden flashes of darkness resemble her trauma and emptiness. These are there to infer the severity of her way to process grief. The characters interacting on the screen aren't supposed to feel that heart wrecking sting, the audience are.
Each and every shot is measured, nothing unwarranted is there. There's a famous trivia regarding a shot where Julie drench a sugar cube into a cup of coffee. Kieslowski wanted it to last for five seconds so he had his assistant director go about the market, buy and test sugarcubes that take exactly 5 seconds to soak completely. There were cubes that lasted different periods of time until they finally had the desired one. While this shot may seem insignificant and the director's obsession with it may seem pretentious to many -- it only hints at the meticulousness of the artist to me and I will respect that.
A tremendous gem of world cinema.

About Me

---

Twitter - https://twitter.com/not_a_c1nephile
Youtube - https://www.youtube.com/channel/UCg3TwYk--HKIsRmnvhob1Mg