Hello friends how are you all Hope everybody is well. Today is the 15th of August, the national day of mourning in our country. Today I will introduce about 15th August to my foreign followers.
Soo Today is the 15th of August. National Mourning Day in Bangladesh. Today is a sad and horrible day in history. Today is the 41st martyrdom anniversary of Bangabandhu Sheikh Mujibur Rahman, the father of the greatest Bengali nation of all time.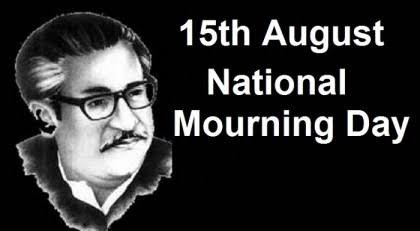 This scandalous event in the history of Bangladesh took place on this very day in 1975. The best son in the history of Bengalis, the great architect of independence, Father of the Nation Bangabandhu Sheikh Mujibur Rahman, was killed along with his family at the hands of some unruly and misguided soldiers of the army.
Others who lost their lives in this brutal attack are:
Bangabandhu's wife Begum Fazilatunnesa Mujib, Shakh Kamal, Sheikh Jamal, Sheikh Russell, Sultana Kamal, Rosie Jamal, brother Sheikh Nasser and Colonel Jamil, Bangabandhu's nephew freedom fighter Sheikh Fazlul Haque Moni, his pregnant wife Arju Moni, brother-in-law Abdur Rob Serniabat, Shahid Serniabat, Shishu Babu, Arif Rintu Khan and many others. August has therefore become a month of mourning for the people of Bangladesh.
Although Bangabandhu and his family were killed at the historic residence No. 32 in Dhanmondi, Bangabandhu's daughter Sheikh Hasina, the current Prime Minister and Awami League President, survived as she was not in the country that day. And younger daughter Sheikh Rehana. At that time, her husband said. Sheikh Hasina was staying in Germany with Wazed Miah and her children. Sheikh Rehana was also with her elder sister.
Bangabandhu Sheikh Mujibur Rahman is a history. His life was a struggle. He grew up in the struggle. Sheikh Mujibur Rahman was born on 17 March 1920 in Tungipara, Gopalganj subdivision of greater Faridpur district. He got involved in politics as a student. He was a militant leader in the language movement of '52. Sheikh Mujibur Rahman was also the framer of the 6-point Charter of Liberation of the Bengali Nation. Taking part in the elections of 1970, Bangabandhu made the Awami League a symbol of hope and aspiration of the people of this country.
We express this day in many sad ways. And on this day we organize Milad Mahfil and Doa Mahfil all over Bangladesh. We all pray for keeping Bangladesh beautiful and good and for the forgiveness of the soul of Bangabandhu Sheikh Mujibur Rahman.
So far Today...
Stay Home
Thanks for Your Time Friend.
♥♥♥♥♥♥ ♠♠♠♠♠♣♣♣♣
Ok
See you Again in a New blog.
Thanks for being with me.
Plese Follow Me......
@mspbro
★★To contact me★★
Subscribe My 3speak Channel
Subscribe me DTube
Follow me Twitter
Add me Facebook