Hello
I hope you're having a great day.
---
Welcome back to my blog where I'm going to talk about the BBQ party that we had on a rooftop.
---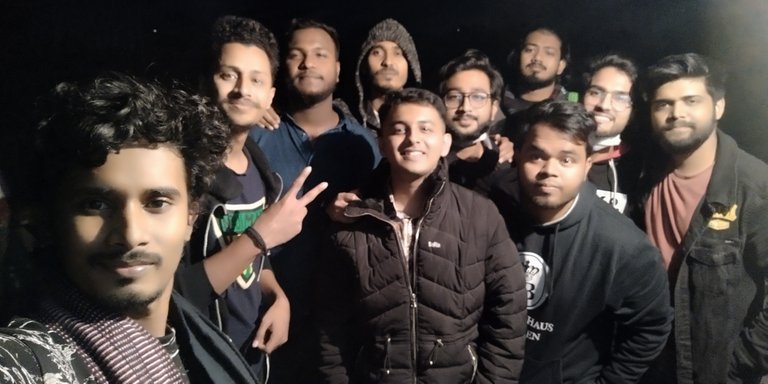 ---
The Plan
---
Actually, we used to do BBQ parties whenever we liked when our friend Rashed was around us as we used to do the party on the rooftop of the home of Rashed. But after he went abroad, we almost never talked about such parties as we didn't have a nice place to enjoy a party. So, after I moved to the new place and got a big and nice rooftop on top of our current living place, I pointed out the proposal that we can have a BBQ party on our rooftop and then almost everyone on our team liked the plan and the plan got approved as well.
---
The Location
---
Yeah, we've set the rooftop of where I'm living at the moment as the location. Then we did all the other things without the problem of finding a nice location as we've always got a place but after some days, we got to know that there's gonna be a lot of persons as 7/8 persons will be added with the team so we had the burden on our head whether the landlord will approve it to have the party with all those peoples or not so we started talking about an alternative location and we got confused about it as we already stopped doing such parties because of not having a nice and quiet place. I suggested that we may take a risk but then one of my friends talked about the rooftop of Rashed and then I've called Rashed over the phone and it seemed he was sleeping. Then after talking with Rashed we managed to do it on that old place, that rooftop which would be the best for us no matter if Rashed is here or not as his family members went to another place for some days.
---
The Party
---
Although I had the responsibility and the plan to took part in the shopping as I wished to record everything and make a nice vlog out of it but for some problem, I had to reach there at night when almost all the things were done so I didn't record the process. But... but I've captured some photos with what I can give a nice review of the party, I hope.
---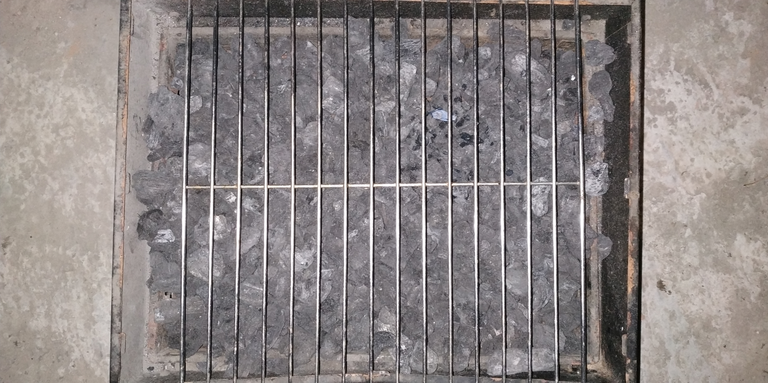 ---
Here's the BBQ manual machine that we used to BBQ the chickens and we bought the coal from a shop and there we had a big story too about finding the coal but I'm skipping that part.
---
---
Almost every one of us had some things to do and just like that, two of us had the responsibility to chop and prepare the salad with carrot and cucumber.
---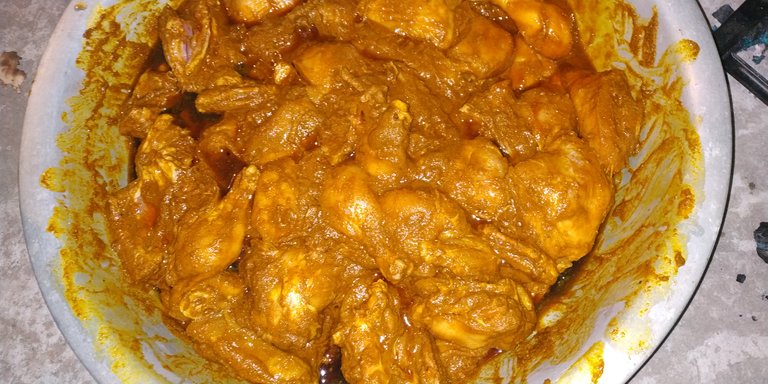 ---
Chicken pieces were well merinated with all the masala after we've successfully chopped and washed the chicken pieces and a friend helped in mixing all the masala with the chicken pieces.
---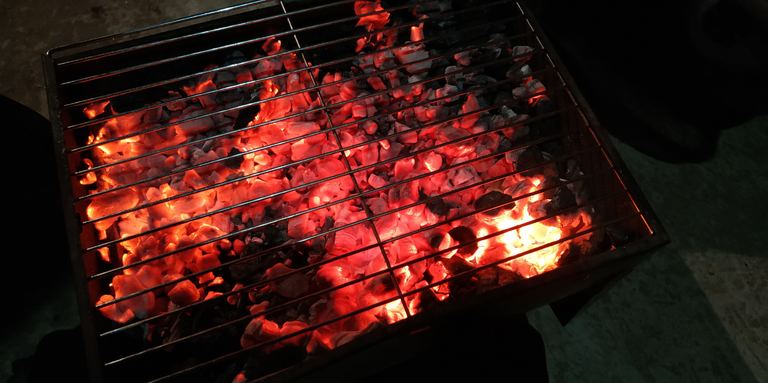 ---
After some of us did so much hard work, the coal, at last, had the fire in it successfully. Even a friend had to get oil from his motorbike to make it fire.
---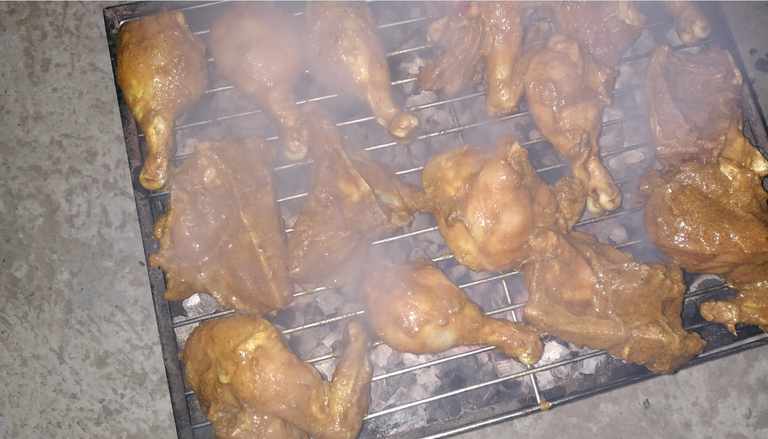 ---
Then it was time to fry, to BBQ the chickens. The first time we had to BBQ some extra pieces as we had some little boys there as guests.
---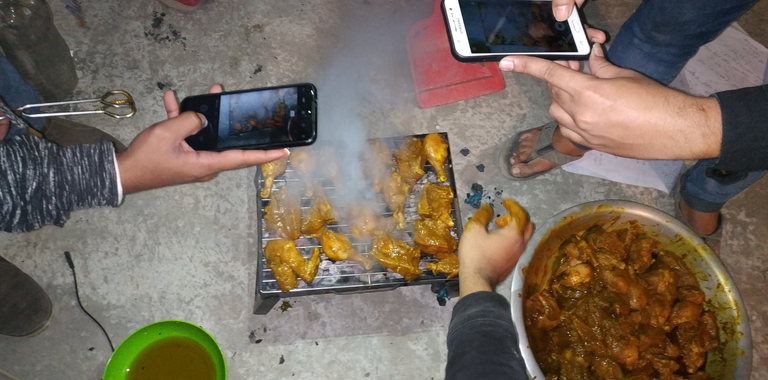 ---
Peoples started capturing photos while one of us was busy preparing the food who was in charge of the chef.
---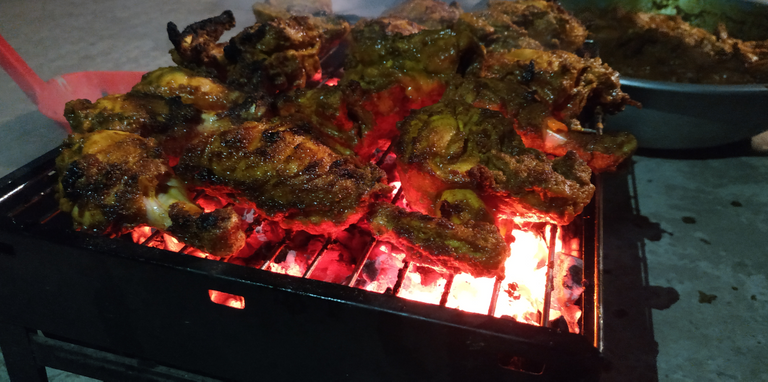 ---
The red coal looked cool under the chicken pieces. And I was just waiting for it to be finished to have a bite and I believe all others were also waiting for the same moment.
---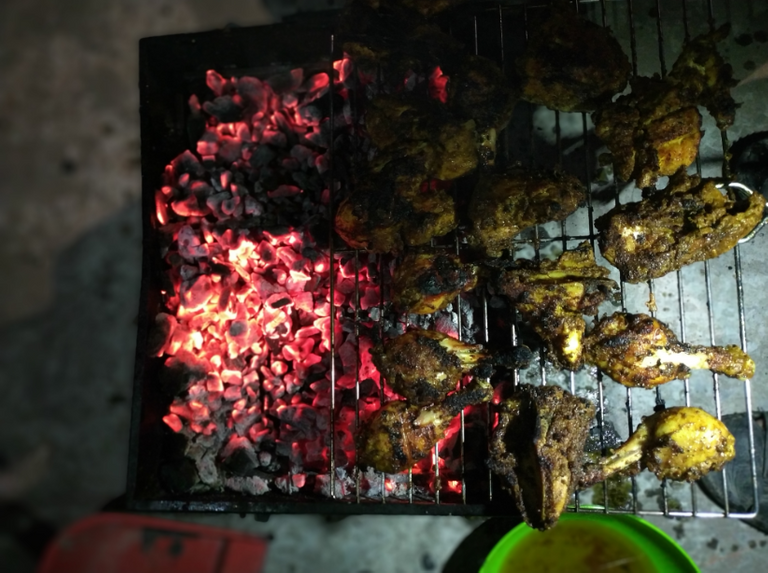 ---
The coal needed to be refilled at a point and I've captured a nice picture of that moment as well :).
---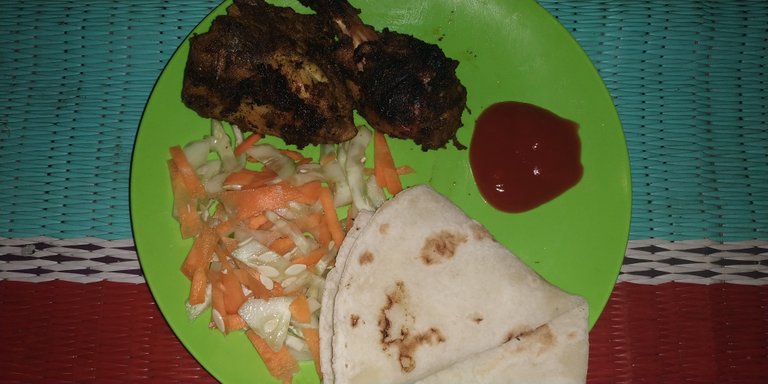 ---
Annnnnnnnnnnd... the food was ready at that time. We've already bought bread from a small-time restaurant, sauce and the salad was also ready so we've got a nice package to taste.
---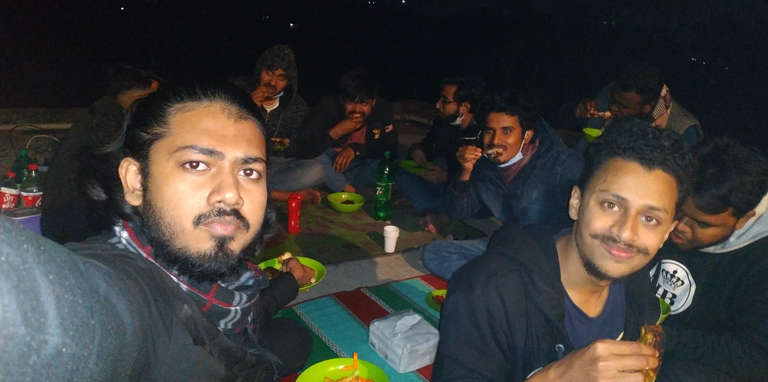 ---
All of us took a break and started eating the package and trust me, it was fantastic. Then we repeated, I mean we've eaten chicken BBQ for almost the whole night until we had our stomach full (for me at least). Then we left the place when it was around 5 am in the morning and three of my friends came to my place with me as my place was empty that night and then we played a card game for some time and then there came the sunrise and the party ended there.
---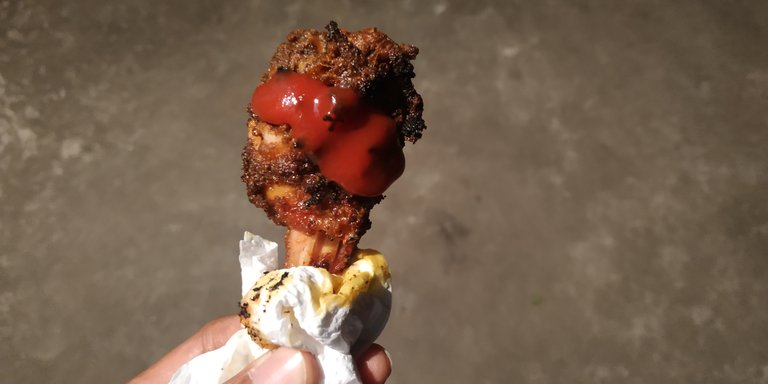 ---
"The End"

Hit the upvote button if you like this post and leave a comment if you wanna say anything about this post or any other posts. Please support me to keep having more of my works and you can follow me so that you can see my future posts and you're always welcome to my blog.
---
Please subscribe to my youtube channel by wasting a little time of yours.
---

"About Me"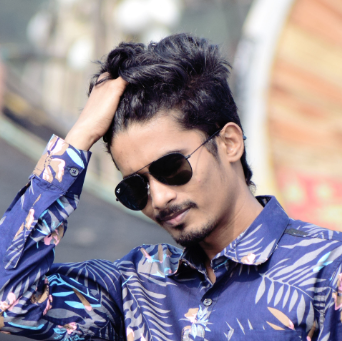 Generally...
I'm a writer (I write poems+short stories), Traveler (I travel whenever I get free time and resources as it's a part of my life actually), Photographer (I love it too much), and a Graphic Designer.
In hive blockchain...
I am a curator of
@tipu, @innerblocks, @minnowsupport, @diyhub, @splinterlands.
---
Find me on.





I am available at discord...
Discord ID: ashikstd#5058

"Be Good, Think Good and Do Good"
"Stay Home, Stay Safe & Let's Beat Corona".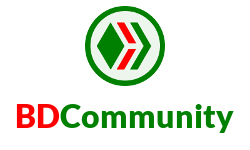 ---
---