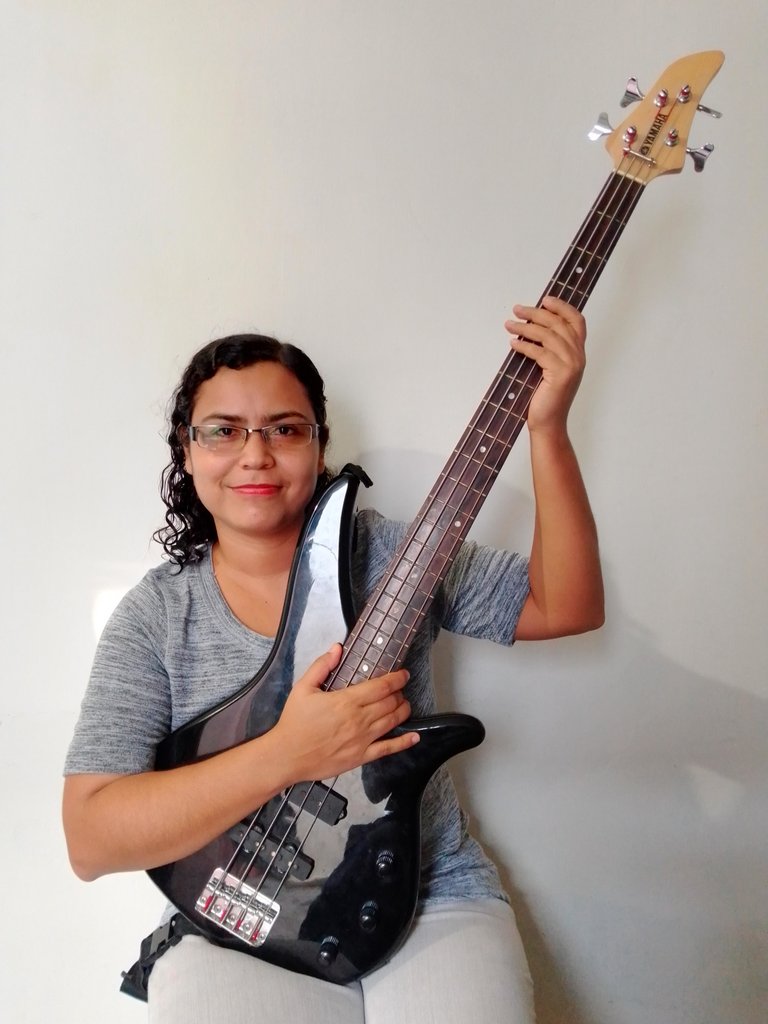 Hi guys! This time I want to share with you some basic Bass Guitar lessons. This is an instrument I learned to play since my old band had too many guitarists and no bassist, but I have to say that I've got very fond of it. Although I am not a professional, I'm willing to share with you guys what I`ve learned. I hope you like this simple tutorial that I will develop in several posts.
The bass guitar is a lowest-pitched instrument of the guitar family; the most popular is probably the 4-string bass guitar, but as we know there are also 5-string and 6-string bass guitars.
Hola chicos! En esta ocasión quiero compartir con ustedes unas lecciones básicas de Bajo. Este es un instrumento que aprendí a tocar ya que en mi antigua banda había muchos guitarristas y ningún bajista, pero debo decir que me he encariñado mucho con él. Aunque no soy profesional, estoy dispuesta a compartir con ustedes lo que he aprendido. Espero les guste este sencillo tutorial que desarrollaré en varios posts.
El bajo es un instrumento de tonos graves de la familia de la guitarra; el más popular es probablemente el bajo de 4 cuerdas, pero como sabemos también hay bajos de 5 y 6 cuerdas.
Bass Guitar Parts / Partes del Bajo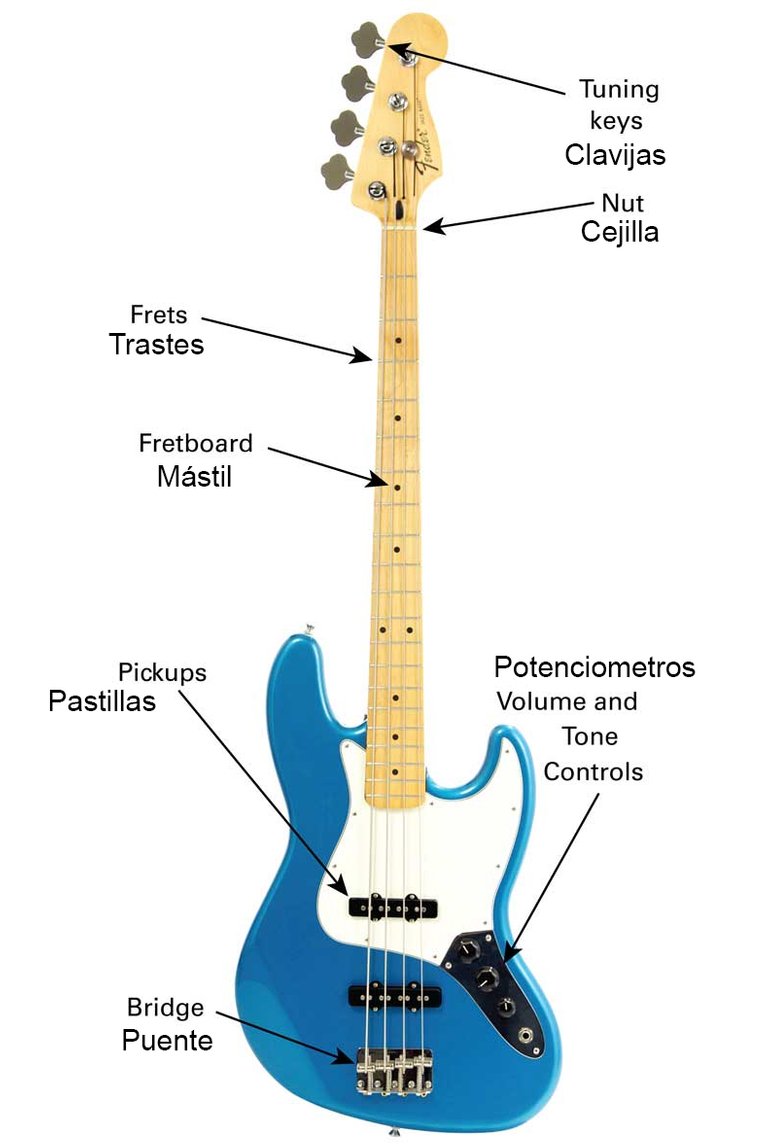 Fuente
Bass Guitar Strings / Cuerdas del Bajo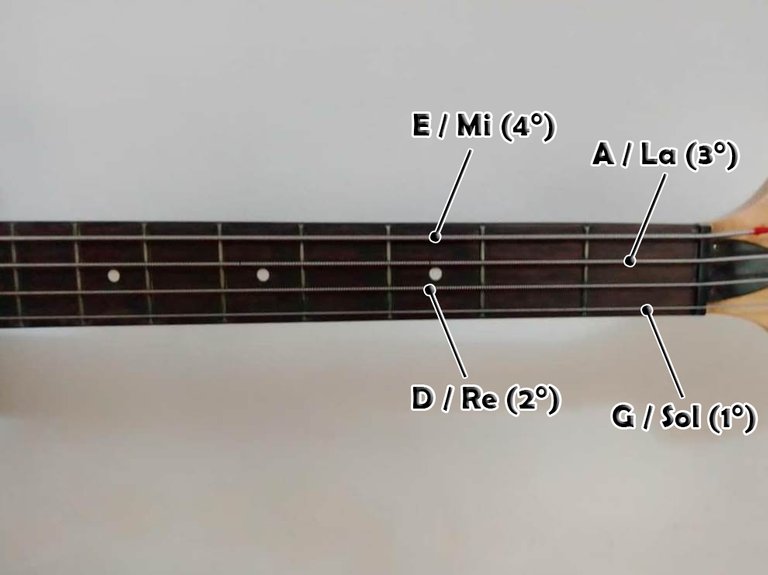 How to tune the bass guitar
One option for tuning the bass guitar is the classic ear method in which we take the sound of a tuning fork or a telephone signal that will correspond to the 3rd string (A) counting from the bottom up. Then we tune the 2nd string (D) by pressing the 3rd string on the 5th fret. The 1st string (G) is tuned by pressing the 2nd string on the 5th fret. To tune the 4th string (E) we must make sure that when we press it on the 5th fret, it sounds the same as the 3rd open string.
Another more practical and modern alternative is to use an electronic tuning device or application.
Cómo afinar el Bajo
Una opción para afinar el bajo es el clásico método De Oído, en el cual tomamos el sonido de un diapasón o de una señal telefónica que va a corresponder a la 3ra cuerda (LA) contando de abajo hacia arriba. Posteriormente afinamos la 2da cuerda (RE) presionando la 3ra cuerda en el 5to traste. La 1ra cuerda (SOL) se afina presionado la 2da cuerda en el 5to traste. Para afinar la 4ta cuerda (MI) debemos cerciorarnos que al presionarla en el 5to traste, esta suene igual que la 3ra cuerda al aire.
Otra alternativa más práctica y moderna es utilizar un dispositivo o una aplicación de afinación electrónica.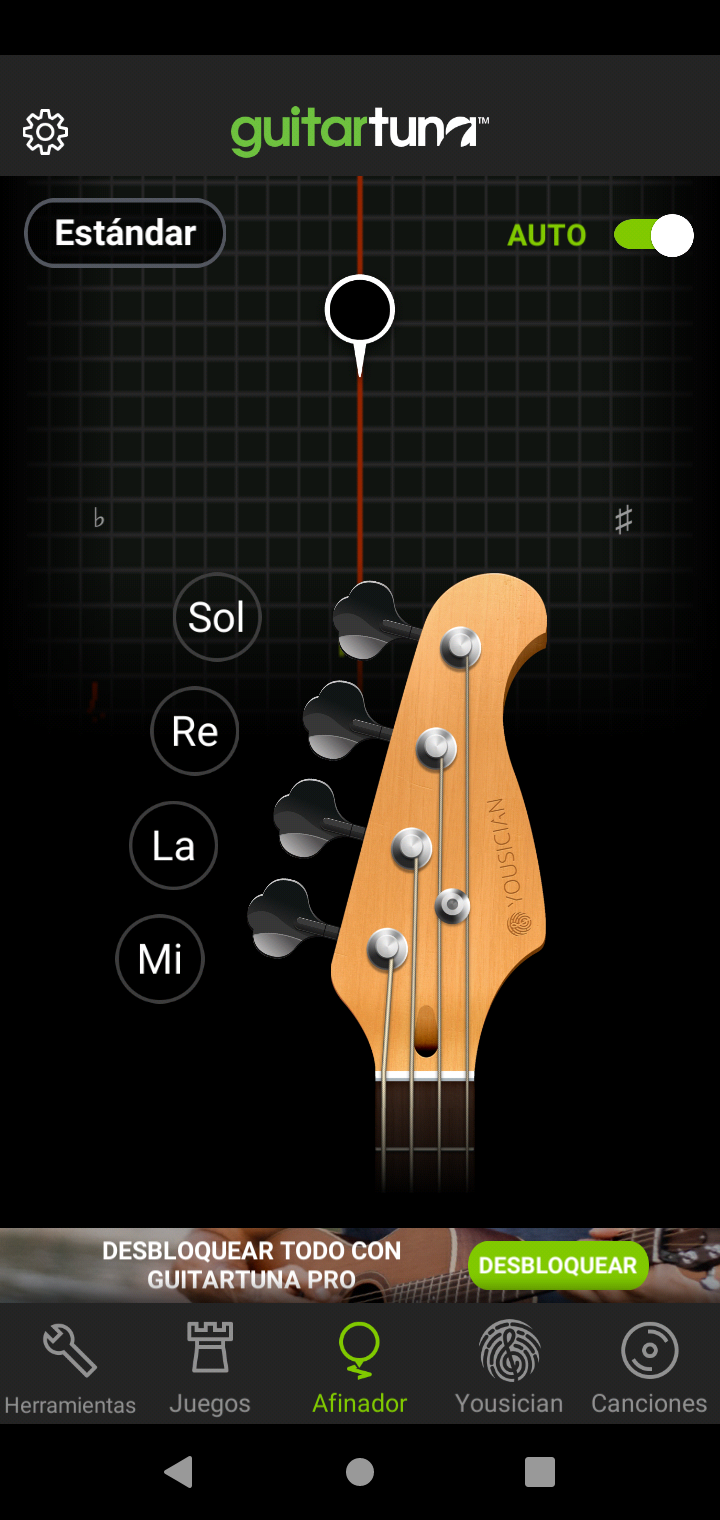 Fuente
I hope you have liked this introduction to the Bass Guitar Tutorial. In the next post we'll start the practice. Don't miss it.
Espero les haya gustado esta introducción al Tutorial de Bajo. Los espero en el próximo post donde ya iremos a la práctica. No te lo pierdas.
Photos were taken with my Blu G8 Phone. Screenshots are from the Guitar Tuna App.