Well that didn't take too long to get rid of. With my garage being cluttered up with the old axles and tires from my truck it Was awesome when I received a phone call from someone interested in my Dana 60 front axle. He seemed really eager and was afraid I would sell it out from underneath him. I assured him it would be here when came to pick it up in a day or 2. When he showed up without a trailer I began to wonder how he was going to get this back to his house. I am not a delivery driver. He lives 6-8 hours away and was headed out of town for his wedding anniversary. So why not take a little detour and pick up an axle? Right?!? Hahaha.
After a little back and forth chit-chat about truck stuff, he pulled out the cash and said here you go. No negotiation on price or anything. Now I knew the price I was selling it for was a good price and I would definitely be giving someone a really good deal. Yet, I was expecting a little price haggling just for fun.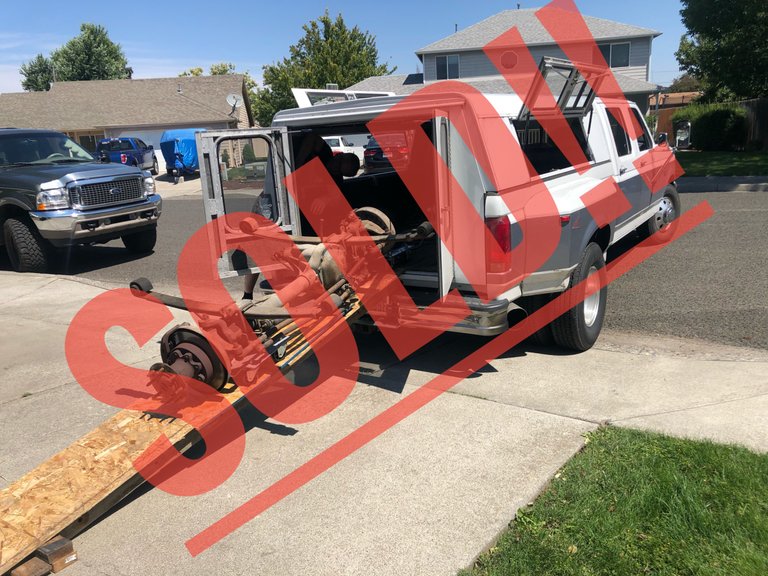 This is when things got a bit challenging. How in the world are we going to get this axle into the back of his truck?!?! It's not like it's a tire or something. He apologized many times for not asking in advance if I had an engine hoist, to which I replied, "We will get this thing in there one way or another".
If I had a contender in the World's Strongest Man competition next door it wouldn't be an issue. "Hey, will you put this axle in the back of this truck?" Man that would be nice, right?!? Instead I had to get creative and dig into my bag of tricks to make this happen. Let me put it this way, this guy is lucky he was buying this from a Lineman. Not many people have cross arms laying around, shackles, slings, ropes, and some good rigging knowledge to pull this off.
After I constructed a ramp from a couple cross arms, plywood, and 2x4's, I attached a sling inside the bed of his truck to attach a set of 4-parted blocks. Mechanical advantage at its best. It doesn't take much tension on the haul line to get that axle to move up the ramp. Work smarter not harder.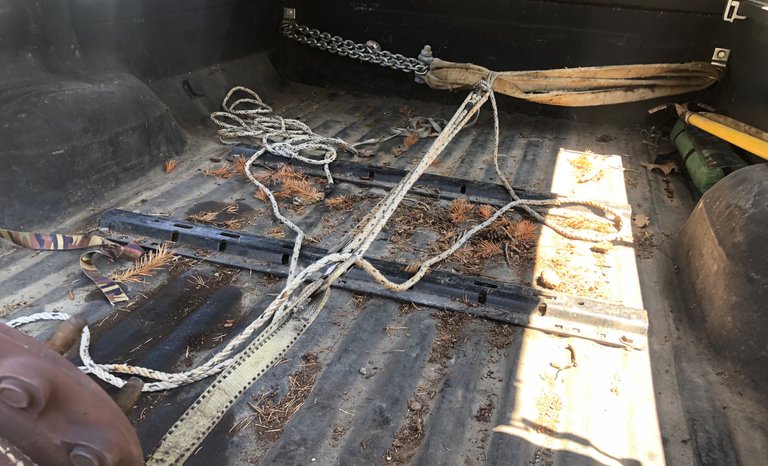 Then we came to an obstacle. The leaf springs were just a little too wide to fit between his canopy doors. Taking them off would require cutting the u-bolts and that isn't fun to do.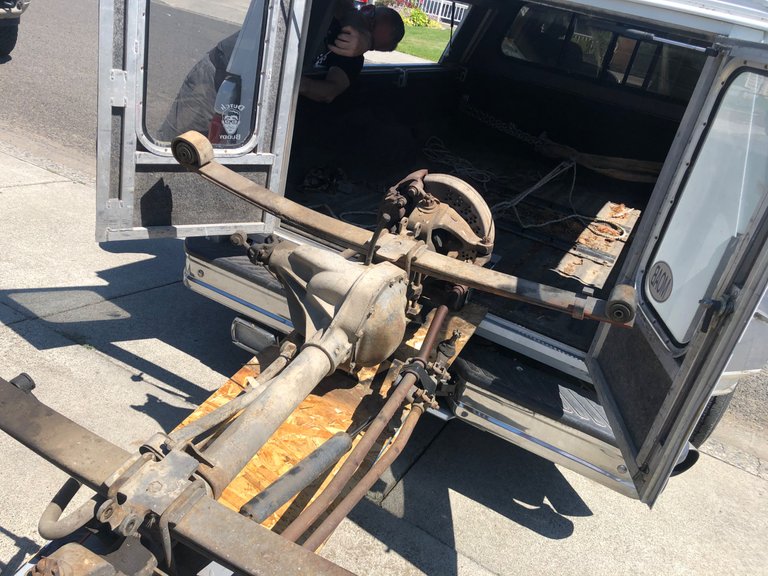 Then we were going to remove the canopy, but that would mean lowering the axle back down the ramp, taking the ramp apart and starting over. The ramp was actually sitting on the lower door frame. Instead we were able to tip the axle at an angle then kind of crab walk the axle past the doorway. Again I am glad I just recently purchase some of these dollies to make this a whole lot easier.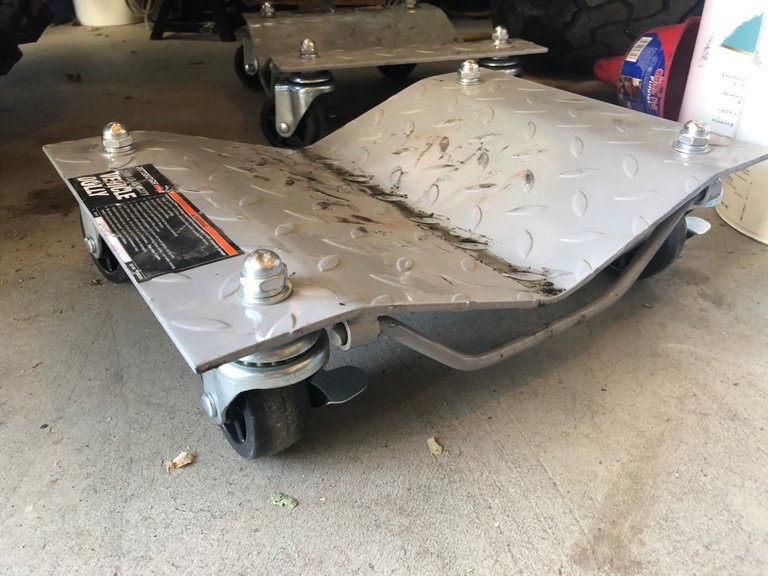 These helped me out a ton when I was doing my axle swap and now they came through in a pinch big time!! Did I mention that this guy was lucky he was getting this axle from me... :wink:wink. I could have said, "Come back when you have a trailer" But instead we worked for about 1 hour getting this into his truck. This guy was funny!! He kept saying...
This is working!!! How cool!!
"Wow this is amazing!! I can't believe we are getting this in there!"
"You have all this stuff in the tool box of your truck?!? Wow!!"
On and on he went the whole time. It was rather comical in my opinion. Yet satisfying to know that all that rigging stuff I carry around in my truck worked for something.
With the axle up in the bed of his truck heading to it's new home, the guy says, "Wow!! My Wife must have the patients of Job!" That got a good laugh out of me, because she just sat in the truck hanging out the whole time and they were headed out of town for their anniversary. HAHAHAHA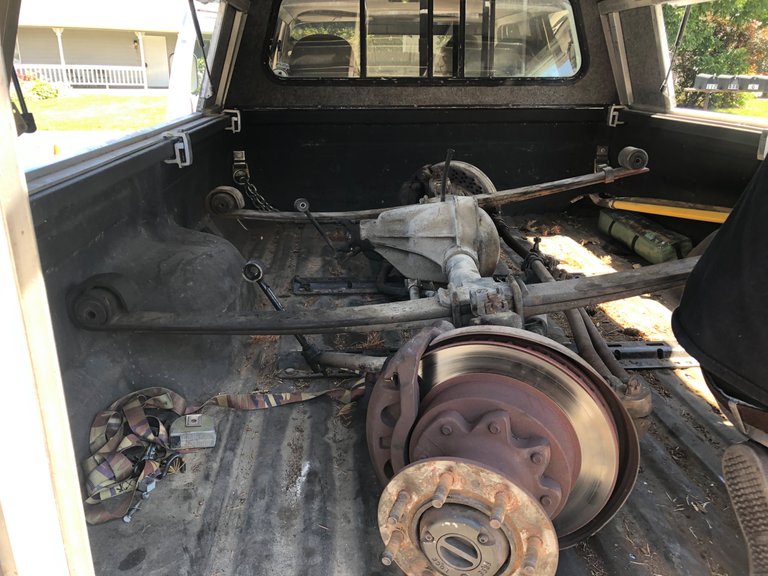 Then just before he left he asked if I had a couple brackets that were removed when I did the axle swap.
I responded, "Well, if you wanna follow me down the road about 7 miles to the shop at work, they are in the scrap bin."

He replies, "Really!!! Wow!!! AWESOME!! That sounds great!"

In the end I am super happy I could get this guy a great price on an axle and hook him up with the brackets he needs to convert his truck to 4 wheel drive. Not to mention I gained a little more room in my garage.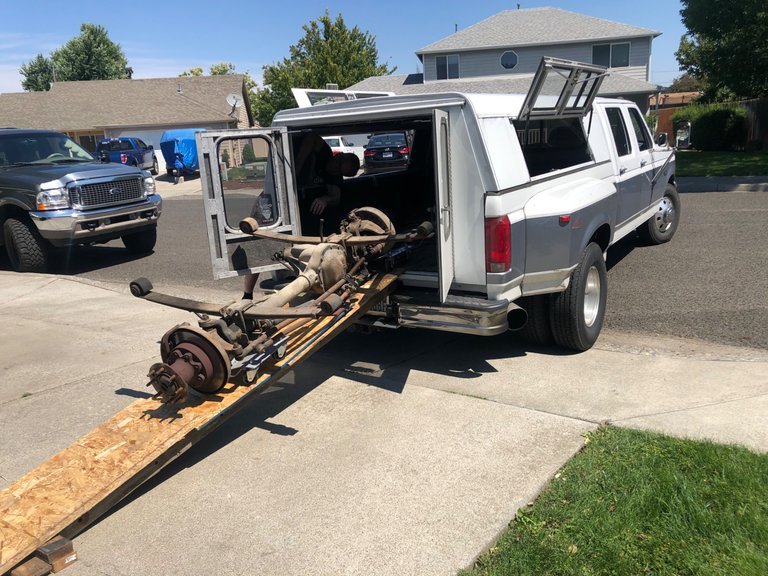 Man-O-Man!! That guy has a super clean truck wow!!! Hard to believe that it is a 20+ year old truck. He was complimenting my truck but I guess the lighting was just right and he did t see all the dents and scratches. Lol
Until Next Time...



Hive On
and
Now I Got some $$
To repair tie rod ends
On the new to me 2005 front axle