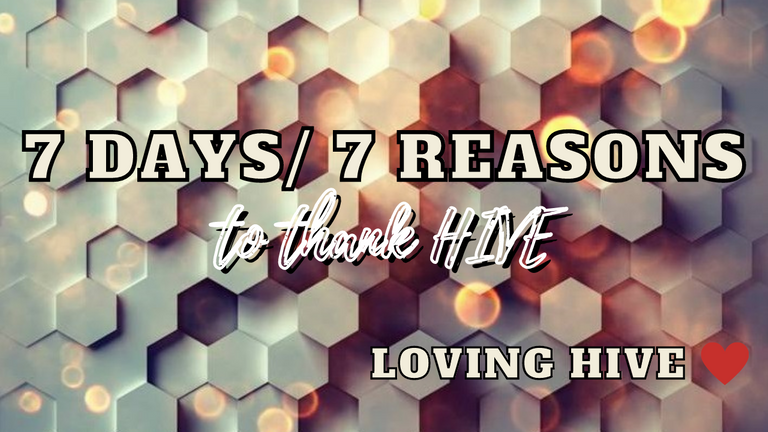 Source image edited on Canva - Fuente imagen editada en Canva
Good vibes, Hivers! Upon reflecting after the 30-day gratitude challenge that I loved for all the good things it brought into my life, I wanted to do this post as a final recap.
¡Buenas vibras para todo Hive! Como ejercicio de meditación tras el reto de 30 días de agradecimiento que amé por todo lo bueno que atrajo a mi vida, quise hacer este post como recapitulación final.
PAST CHALLENGE | RETO ANTERIOR
For me it was an excellent exercise because not only I was able to write on a specific topic daily, proving to myself that there was no excuse, it was a personal commitment; but I also had the opportunity to reflect on that particular topic and give it the importance it deserves by thanking for what I already have. Thanks to this, I realized how lucky I am in many aspects of my life that I took for granted. Now I feel that I see how immensely abundant, blessed, and filled I am.
Para mí fue un excelente ejercicio porque no sólo pude diariamente escribir sobre un tema específico, probándome a mí misma que no había excusa alguna, era un compromiso personal. También tuve la oportunidad de reflexionar acerca de ese tema en particular y darle la importancia que se merece agradeciendo por eso que ya tengo. Gracias a esto, me di cuenta de cuan afortunada soy en muchos aspectos de mi vida a los que no me daba por aludida. Ahora siento que veo lo inmensamente abundante, dichosa y plena que soy.
Also, this activity allowed me to see that writing about some topics was easier than others, so I feel like I need to work more on the topics that caused me conflicts when writing them.
Asimismo, esta actividad me permitió ver qué escribir sobre algunos temas era más fácil que otros, por lo que siento que debo trabajar más en los temas que me causaron conflictos al escribirlos.
I really feel grateful and blessed that the challenge got a lot of acceptance from many users. You don't know how glad I was to see your comments and I really enjoyed replying to them. It also gave me great satisfaction to see many posts from all of you who joined the challenge. I am endlessly grateful to
Realmente me siento agradecida y bendecida porque el reto obtuvo mucha aceptación de parte de muchos ustedes. No saben cómo me alegraba ver sus comentarios y disfrutaba mucho responderlos. También me dio mucha satisfacción ver muchos posts de todos ustedes que se unieron al reto. Mis agradecimientos infinitos a:
@milagrosoterog
@theresa16
@daysiselena
@wendyth16
@syllem
@aurodivys
@felixmarranz
@marivic10
@corinadiaz
@wesp05
@edwarlyn11
@angelys
@jossduarte
@jesymarcano92
@carla.spain
@alexa.art
@leydil
@giocondina
@karlaes80
@anthony2019
@lisfabian
@soyunasantacruz
@lisbethseijas
@bicicleta84
@denissemata
@yumelys25
@berlissanoja
@nathyortiz
@melisarm
@imagen
@mirianmg
@ceparl
@machiqui63
@manuelramos
@vicvperezdelara
@dbora
@ginalucia
@enmy
@kvfm
@maleidamarcano
@leslieebano
@luisanarodri22

NEW CHALLENGE | NUEVO RETO
I vehemently believe that we are all part of this community and therefore I have to finally thank for having space here and for having the acceptance I have had. Now, I would like to thank Hive, so I want to encourage you to participate in this new challenge, this time, talking about all the aspects we are grateful to Hive.
Creo firmemente que todos formamos parte de esta comunidad y pues tengo que finalmente agradecer por tener un espacio aquí y por tener la aceptación que ha tenido. Ahora como agradecimiento a nuestra colmena, me gustaría participarles de este nuevo reto, en esta oportunidad, el agradecimiento estará abocado a HIVE.
My suggestion for this new challenge | Mi sugerencia para este nuevo reto:
7 Days/ 7 reasons to thank Hive | 7 días/ 7 razones para agradecer a HIVE
| For keeping me busy during quarantine | Por ocuparme durante la cuarentena |
| --- | --- |
| For making new friends | Por hacer nuevos amigos |
| For making me get closer to the Blockchain | Por acercarme a la Blockchain |
| For enhancing my creativity | Por potenciar mi creatividad |
| For earning extra incomes | Por generar otros ingresos |
| For learning about technology / markdown | Por aprender acerca de tecnología/ markdown |
| For making community | Por hacer comunidad |
You can follow the guidelines per day as I suggested or just make your own seven reasons to thank Hive. You can write along the gratitude challenge you are already doing or do it once you finish that. There are no strict rules; the days do not have to be continuous as long as you write your seven days/seven reasons to thank HIVE. As a moderator for Loving Hive community, I invite you to post about this new challenge there using the tags: #lovinghive #posh.
Pueden hacerlo siguiendo los lineamientos por día como se los sugerí o simplemente hacer los propios de las razones por las que deseen agradecer a Hive. Este reto lo puedes realizar en conjunto con el reto de gratitud que ya estás realizando, para los que estén participando en aquel (si no estás participando no hay problema) o lo puedes hacer cuando termines aquel. De igual forma, no será tan rígido como aquel, puedes publicar tus siete días de manera continua o no siempre y cuando lo hagas. Como moderadora de la comunidad Loving Hive los invito a hacer sus posts de este nuevo reto por ahí usando las etiquetas: #lovinghive #posh
I am looking forward to reading your post on Loving Hive ❤️, the link to join is here.
Espero leer sus posts en Loving Hive ❤️, el enlace para unirse a la comunidad está aquí .