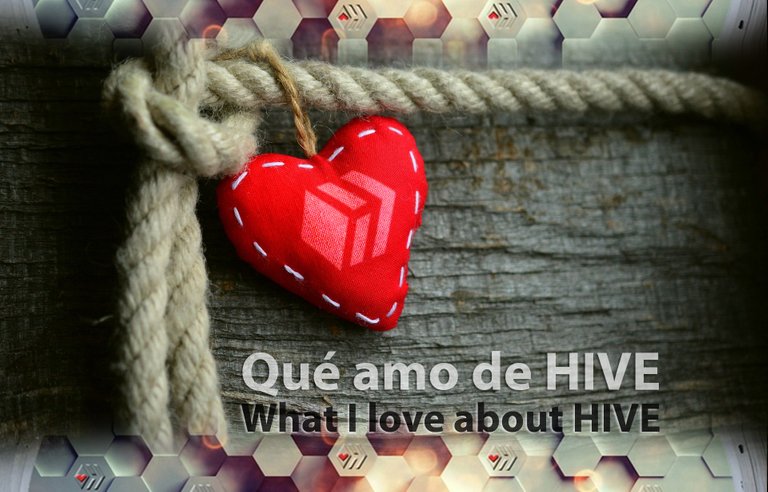 Sourse
El 14 de febrero se celebra el día del amor en casi todo el planeta. Todos tenemos diferentes amores; incluso experiencias con el amor. Aquí, sin embargo compartimos el mismo amor: HIVE.
Qué Amo de HIVE
Esta es una iniciativa para que todos expresen el amor que le tienen a esta blockchain. Como comunidad de los amantes de HIVE y que buscamos convertirla en una Lovemark, no podíamos pasar la fecha por debajo de la mesa.
Cuando estamos enamorados, detallamos todas esas características que nos enloquecen de esa persona: Su mirada, su risa, la forma como dice ciertas frases, como mueve el cabello, como camina, su entusiasmo, su alegría, su comprensión, su amor por los animales, su pasión por el deporte, sus besos, sus sueños, su trato con los niños, su reveldía, sus valores, su empatía, su valentía, sus chistes y seguro que cada hiver pudiera hacer su propia lista más larga que esta.
La idea de este reto es que cada uno exprese los mil detalles que le enloquecen de HIVE. Absolutamente todas las características que aman de la plataforma. También las experiencias vividas en ellas que formen parte de ese amor que se fue construyendo con el tiempo o ¿Fue amor a primera vista? ¿Qué hace, que ese amor siga?
Existen infinidad de cosas por la que amar a HIVE. Es por esto que no queremos influenciar en lo que cada uno ama. Por eso no nombraremos ninguna y dejamos a la libertad de cada quien. Como siempre motivamos a que sean creativos y le dediquen esferzo como un regalo para HIVE.
Reglas
Realiza un post detallando lo que amas de HIVE. Incluye imágenes

Publica en "Loving HIVE ❤️"

Usa la etiqueta #lovinghive entre las primeras 5

Promociona tu participación en Twitter con la etiqueta #hive y #lovinghive

Menciona a tres amigos para que también participen

Comenta los post de los otros participantes. Puedes buscar en peakd.com/created/lovinghive
Curación
Este reto será curado por @bluemist con @appreciator @rutero.vzla @rutera.vzla y @rutablockchain
Podrían ser votados los comentarios de calidad.
Nos gustaría declarar explícitamente que el apoyo no está garantizado
Esperamos emocionados tu participación. Que la creatividad explote...
---

English
February 14 is celebrated as the day of love almost everywhere on the planet. We all have different loves; even experiences with love. Here, however, we share the same love: HIVE.
What I love about HIVE
This is an initiative for everyone to express their love for this blockchain. As a community of HIVE lovers and looking to turn it into a Lovemark, we could not pass the date under the table.
When we are in love, we detail all those characteristics that drive us crazy about that person: Her look, her laugh, the way she says certain phrases, how she moves her hair, how she walks, her enthusiasm, her joy, her understanding, her love for animals, her passion for sports, her kisses, her dreams, her treatment with children, her revelry, her values, her empathy, her courage, her jokes and surely every hiver could make their own list longer than this one.
The idea of this challenge is for everyone to express the thousand details that make them crazy about HIVE. Absolutely all the features they love about the platform. Also the experiences lived on them that are part of that love that was built over time or was it love at first sight? What makes that love go on?
There are an infinite number of things to love HIVE for. That is why we do not want to influence what each one loves. That's why we won't name any of them and leave it to the freedom of each one. As always, we encourage you to be creative and dedicate your time as a gift to HIVE.
Rules
Make a post detailing what you love about HIVE. Include pictures

Post "Loving HIVE ❤️"

Use the hashtag #lovinghive in the top 5.

Promote your participation on Twitter with the hashtag #spanish and #lovinghive

Mention three friends to participate as well

Comment on other participants' posts. You can search at peakd.com/created/lovinghive
Curation
This challenge will be curated by @bluemist with @appreciator @rutero.vzla @rutero.vzla @rutera.vzla and @rutablockchain
Quality comments could be voted on.
We would like to explicitly state that support is not guaranteed.
We look forward to your participation. Let the creativity explode...
Translated with www.DeepL.com/Translator (free version)

¡SÍGUENOS EN NUESTRAS REDES!
Botones creados a partir de esta plantilla



Post creado por @danielvehe para @rutablockchain