Initiative: My Emotions in HIVE [ENG-ESP] Iniciativa: Mis Emociones en HIVE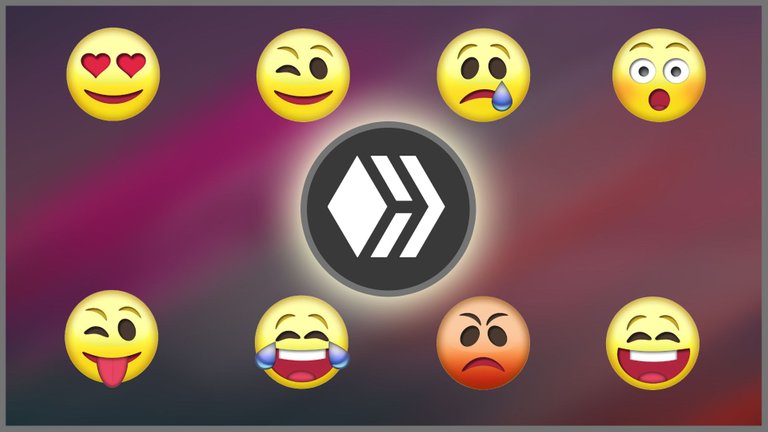 Since we registered in HIVE we started to live many emotions and this initiative is precisely about that. We want to know all the emotions that you have experienced on this platform.
HIVE is a place where we get to know ourselves better; not only because we discover talents about ourselves that we didn't know before, but also because of new emotions that we discover with many things that we experience here. HIVE teaches us to handle these new emotions and to get to know a part of us that we didn't know existed before.
This initiative is to express those emotions, so that they don't stay inside us. Sharing them with other hivers is healing, because the most important thing happens; recognizing them.
There are many moments when these emotions arise and we would like to know, for example, what you felt when....
You heard about HIVE for the first time.
You went through the registration process and your first publication.
You received the first comments.
You received the first rewards.
You received downvotes.
Time passed without receiving good votes.
You received an attack comment.
You received great votes.
Your post became trending.
You met in person another hiver.
The currency dropped in price.
You made your first purchase with your rewards.
You won a contest.
You started receiving information about how HIVE works.
These are just examples that can help you, but there may be many more.
Rules
Write a post or make a video in the Loving HIVE ❤️ community telling about the emotions you experienced in HIVE.
You can create a post with all the emotions experienced or one post for each emotion.
Use the hashtag #hivemotions
Promote your post on social media with the hashtag #hive and leave a record in the comments of this post.
In your post, invite 3 people to participate.
Languages: English, Spanish or both.
Rewards
We clarify that votes are not guaranteed and are left to the curators' choice.
Deadline July 15, 2021
---
Final notes
Be original. Make your audience feel the emotions you express. We want to see passion in your publications.
There are no positive or negative emotions, just emotions. Anyone can express themselves with love in this community of Loving HIVE ❤️
Translated with www.DeepL.com/Translator (free version)
---

---
Español
Desde que nos registramos en HIVE comenzamos a vivir muchas emociones y precísamente esta iniciativa es sobre eso. Queremos conocer todas esas emociones que has vivido en esta plataforma.
HIVE es un lugar donde nos conocemos mejor; no solo porque descubrimos talentos de nosotros que no conocíamos, sino por emociones nuevas que descubrimos con muchas cosas que vamos viviendo aquí. HIVE nos enseña a manejar esas nuevas emociones y a conocer parte de nosotros que antes no sabíamos que existían.
Esta iniciativa es para expresar esas emociones, para que no se queden dentro de nosotros. Compartirlas con otros hivers es sanador, porque sucede lo más importante que es; reconocerlas.
Existen muchos momentos donde se nos presentan esas emociones y nos gustaría saber, por ejemplo, que sentiste cuando...
Escuchaste de HIVE por primera vez.
Viviste el proceso de registro y tu primera publicación.
Recibiste los primeros comentarios.
Recibiste las primeras recompensas.
Recibiste downvotes.
Pasó tiempo sin recibir buenos votos.
Recibiste un comentario de ataque.
Recibiste gandes votos.
Tu publicación llegó al trending.
Conociste en persona a otro hiver.
La moneda bajó de precio.
Hiciste tu primera compra con tus recompensas.
Ganaste un concurso.
Comenzaste a recibir información sobre el funcionamiento de HIVE
Esto son solo ejemplos que te pueden ayudar, pero puede haber muchos más.
Normativa
Escribe una publicación o haz un video en la comunidad de Loving HIVE ❤️ contando las emociones vividas en HIVE
Puedes crear una publicación con todas las emociones vividas o una publicación por cada emoción.
Usa la etiqueta #hivemotions
Promociona tu publicación en las redes sociales con la etiqueta #hive y deja la constancia en los comentarios de este post.
En tu publicación, invita a 3 personas a participar.
Idiomas: Inglés, Español o ambos.
Recompensas
La curación estará a cargo de @appreciator @theycallmedan @rutablockchain y @threespeak (Para los videos)

La mejor publicación será fijada en la comunidad durante una semana

Los autores de las 3 mejores publicaciones recibirán un banner personalizado, creado por @danielvehe. El diseño se publicará en los próximos días.
Aclaramos que los votos no están garantizados y quedan a elección de los curadores.
Fecha final 15 de julio de 2021
---
Notas finales
Se original. Busca que tu audiencia sienta esas emociones que expresas. Queremos ver pasión en las publicaciones.
No hay emociones positivas ni negativas, tan solo emociones. Cualquiera se puede expresar con amor en esta comunidad de Loving HIVE ❤️

¡SÍGUENOS EN NUESTRAS REDES!
Botones creados a partir de esta plantilla
Post creado por
@danielvehe
para
@rutablockchain
---
---